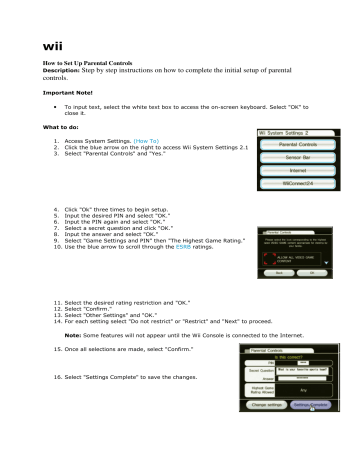 wii
How to Set Up Parental Controls
Description:
Step by step instructions on how to complete the initial setup of parental
controls.
Important Note!
•
To input text, select the white text box to access the on-screen keyboard. Select "OK" to
close it.
What to do:
1. Access System Settings. (How To)
2. Click the blue arrow on the right to access Wii System Settings 2.1
3. Select "Parental Controls" and "Yes."
4.
5.
6.
7.
8.
9.
10.
Click "Ok" three times to begin setup.
Input the desired PIN and select "OK."
Input the PIN again and select "OK."
Select a secret question and click "OK."
Input the answer and select "OK."
Select "Game Settings and PIN" then "The Highest Game Rating."
Use the blue arrow to scroll through the ESRB ratings.
11.
12.
13.
14.
Select the desired rating restriction and "OK."
Select "Confirm."
Select "Other Settings" and "OK."
For each setting select "Do not restrict" or "Restrict" and "Next" to proceed.
Note: Some features will not appear until the Wii Console is connected to the Internet.
15. Once all selections are made, select "Confirm."
16. Select "Settings Complete" to save the changes.

* Your assessment is very important for improving the work of artificial intelligence, which forms the content of this project