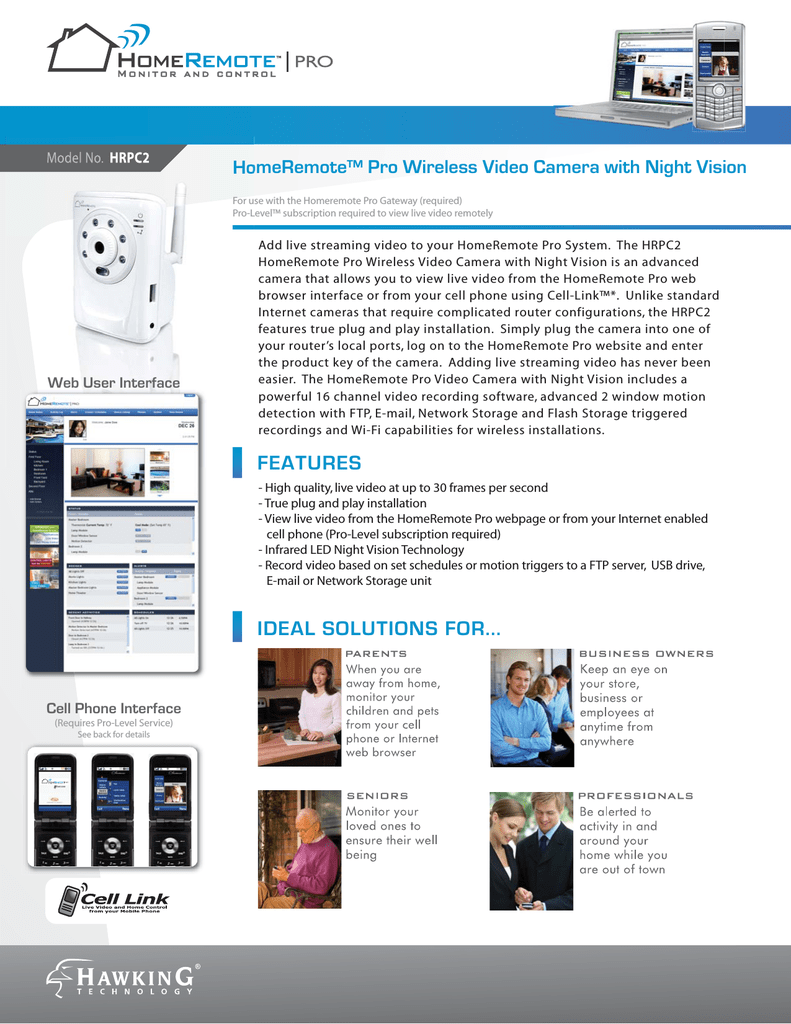 Model No. HRPC2
HomeRemote™ Pro Wireless Video Camera with Night Vision
For use with the Homeremote Pro Gateway (required)
Pro-Level™ subscription required to view live video remotely
Web User Interface
Add live streaming video to your HomeRemote Pro System. The HRPC2
HomeRemote Pro Wireless Video Camera with Night Vision is an advanced
camera that allows you to view live video from the HomeRemote Pro web
browser interface or from your cell phone using Cell-Link™*. Unlike standard
Internet cameras that require complicated router configurations, the HRPC2
features true plug and play installation. Simply plug the camera into one of
your router's local ports, log on to the HomeRemote Pro website and enter
the product key of the camera. Adding live streaming video has never been
easier. The HomeRemote Pro Video Camera with Night Vision includes a
powerful 16 channel video recording software, advanced 2 window motion
detection with FTP, E-mail, Network Storage and Flash Storage triggered
recordings and Wi-Fi capabilities for wireless installations.
FEATURES
- High quality, live video at up to 30 frames per second
- True plug and play installation
- View live video from the HomeRemote Pro webpage or from your Internet enabled
cell phone (Pro-Level subscription required)
- Infrared LED Night Vision Technology
- Record video based on set schedules or motion triggers to a FTP server, USB drive,
E-mail or Network Storage unit
IDEAL SOLUTIONS FOR...
Cell Phone Interface
(Requires Pro-Level Service)
See back for details
Model No. HRPC2
H OME R EMOTE VIDEO SERVICES
Pro-Level Service offers access to
all HomeRemote Pro features. A
small monthly fee is required. The
Basic Level service comes standard
with your HomeRemote Pro System.
See the feature benefits and
availability on the right.
SPECIFICATIONS
Network Specifications:
• IEEE 802.11b/g standards
• 100T Base-TX Fast Ethernet
Camera Specifications:
• Max. Resolution: 640 x 480, 320 x 240, 160 x 128 pixels
• Image Sensor: CMOS sensor
• Focus / Length: Manual / 4.5mm
• Aperture: F=2.8
• Minimum Light Requirement: 0.5 lux
• Viewing Angle: 54 Degrees
• Auto Exposure, Auto White Balance, Auto Gain Control
• Digital Zoom: 3x
Video Settings:
• Supported Stream: Motion Jpeg; Jpeg for still images
• Frame Rate: Up to 30+ FPS @ 160 x 120 / 20 FPS @ 320 x 240
• Cell-Link™* Frame Rate: 1 – 15 FPS (Depending on cellular broadband
network and mobile phone model/screen size)
• Adjustable Image Size (Cell-Link and Web Browser viewing modes)
• Configurable 2 Window Motion Detection (Scalable)
Hardware Interface:
• LAN Port: 1 RJ-45, 10/100M Auto-Sensed
• One RP-SMA Antenna Connector (2.4GHz Wi-Fi)
• External Power Supply Connector
• LEDs: Power and Link Indicator, LAN and WLAN Indicators
• Reset Button
• USB Port (Flash drive storage)
• Audio In / Out (Local network use only)
15281A Barranca Parkway
Irvine, CA 92618 USA
Software:
• Administrator Utility Software Application
• Viewer/Recorder Utility Software Application
(Supports 16 cameras simultaneously)
• Manual/Scheduled/Motion – Triggered Recording
• Video Playback/Stop/Forward/Pause
Image / Video Outputs:
• Email (Snapshot), FTP, USB Flash Storage (Snapshot), Network
Storage
Dimensions:
• 1.75" x 2.75" x 3.8" (L x W x H)
Operating Environment:
• Temperature: 0° - 40° C / 32° - 104° F
Certifications:
• FCC, CE
• Warranty: 1 Year
* The HomeRemote Pro-Level and Cell Link™ feature is a subscription based service from
Hawking Technologies / HomeRemote Pro that enables cellular phone based control of
Z-Wave lighting and appliances and viewing of live video through the HomeRemote Pro
HRPG1 Gateway
- Setup of the HRPC2 requires that you MUST have a HomeRemote Pro account
- Wireless setup of the HRPC2 requires that you have a 802.11b/g compatible
Wi-Fi network
www.hawkingtech.com
www.homeremote.net/pro
© 2008 Hawking Technologies, Inc. All rights reserved.

* Your assessment is very important for improving the work of artificial intelligence, which forms the content of this project