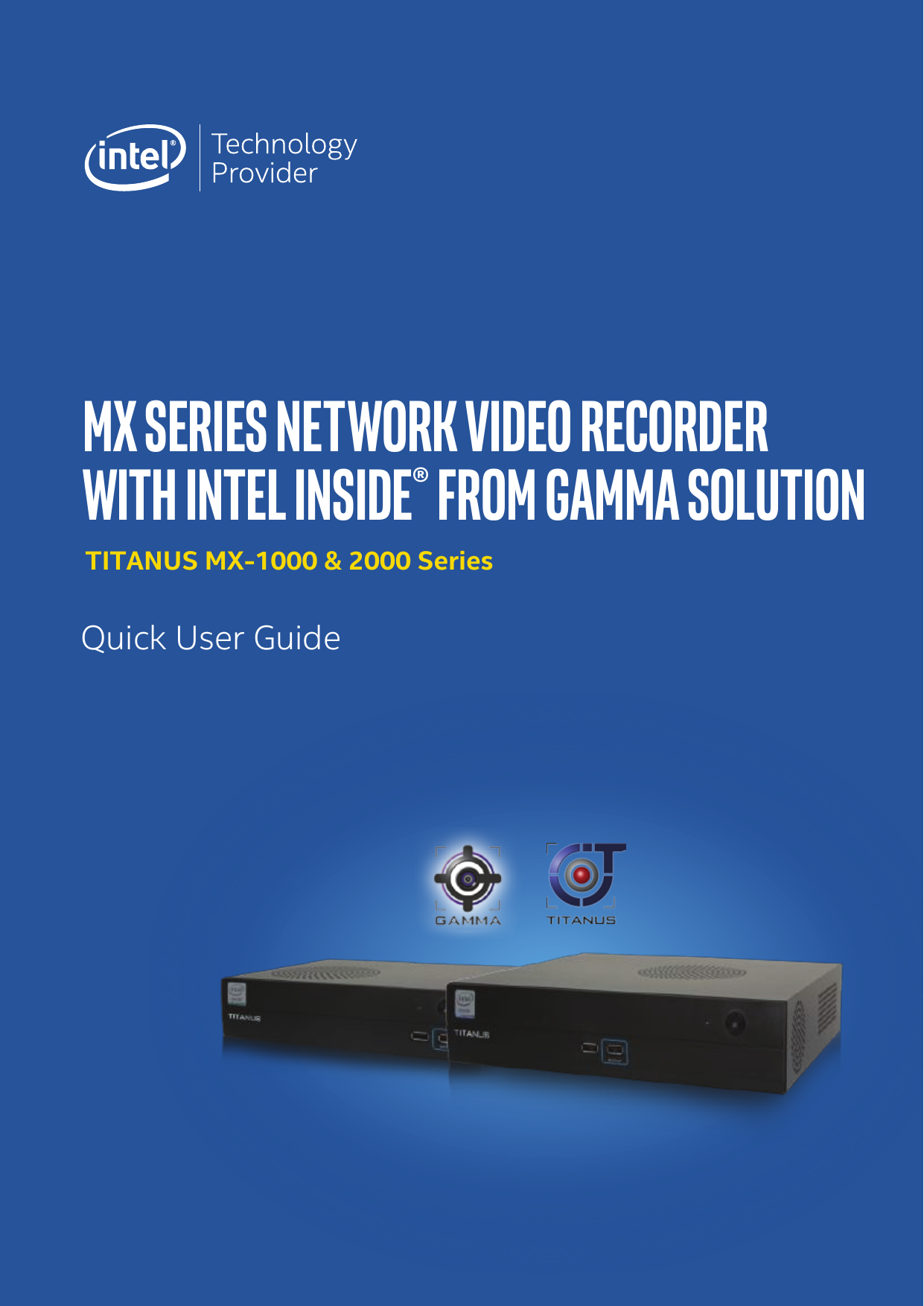 MX SERIES NETWORK VIDEO RECORDER
WITH INTEL INSIDE® FROM GAMMA SOLUTION
TITANUS MX-1000 & 2000 Series
Quick User Guide
1
Before You Begin
Please follow the instructions below before you begin using the high-performance NVR system.
The following steps must be completed:
• All devices including the MX NVR, IP cameras & network PoE switch should be installed and connected properly
• A LED monitor/TV must be connected to the MX NVR for local display operation
2
NVR Start Up & Login
Switch on the NVR system at the main electrical outlet. The MX NVR will auto start up without having to manually press
the Power button. It will continue loading and stop at NVR log in screen.
Enter the default login information given below by using the virtual keyboard and press the Login button.
User name: admin
Password: admin
The NVR Live View screen will appear with auto start recording on all IP cameras.
Virtual Keyboard button
Type in default user name &
password
User name : admin
Password
: admin
Press Login button to access
into NVR live View
Figure 1.1: Login Screen
Figure 1.2: Virtual Keyboard
3
Live View Screen
On the Live View screen, the user can control the live display video without interrupting the NVR recording.
1
2
3
4
Figure 2.1: Live View Screen
5
6
Date & Time
Event Log & Option
Camera List
1
View Mode Button
4
Channel View Control
2
Camera Status
5
Display Mode
3
NVR System Information
6
PTZ Control Panel
4
View Mode Button
Description
To control the monitoring instantaneously
To play and export the recorded video files
Mode
Live View
Playback
To configure the camera, recording, event, management,
network, quick configuration and system
Configuration
To leave NVR
Logout
Camera Status
Icon
Description
Camera name
The name of the camera is located in the top left corner of each
video window. Users can rename the camera through the following
path:
Configuration > IP Camera > Camera Settings
Video compression format
M-JPEG/MPEG-4/H.264
Audio
Once the camera supports audio, the NVR shows audio in blue. And
if not, the NVR shows audio in grey
Event
When an event occurs, the NVR shows a warning to the user as an
instant alert
Recording status
The window shows whether the camera is recording or not
NVR System Information
Disk and CPU loading indicator shows blue when loading is 70% or under, and shows red as a warning
when it reach to more than 70%.
Recording Disk Status
CPU Loading
Figure 2.2: Live View Screen
5
Channel View Control
Description
Take a snapshot on the camera that you have selected. It will
be saved in the folder: Public > live view > snapshot. It can be
accessed through Windows networking or FTP service at file
sharing service on the configuration page
Mode
Snapshot
Select a channel to enable digital zoom function
Digital zoom in/out
Drop
Drop a particular camera from monitoring
Drop all
Drop all cameras from monitoring
Add all
Add all cameras for monitoring
Display Mode
NVR supports multi-display modes for monitoring. Click the icon of display mode to monitor live view.
When you click a display mode, the mode icons will turn into blue.
Icon
Description
1 Screen
Icon
NxN
Description
3/25/30/36/42/49/56/
64 Screen
4 screen
5+1 Screens
9 screen
Sequential mode
12 screen
Full screen
16 screen
Playback Screen
Main Functions on Playback
The maximum concurrent playback channels are 4 Cameras.
USB format for backup/export must use FAT32. NTSC format is not supported.
Video Playback Speed Control
1.
2.
3.
4.
5.
6.
7.
Stop: To clear playback videos
Previous frame: To show the earlier image
Speed down: To play at slower speeds
Play/Pause: To play video file or to temporarily stop the playback
Speed up: To play at a faster speed
Next frame: To show the next image
Rewind: To let video automatically wind backward
Video Playback Speed Control
1.
2.
3.
Camera
Data and Time
Play Select
1
3
22
16
17
23
24
18
2
19
20
21
Export Video
The Export function allows users to export files to the USB driver directly. Plug in the USB drive before
proceeding with the video export.
Step 1: Select camera, date and recording type
Camera
Date
Recording type
Step 2: Click the Start/Stop Export button to start exporting a video. A window will pop up
for backup video confirmation.
Step 3: Press the Yes button for the video exporting to begin. If the export is successful, the
message will be shown as below.

* Your assessment is very important for improving the work of artificial intelligence, which forms the content of this project