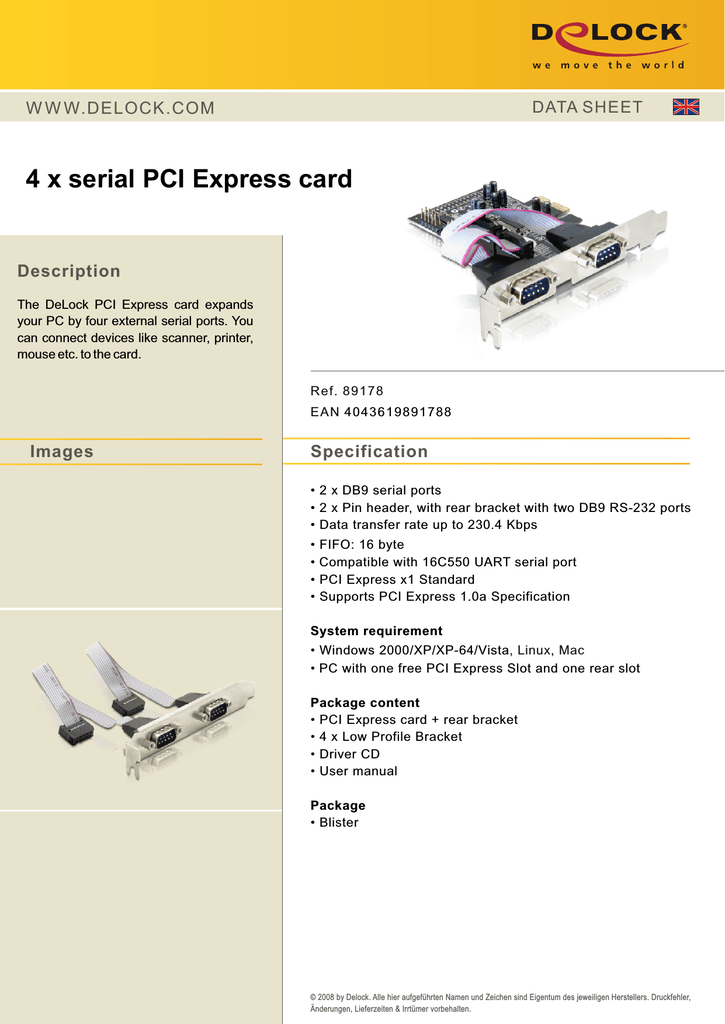 DATA SHEET
W W W.DELOCK.COM
4 x serial PCI Express card
Description
The DeLock PCI Express card expands
your PC by four external serial ports. You
can connect devices like scanner, printer,
mouse etc. to the card.
Ref. 89178
EAN 4043619891788
Images
Specification
• 2 x DB9 serial ports
• 2 x Pin header, with rear bracket with two DB9 RS-232 ports
• Data transfer rate up to 230.4 Kbps
•
•
•
•
FIFO: 16 byte
Compatible with 16C550 UART serial port
PCI Express x1 Standard
Supports PCI Express 1.0a Specification
System requirement
• Windows 2000/XP/XP-64/Vista , Linux, Mac
• PC with one free PCI Express Slot and one rear slot
Package content
• PCI Express card + rear bracket
• 4 x Low Profile Bracket
• Driver CD
• User manual
Package
• Blister
© 2008 by Delock. Alle hier aufgeführten Namen und Zeichen sind Eigentum des jeweiligen Herstellers. Druckfehler,
Änderungen, Lieferzeiten & Irrtümer vorbehalten.

* Your assessment is very important for improving the work of artificial intelligence, which forms the content of this project