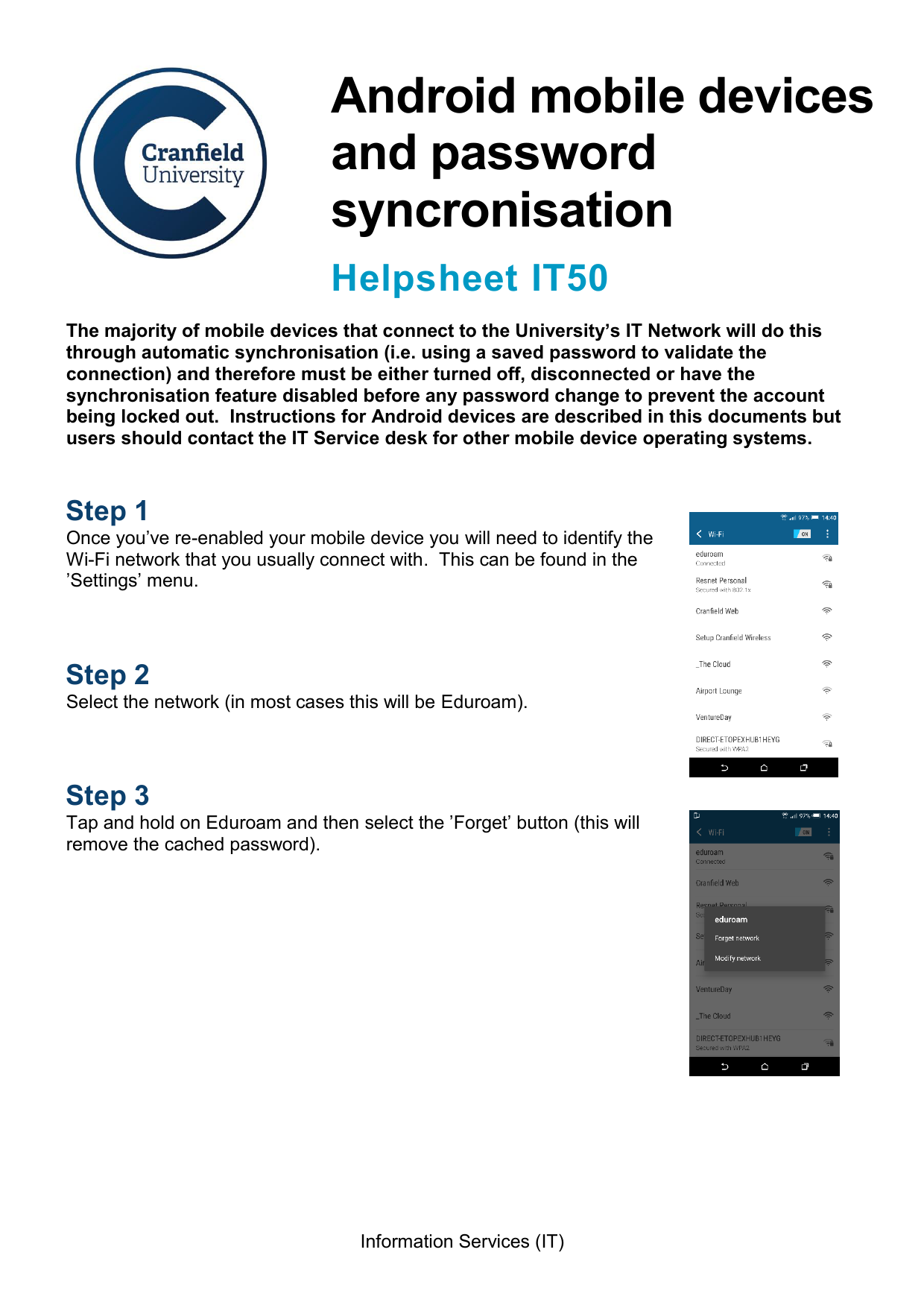 Android mobile devices
and password
syncronisation
Helpsheet IT50
The majority of mobile devices that connect to the University's IT Network will do this
through automatic synchronisation (i.e. using a saved password to validate the
connection) and therefore must be either turned off, disconnected or have the
synchronisation feature disabled before any password change to prevent the account
being locked out. Instructions for Android devices are described in this documents but
users should contact the IT Service desk for other mobile device operating systems.
Step 1
Once you've re-enabled your mobile device you will need to identify the
Wi-Fi network that you usually connect with. This can be found in the
'Settings' menu.
Step 2
Select the network (in most cases this will be Eduroam).
Step 3
Tap and hold on Eduroam and then select the 'Forget' button (this will
remove the cached password).
Information Services (IT)
Step 4
Select the Wi-Fi network (Eduroam) again to reconnect.
Please ensure that the EAP Method is set to PEAP and the Phase 2
Authentication is set to MSCHAPV2
In the Identity box enter your username followed by @cranfield.ac.uk
(example: [email protected]).
If your device has an Anonymous Identity field, please leave it blank.
Finally enter your new password and click the 'Save' or 'Connect' button
once it appears.
Complete!
You are now re-connected to Eduroam with your new password.
Repeat this process on the Resnet Personal network if you have it added to your device.
Contacting us
IT Service Desk, Building 63
 +44 (0)1234 75 4199
 [email protected]
http://servicedesk.cranfield.ac.uk
Our skilled support staff are available to help Monday - Friday: 8 AM – 8 PM
Information Services (IT)
Updated Mar-2017
For further information or assistance on syncing Android devices please contact us.

* Your assessment is very important for improving the work of artificial intelligence, which forms the content of this project