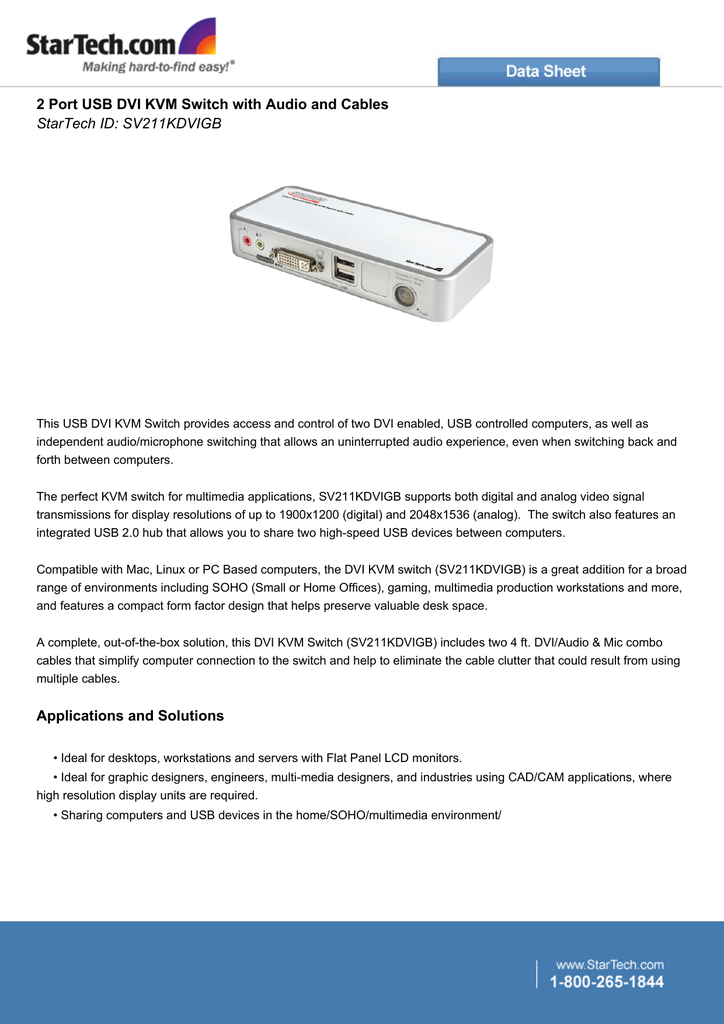 2 Port USB DVI KVM Switch with Audio and Cables
StarTech ID: SV211KDVIGB
This USB DVI KVM Switch provides access and control of two DVI enabled, USB controlled computers, as well as
independent audio/microphone switching that allows an uninterrupted audio experience, even when switching back and
forth between computers.
The perfect KVM switch for multimedia applications, SV211KDVIGB supports both digital and analog video signal
transmissions for display resolutions of up to 1900x1200 (digital) and 2048x1536 (analog). The switch also features an
integrated USB 2.0 hub that allows you to share two high-speed USB devices between computers.
Compatible with Mac, Linux or PC Based computers, the DVI KVM switch (SV211KDVIGB) is a great addition for a broad
range of environments including SOHO (Small or Home Offices), gaming, multimedia production workstations and more,
and features a compact form factor design that helps preserve valuable desk space.
A complete, out-of-the-box solution, this DVI KVM Switch (SV211KDVIGB) includes two 4 ft. DVI/Audio & Mic combo
cables that simplify computer connection to the switch and help to eliminate the cable clutter that could result from using
multiple cables.
Applications and Solutions
• Ideal for desktops, workstations and servers with Flat Panel LCD monitors.
• Ideal for graphic designers, engineers, multi-media designers, and industries using CAD/CAM applications, where
high resolution display units are required.
• Sharing computers and USB devices in the home/SOHO/multimedia environment/
Features
• Compact design saves space
• Compatible with all USB supported Operating Systems.
• Computer selection by push button, keyboard hotkeys and Switching Software(for Windows/Mac)
• Designed for high-resolution applications: 1920 x 1200 digital resolution and 2048 x 1536 analog resolution
• HDCP Compliant
• Hot Pluggable - add or remove computers without having to power down the switch
• Integrated USB 2.0 hub allows you to share up to two high-speed USB devices between computers
• LED indicators for easy status monitoring.
• USB 2.0/1.1 specification compliant.
Technical Specifications
• Color: White
• Connector Types: 1 - DVI-I Single Link Female
• Connector Types: 2 - Phono 3.5 mm Female
• Connector Types: 2 - USB A Female
• Connector Types: 2 - USB B Female
• Enclosure Type: Plastic
• Product Height: 1.06 in [27 mm]
• Audio Support: Yes
• KVM Cascadable: No
• Dual Display Support: No
• DVI Support: Yes
• Supported Platforms: USB
• Number of KVM Ports: 2
• Rack-Mountable: No
• KVM TFT: None
• Product Length: 6.06 in [154 mm]
• Maximum Digital Resolutions: 1920 x 1200 pixels
• Maximum Analog Resolutions: 2048 x 1536 pixels
• Plug Type: N
• Power Adapter Included: Yes
• Power Adapter - Amperage: 2
• Power Adapter - DC Voltage: 5
• Carton Quantity: 12
• Shipping (Package) Weight: 0 lb [0 kg]
• Product Width: 2.58 in [65.5 mm]
• Cables: 2 sets of detachable DVI/Audio&Mic combo cables & 2 USB cables. Both 4 feet long.

* Your assessment is very important for improving the work of artificial intelligence, which forms the content of this project