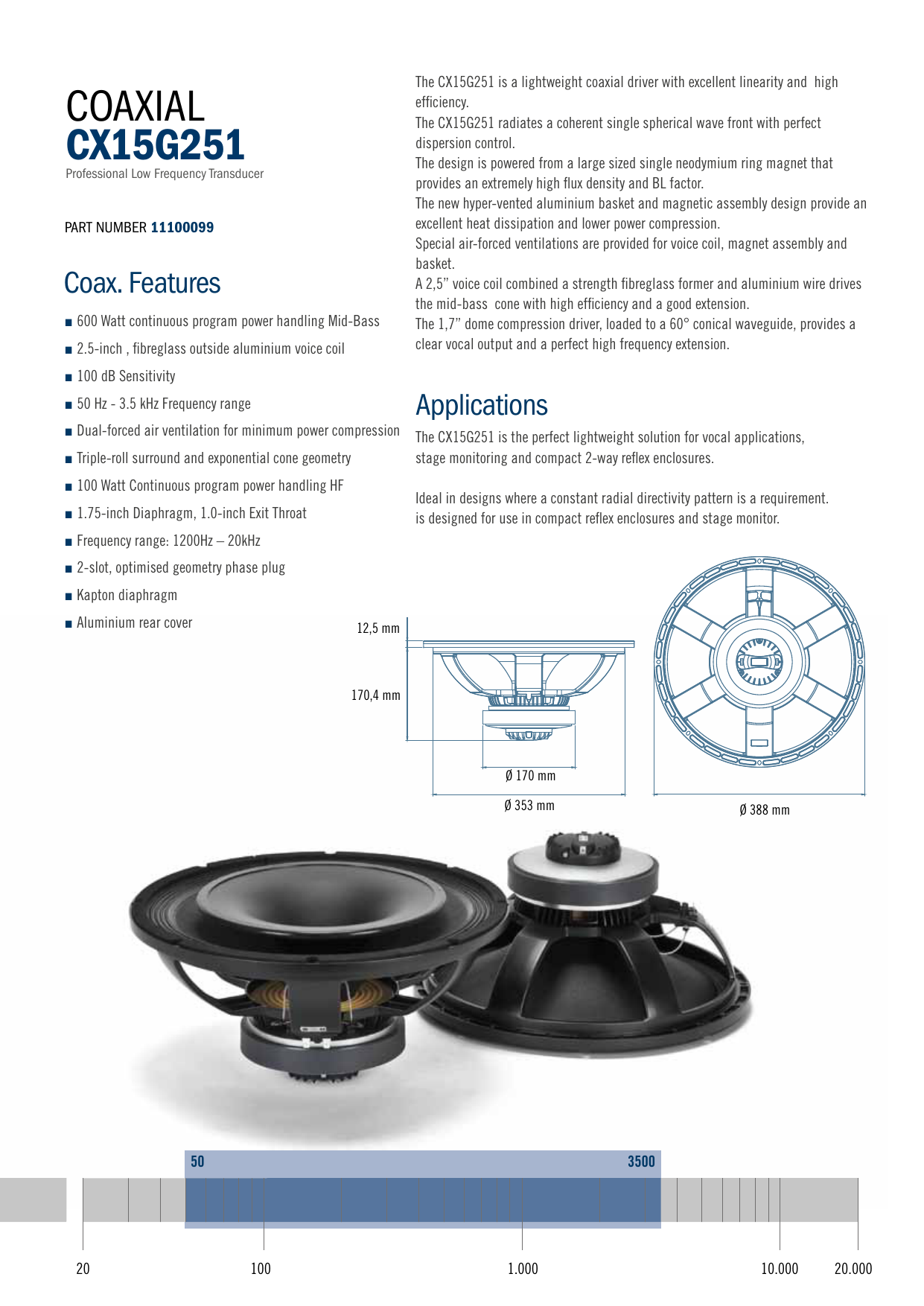 COAXIAL
CX15G251
Professional Low Frequency Transducer
PART NUMBER 11100099
..
..
..
..
..
..
Coax. Features
600 Watt continuous program power handling Mid-Bass
2.5-inch , fibreglass outside aluminium voice coil
The CX15G251 is a lightweight coaxial driver with excellent linearity and high
efficiency.
The CX15G251 radiates a coherent single spherical wave front with perfect
dispersion control.
The design is powered from a large sized single neodymium ring magnet that
provides an extremely high flux density and BL factor.
The new hyper-vented aluminium basket and magnetic assembly design provide an
excellent heat dissipation and lower power compression.
Special air-forced ventilations are provided for voice coil, magnet assembly and
basket.
A 2,5" voice coil combined a strength fibreglass former and aluminium wire drives
the mid-bass cone with high efficiency and a good extension.
The 1,7" dome compression driver, loaded to a 60° conical waveguide, provides a
clear vocal output and a perfect high frequency extension.
100 dB Sensitivity
Applications
50 Hz - 3.5 kHz Frequency range
Dual-forced air ventilation for minimum power compression The CX15G251 is the perfect lightweight solution for vocal applications,
stage monitoring and compact 2-way reflex enclosures.
Triple-roll surround and exponential cone geometry
100 Watt Continuous program power handling HF
Ideal in designs where a constant radial directivity pattern is a requirement.
is designed for use in compact reflex enclosures and stage monitor.
1.75-inch Diaphragm, 1.0-inch Exit Throat
Frequency range: 1200Hz – 20kHz
2-slot, optimised geometry phase plug
Kapton diaphragm
Aluminium rear cover
12,5 mm
170,4 mm
Ø 170 mm
Ø 353 mm
Ø 388 mm
CX15G251
CX12G251
CX15G251
50
20
3500
100
1.000
10.000
20.000
CX15G251 DRIVER
General Specifications
Nominal diameter
Rated impedance
Program power
Power handling capacity
Sensitivity 1W, 1m
Frequency range
Minimum impedance
Voice Coil diameter
Voice Coil material
Number of layers
Diaphragm material
Diaphragm design
Suspension material
Suspension design
BL factor
Flux density
Phase plug design
Phase plug material
Magnetics
25,4/1,00
8
100
50
105
1200 - 20000
6,5
44,4/1,75
Edgewound Aluminum
1-Outside
Kapton
Dome
Kapton
Flat
7,5
1,6
2 slot
Composite
Ferrite
mm / inch
ohm
Watts
Watts
dB
Hz
ohm
mm / inch
Txm
T
CX15G251 HORN
Thiele - Small Parameters
Resonance frequency
DC resistance
Mechanical factor
Electrical factor
Total factor
BL Factor
Effective Moving Mass
Equivalent Cas air load
Effettive piston area
Max. linear excursion (mathematical) 5
Voice - coil inductance @ 1KHz
Half-space efficiency
25,4/1,00
60°
1800
Structural Polyurethane
Throat Diameter
Nominal Coverage (-6dB)
Cut-off-Frequency
Material
110120
SPL, 1w/1m (dB)
110
100
100
90
90
80
80
70
20
100
1.000
10.000
20.000
Frequency (Hz)
Frequency
response
curve
of the
loudspeaker
maketaken
in a hemispherical,
free field
in a reflex
box with an
Frequency
response
curve
of the
loudspeaker
in a hemispherical,
free and
fieldmounted
environment
and mounted
in ainternal
volume
55 litres
andinternal
tuned atvolume
60Hz, applying
a sinusoidal
signal
of 2.83 the
V @8
closedof box
with an
of 600 litres
(21,2 cu.ft)
enclosing
rearatof1m.
the driver.
316
Impedance (ohms)
Nominal Diameter
Rated Impedance
Program Power 1
Power handling capacity 2
Sensitivity 3
Frequency Range
Effective Piston Diameter
Max Excursion Before Damage (peak to peak)
Minimum Impedance
Voice Coil Diameter
Voice Coil Material
Voice Coil Winding Depth
Number of layers
Top Plate Thickness
Cone Material
Cone Design
Surround Material
Surround Design
100
10
380/15
mm/inch
8 ohm
600 Watts
300 Watts
100 dB
50 - 3500
Hz
330/15
mm/inch
30/1,18
mm/inch
6,4 ohm
64/2,52
mm/inch
Aluminum
14/0,55
mm/inch
1
8/0,31
mm/inch
No pressed pulp
Curved
Polycotton Triple - roll
4
41
5,2
7,6
0,41
0,39
14,9
70
219
0,086
4,8
0,5
3,50
Hz
W
388/15,3
369 - 373,5/14,5 - 14,7
5,5/0,22
355/13,98
358/14,09
161/6,34
3,5/0,12
mm/inch
mm/inch
mm/inch
mm/inch
mm/inch
mm/inch
liters/ft3
7,0/15,43
7,3/16,09
Kg/Lbs
Kg/Lbs
Txm
gr
liters
m2
mm
mH
%
Mounting Information
Overall Diameter
Bolt Circle Diameter
Bolt Hole Diameter
Front Mount Baffle Cut-out
Rear Mount Baffle Cut-out
Depth
Volume occupied by the driver 6
Shipping Information
20
100
1.000
Frequency (Hz)
Impedance magnitude curve measured in free air.
10.000
20.000
Net Weight
Shipping Weight
Notes to Specifications
1 Program Power is defined as 3 dB greater than AES power. - 2 AES standard. - 3 Sensitivity measurement is based on a 500-2,5 kHz pink noise signal with input power of 2.83V @ 8 Ohms. - 4 Thiele-Small parameters are measured after
a 2 hour warm up period running the loudspeaker at full power handling capacity. - 5 The maximum linear excursion is calculated as: (Hvc - Hg)/2 + Hg/4 where Hvc is the voice coil depth and Hg the gap depth. - 6 Calculated for front
mounting on 18 mm thick board.