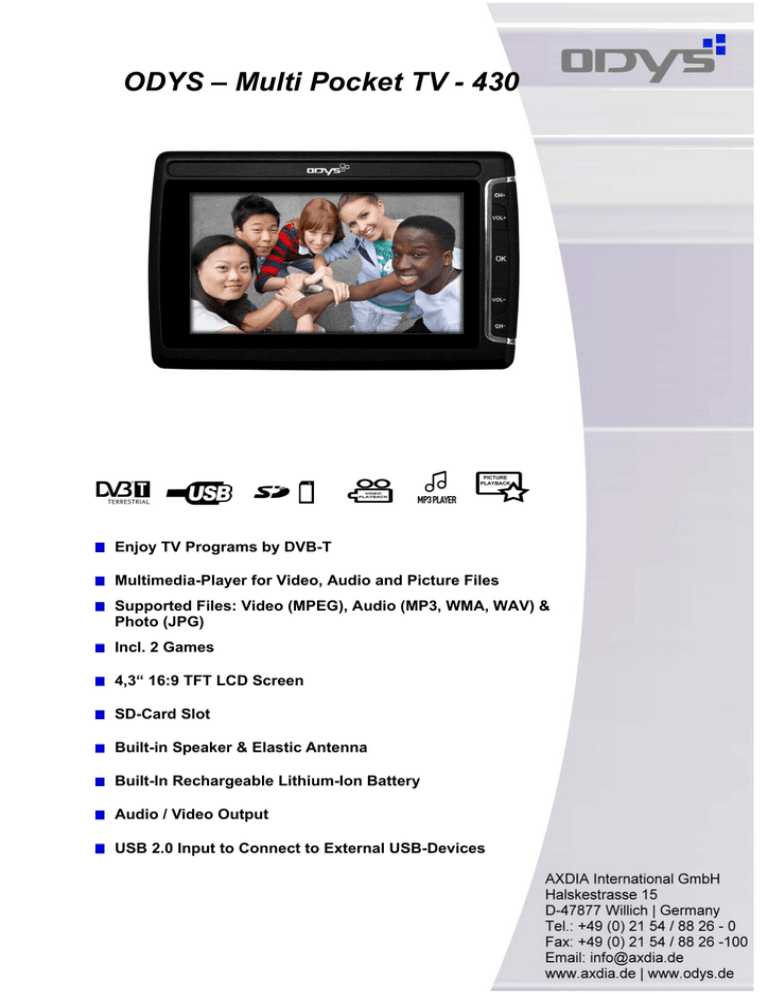 ODYS – Multi Pocket TV - 430
Enjoy TV Programs by DVB-T
Multimedia-Player for Video, Audio and Picture Files
Supported Files: Video (MPEG), Audio (MP3, WMA, WAV) &
Photo (JPG)
Incl. 2 Games
4,3" 16:9 TFT LCD Screen
SD-Card Slot
Built-in Speaker & Elastic Antenna
Built-In Rechargeable Lithium-Ion Battery
Audio / Video Output
USB 2.0 Input to Connect to External USB-Devices
Technische Daten / Specifications
Manueller und Automatischer Sendersuchlauf
Videotext
DVB-T Funktionen /
EPG
DVB-T Features
Manual and automatic search options
Teletext
EPG
Unterstützte Videoformate: MPEG-1/2/4
Unterstützte Audioformate: MP3, WMA, WAV
Multimedia Funktionen /
Unterstütze Bildformate: JPG
Multimedia Features
Supported Video Format: MPEG-1/2/4
Supported Audio Format: MP3, WMA, WAV
Supported Picture Format: JPG
Bildschirmgröße /
LCD Spezifikationen /
LCD Specifications
Audio Leistungsmerkmale /
Audio Performance
Screen Size (Diagonal)
4.3"
Bildschirmformat /
Screen Format
16:9
Auflösung /
Resolution
480 x 272 (3RGB)
Lautsprecher /
Loudspeaker
0.5W
Kopfhörerausgang /
Earphone Output
Ja / yes
Stromversorgung /
Power Supply
AC100V ~ 240V, 50Hz / 60Hz
Anschlüsse /
I/O Connections
Composite AV Ausgang, USB-Eingang, Kopfhörerausgang, externe
Antennenanschluss
Composite AV Output, USB-Input, Headphone Jack, External Antenna
Connection
Abmessung /
Dimension
130 x 84 x 16 mm
Gewicht /
Weight
182g
Lieferumfang /
Package Content
Multi PocketTV 430, Netzadapter, Audio-/Videokabel,
Bedienungsanleitung
Multi PocketTV 430, Power Adapter, AV-Cable, Manual
Technische Änderungen und Irrtümer vorbehalten.
We reserve the right for technical changes and mistakes.

* Your assessment is very important for improving the work of artificial intelligence, which forms the content of this project