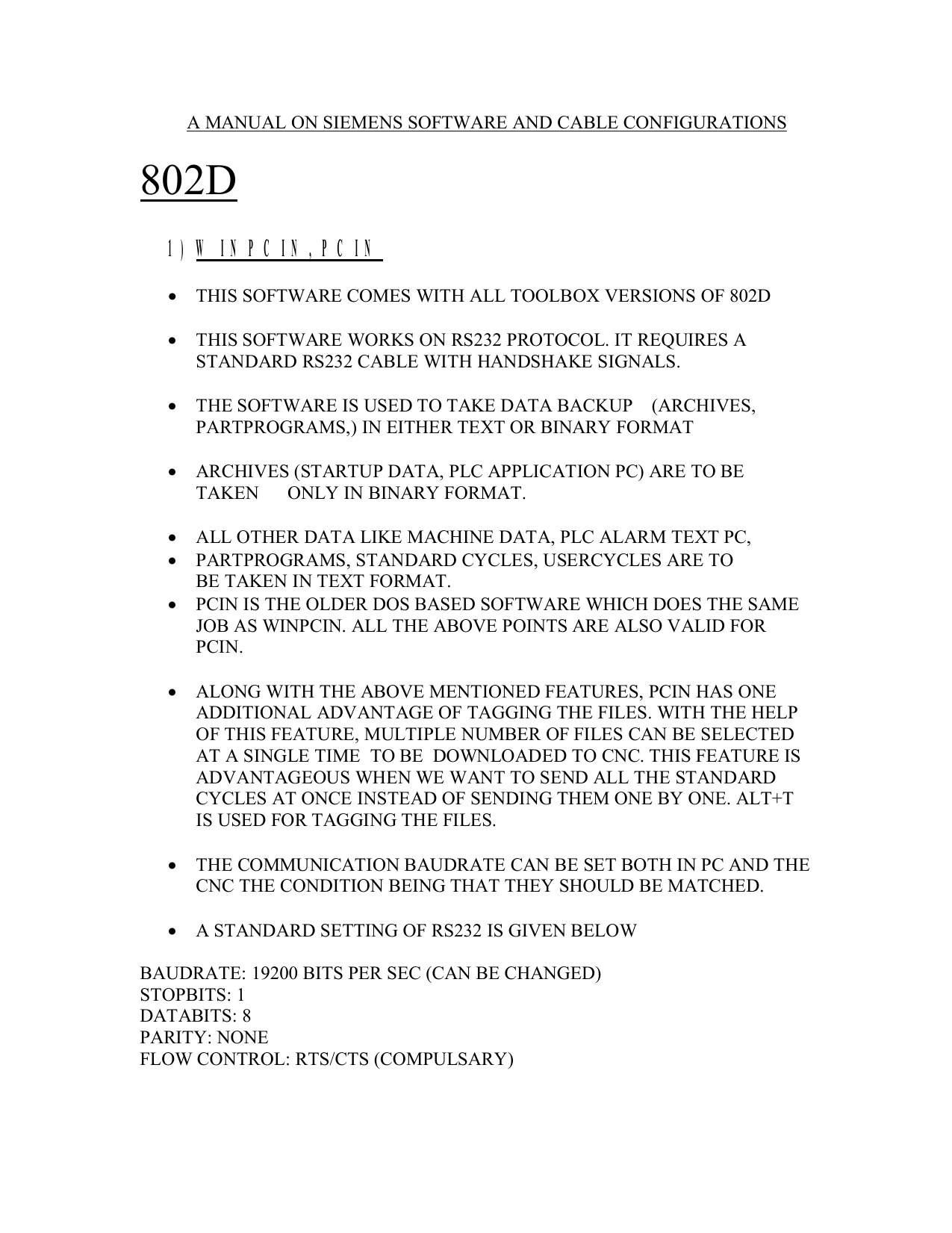 A MANUAL ON SIEMENS SOFTWARE AND CABLE CONFIGURATIONS
802D
1) WINPCIN, PCIN
THIS SOFTWARE COMES WITH ALL TOOLBOX VERSIONS OF 802D
THIS SOFTWARE WORKS ON RS232 PROTOCOL. IT REQUIRES A
STANDARD RS232 CABLE WITH HANDSHAKE SIGNALS.
THE SOFTWARE IS USED TO TAKE DATA BACKUP (ARCHIVES,
PARTPROGRAMS,) IN EITHER TEXT OR BINARY FORMAT
ARCHIVES (STARTUP DATA, PLC APPLICATION PC) ARE TO BE
TAKEN
ONLY IN BINARY FORMAT.
ALL OTHER DATA LIKE MACHINE DATA, PLC ALARM TEXT PC,
PARTPROGRAMS, STANDARD CYCLES, USERCYCLES ARE TO
BE TAKEN IN TEXT FORMAT.
PCIN IS THE OLDER DOS BASED SOFTWARE WHICH DOES THE SAME
JOB AS WINPCIN. ALL THE ABOVE POINTS ARE ALSO VALID FOR
PCIN.
ALONG WITH THE ABOVE MENTIONED FEATURES, PCIN HAS ONE
ADDITIONAL ADVANTAGE OF TAGGING THE FILES. WITH THE HELP
OF THIS FEATURE, MULTIPLE NUMBER OF FILES CAN BE SELECTED
AT A SINGLE TIME TO BE DOWNLOADED TO CNC. THIS FEATURE IS
ADVANTAGEOUS WHEN WE WANT TO SEND ALL THE STANDARD
CYCLES AT ONCE INSTEAD OF SENDING THEM ONE BY ONE. ALT+T
IS USED FOR TAGGING THE FILES.
THE COMMUNICATION BAUDRATE CAN BE SET BOTH IN PC AND THE
CNC THE CONDITION BEING THAT THEY SHOULD BE MATCHED.
A STANDARD SETTING OF RS232 IS GIVEN BELOW
BAUDRATE: 19200 BITS PER SEC (CAN BE CHANGED)
STOPBITS: 1
DATABITS: 8
PARITY: NONE
FLOW CONTROL: RTS/CTS (COMPULSARY)
CABLE CONFIGURATION:
ALL CONNECTORS ARE FEMALE (9PIN AND 25 PIN)
2) PLC PROGRAMMING TOOL (802D)
THIS SOFTWARE COMES WITH ALL THE TOOLBOX VERSIONS OF
802D
THIS SOFTWARE IS USED TO UPLOAD AND DOWNLOAD PLC
PROGRAMS FROM THE INTEGRATED S7200 OF 802D ONLY.
THIS CANNOT BE USED WITH STANDALONE S7200.
A STANDARD COMMUNICATIONS SETTING IS GIVEN BELOW
BAUDRATE: 38400 BITS PER SEC
STOP BITS: 1
PARITY : EVEN
FOR COMMUNICATING WITH 802D PLC, CONFIGURE THE
PARAMETERS IN THE "COMMUNCATIONS" WINDOW IN THE
SOFTWARE. SELECT THE FOLLOWING SETTINGS:
SELECT 802D PPI AS THE INTERFACE FOR COMMUNICATION
IF REQUIRED, GOTO PROPERTIES AND CHANGE THE BAUDRATE
AND COMPORT
PLS GIVE "CONNECT ON" IN THE PLC CONNECT PAGE OF 802D
BEFORE ATTEMPTING TO ESTABLISH CONNECTION WITH 802D
THE CABLE CONFIGURATION IS SAME AS THAT OF RS232.
3) SIMOCOMU
THIS SOFTWARE IS USED TO COMMUNICATE WITH THE 611U, 611UE
DRIVES.
THE FOLLOWING ARE ITS FEATURES
A) COMPLETE CONFIGURATION OF THE DRIVE ALONG WITH MOTOR
DETAILS, ENCODER DETAILS, PROFIBUS ADDRESS
B) MASTER CONTROL OF DRIVE USING PC.
C) AUTO TUNING OF THE MOTORS UNDER LOAD.
D) ACCESS TO ALL DRIVE PARAMETERS USING EXPERT LIST.
E) CONFIGURING OF THIRD PARTY MOTORS FOR OUR DRIVES.
S7
1) STEP 7 MICRO/WIN 32
THIS SOFTWARE IS FOR COMMUNICATING WITH S7 200
STANDALONE PLC.
THE CABLE USED TO COMMUNICATE WITH S7 200 IS PPI CABLE.
THE INTERFACE USED TO COMMUNICATE IS "PC/PPI CABLE (PPI)"
THIS CABLE CONNECTS THE PPI PORT ON THE S7 200 CPU AND THE
COMPORT IN YOUR PC. THE CABLE COMES WITH COM TO PPI
ADAPTOR.
IN SIMATIC FIELD PGS WITH BUILT IN MPI PORT, THE MPI CABLE
CAN
BE USED TO COMMUNICATE WITH S7200 CPU. THE PROTOCOL
BEING CP5611 (PPI)
THIS IS A STANDARD MOULDED CABLE.
2) SIMATIC MANAGER –STEP 7 V 5.0,5.1, 5.2
THIS SOFTWARE IS USED FOR COMMUNICATING WITH S7300
INTEGRATED WITH 810D/840D AND ALSO FOR STANDALONE S7300
CPU.
WITH SIMATIC FIELD PG HAVING BUILTIN MPI PORT, AN MPI CABLE
CAN BE USED TO COMMUNICATE WITH THE CPU.
THE PROTOCOL TO BE USED FOR THE COMMUNICATION IS CP5611
(MPI).
BAUDRATE OF MPI IS 187.5 KBPS.
WITH A NORMAL PC HAVING A COMPORT, A PPI CABLE SHOULD BE
USED TO COMMUNICATE WITH S7300. THE PROTOCOL USED IS PC/PPI
CABLE (PPI).
WE USE STANDARD MOULDED CABLE FOR THE FOLLOWING
PIN CONFIGURATION FOR MPI:
2-9PIN MALE PINS WITH 1:1 CONNECTION i.e 3-3,4-4,5-5,8-8,
840D
1) HMI ADVANCEDV 6.3, MMC103 V 5.3FOR PC-PG
THIS SOFTWARE IS USED TO COMMUNICATE WITH 810D/840D NCU. THE
PROTOCOL USED IS CP5611 (MPI) WITH A SIMATIC FIELD PG OR PC/PPI
CABLE (PPI). THE PIN CONFIGURATION AND THE USAGE IS AS
MENTIONED ABOVE
2) GHOST
THIS IS A SOFTWARE USED TO TAKE THE COMPLETE HARDDISK
BACKUP OF PCU50 AND MMC 103. THE BACKUP IS EXTREMELY USEFUL
IF THE EXISTING HARDDISK CRASHES. THE BACKUP IS TAKEN IN *.GHO
FORMAT. THE BACKUP CAN BE TAKEN BOTH DISC WISE OR PARTITION
WISE.
EXISTING VERSIONS OF GHOST ARE GHOST V5.1B, GHOST V6.0
GHOST SOFTWARE COMES INBUILT IN MMC103, PCU50 SERVICE MENU.
THE TRANSFER OF THE BACKUPFILES WILL BE DONE THROUGH THE
NETWORK CROSS CABLE (RJ45) OR THROUGH PARALLEL CABLE.
THE PIN CONFIGURTION OF THE PARALLEL CABLE IS GIVEN BELOW:
2*25 PIN MALE CONNECTORS.
2-15
3-13
4-12
5-10
6-11
10-5
11-6
12-4
13-3
15-2
25-25
BODY -BODY
3) GHOST EXPLORER
THIS SOFTWARE IS USED TO BROWSE THE *.GHO FILES. THIS GIVES THE
INFORMATION ON THE PARTITIONS OF THE HARDDISK, THE FOLDERS
WHICH ARE WITHIN THE PARTITION.
4) SINUCOPY (WIN98, NT), SINCOM FFS (WINDOWS XP)
THIS SOFTWARE IS USED TO READ THE PCMCIA CARD IN THE PC. IT IS
USED TO WRITE 802D, 810D, 840D SYSTEM SOTFWARES ONTO THE
PCMCIA CARD. IT IS ALSO USED TO TAKE BACKUP OF THE ARCHIVES
AND PARTPROGRAMS PRESENT IN THE PCMCIA CARD. THE SOFTWARES
SUPPORT FLASH FFS FILE SYSTEM.

* Your assessment is very important for improving the work of artificial intelligence, which forms the content of this project