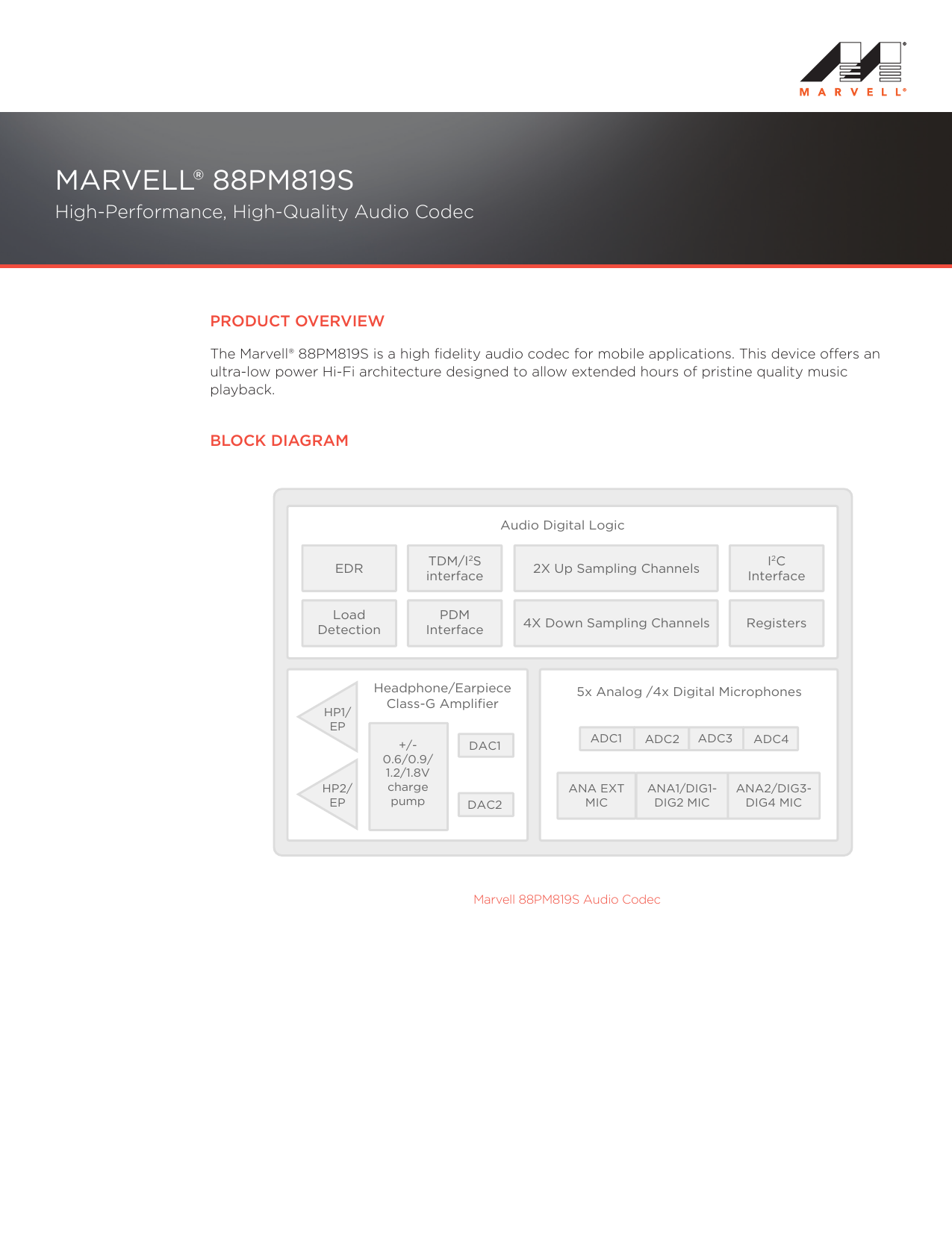 MARVELL® 88PM819S
High-Performance, High-Quality Audio Codec
PRODUCT OVERVIEW
The Marvell® 88PM819S is a high fidelity audio codec for mobile applications. This device offers an
ultra-low power Hi-Fi architecture designed to allow extended hours of pristine quality music
playback.
BLOCK DIAGRAM
Audio Digital Logic
EDR
TDM/I2S
interface
2X Up Sampling Channels
I2C
Interface
Load
Detection
PDM
Interface
4X Down Sampling Channels
Registers
HP1/
EP
HP2/
EP
Headphone/Earpiece
Class-G Amplifier
+/0.6/0.9/
1.2/1.8V
charge
pump
DAC1
DAC2
5x Analog /4x Digital Microphones
ADC1
ANA EXT
MIC
ADC2
ADC3
ANA1/DIG1DIG2 MIC
Marvell 88PM819S Audio Codec
ADC4
ANA2/DIG3DIG4 MIC
MARVELL® 88PM819S
KEY FEATURES AND BENEFITS
FEATURES
BENEFITS
Interface to Host Processor
•• I2C host control interface supporting fast / high speed modes
•• Dedicated interrupt lines to host processor
•• One 3 or 4-wire TDM audio interface, I2S compatible
DAC and Audio Outputs
•• 2-channel 24-bit Hi-Fi linear phase oversampling path with:
•• 2-channel 120dB DR, 100dB SNR, Hi-Fi sigma-delta D/A
•• Sigma-delta stereo PDM interface for external stereo Class-D audio amplifier
•• Hi-Fi stereo headphones / mono ear-piece Class-G amplifier
•• Capless output (ground referenced)
•• Multi-level charge pump dual supply
•• Low power audio playback: 7.5mW (2x0.1mW output power playback)
•• Maximum output power (single ended headphone driver):
•• 25mW @ 32 Ω (1% THD)
•• 42mW @ 16 Ω (1% THD)
•• 40mW @ 8 Ω (1% THD)
•• Maximum output power (differential ear-piece driver):
•• 100mW @ 32 Ω (1% THD)
•• Short Detection with auto-retry
ADC and Audio Inputs
••
••
••
••
Audio Digital Signal
Processing Unit
•• Low jitter audio PLL with 12.288MHz output
•• Internal 20-bit down sampling and 24-bit oversampling @ 192kHz processing
•• Two mixed digital/analog volume controls dedicated to HS/EP
•• Digital: from -91dB to +36dB with 0.5dB steps, soft ramp and zero-crossing
control
•• Analog: from 0dB to -9dB with 1dB steps and -12, -15, -18, -24, -31 and -40dB
•• Two digital volume controls dedicated to PDM from -91dB to +36dB with 0.5dB steps,
with soft ramp and zero-crossing control
•• Noise Gate
Miscellaneous
•• 8kHz – 16kHz – 32kHz – 48kHz – 96kHz – 192kHz data rate over TDM interface
•• DC microphone coupling
•• Headset Pop/Click robustness at power up/down:
•• offset <100µV
•• Headphone Load Detection
•• Input clock: 32768kHz, from 12.288MHz to 52MHz
Package
•• 42-lead eWLP, 3.08mm x 3.08mm, 0.4mm pitch
AC/DC coupling selectable for internal and external microphone inputs
4-channel high quality sigma-delta A/D converters with 95dB dynamic range
Four concurrent independent decimation channels
Four digital microphone interfaces supporting multiple microphone applications
(4 concurrent independent channels)
•• Five analog microphone interfaces with up to four simultaneous microphone support
•• 3 differential
•• 5 single-ended
•• Single-ended or quasi-differential interface for external microphone
•• Voice Activity Detection
ABOUT MARVELL: Marvell (NASDAQ: MRVL) is a global leader in providing complete silicon solutions. From storage to cloud
infrastructure, Internet of Things (IoT), connectivity and multimedia, Marvell's diverse product portfolio aligns complete
platform designs with industry-leading performance, security, reliability and efficiency. For additional information, including
Marvell's sales offices and representatives, please visit our website at www.marvell.com.
Marvell_88PM819S_PB: 08.16
Copyright © 2016 Marvell. All rights reserved. Marvell and the Marvell logo are registered trademarks of Marvell. All other trademarks are the
property of their respective owners.

* Your assessment is very important for improving the work of artificial intelligence, which forms the content of this project