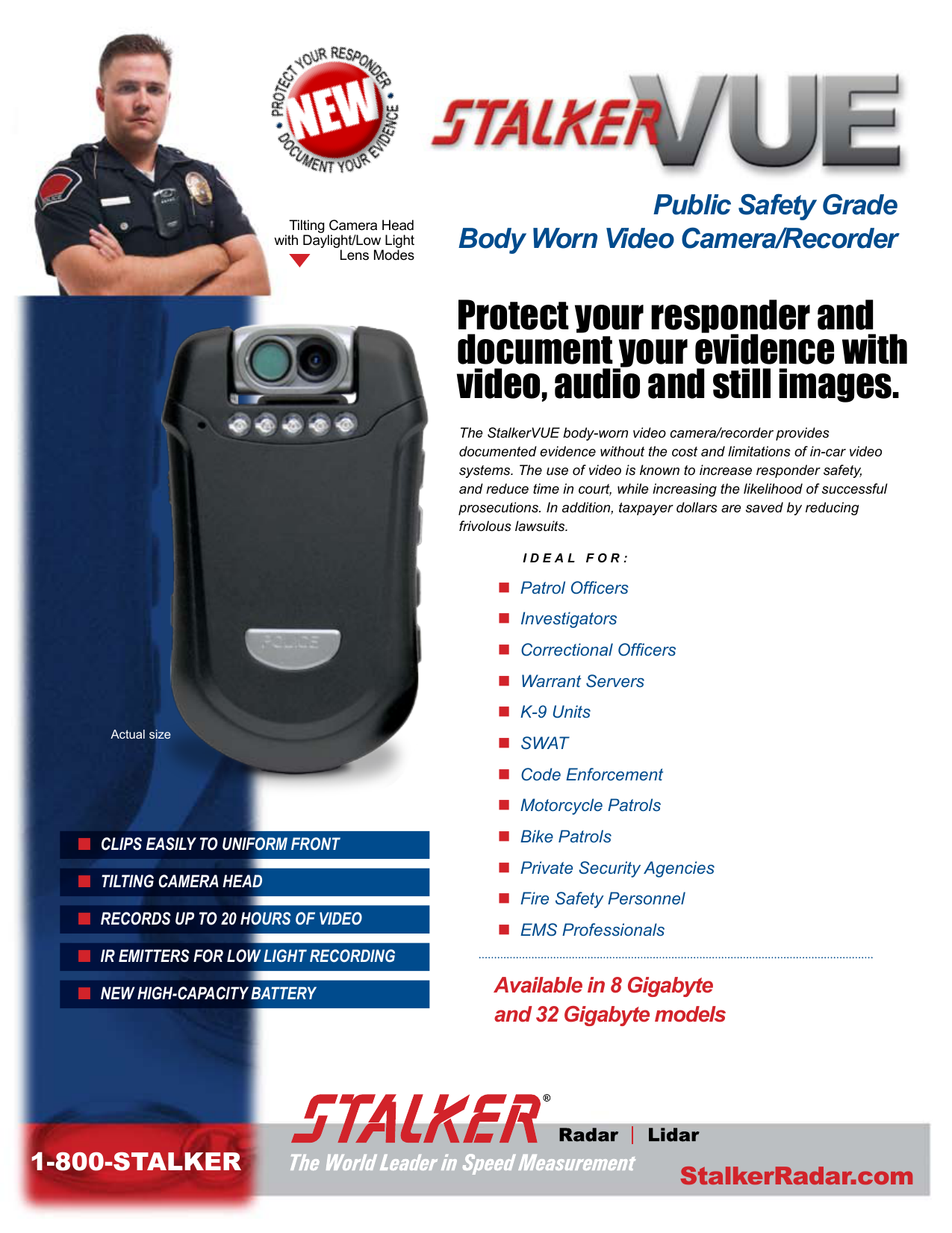 Tilting Camera Head
with Daylight/Low Light
Lens Modes
Public Safety Grade
Body Worn Video Camera/Recorder
Protect your responder and
document your evidence with
video, audio and still images.
The StalkerVUE body-worn video camera/recorder provides
documented evidence without the cost and limitations of in-car video
systems. The use of video is known to increase responder safety,
and reduce time in court, while increasing the likelihood of successful
prosecutions. In addition, taxpayer dollars are saved by reducing
frivolous lawsuits.
IDEAL FOR:
n Patrol Officers
n Investigators
n Correctional Officers
n Warrant Servers
n K-9 Units
Actual size
n SWAT
n Code Enforcement
n Motorcycle Patrols
n CLIPS EASILY TO UNIFORM FRONT
n TILTING CAMERA HEAD
n RECORDS UP TO 20 HOURS OF VIDEO
n Bike Patrols
n Private Security Agencies
n Fire Safety Personnel
n EMS Professionals
n IR EMITTERS FOR LOW LIGHT RECORDING
n NEW HIGH-CAPACITY BATTERY
1-800-STALKER
Available in 8 Gigabyte
and 32 Gigabyte models
StalkerRadar.com
Protect your Responder.
Document your Evidence.
The StalkerVUE body-worn video camera/recorder provides documented
evidence without the cost and limitations of in-car video systems.
The use of video is known to:
n Increase responder safety
n Reduce time in court
n Increase the likelihood of successful prosecutions
n Save taxpayer dollars by reducing frivolous lawsuits
High quality video and still images in
virtually any lighting condition.
Daylight / Low-Light Lens Modes
The Stalker VUE adapts to ambient light to achieve clear video
recording and snapshots in virtually any lighting condition. In low
light and nighttime, the user can slide the IR filter away from the
lens to allow the camera to see in infrared light.
In Daylight Mode, the
StalkerVUE will record high
quality, full-motion video and
snapshots. In most cases,
where there is ambient light
such as street lights, the
camera will record high
quality video or snapshots.
Daylight Mode
Low-Light Mode
1-800-STALKER
In Low-Light Mode, the IR
filter is moved away from the
lens, thus allowing additional
light to enter the camera
lens. Any ambient light will
make the scene visible to the
camera.
Tilting Camera Head
The patent-pending
tilting camera head
affords users a
choice of where the
unit can effectively
be worn.
This feature allows
the camera head
angle to be adjusted
up or down and
positioned for a clear
and unobstructed
view, unlike systems
that incorporate fixed
lenses and fixed
clamps or clips.
In No-Light Mode, the IR
LEDs are turned on to provide
additional artificial light to
the scene. The IR LEDs
are capable of lighting the
surrounding area up to 15
feet in front of the camera.
The all new Stalker VUE is the next
must-have police and security technology.
n RESOLUTIONS FROM 640 x 480 TO 1024 x 768
Easy File Transfer
The StalkerVUE easily transfers files to a PC
computer using its USB connector and cable.
There are no complicated applications to
learn or to configure. Plug 'n
play connectivity with your
existing PC to transfer
files. Transferred files are
AVI format and viewable
on any PC's media
player. That means that
the files can be copied directly to a
flash drive, CD or DVD for easy transportation.
n HIGH QUALITY STILL IMAGES
n DAY LIGHT OR LOW LIGHT OPERATION
User Changeable Battery
Unlike the competition, the StalkerVUE's battery is
user changeable and provides 120 hours of standby
time. Just slide the front panel off of the unit
and the battery is directly accessible
to insert or remove.
Moreover, the battery is
a common cell phone
battery available nearly
anywhere cell phone
accessories
are sold.
Custom Badge Personalization
For a one-time setup charge and small
per unit cost, you can customize your
StalkerVUE with a replica of your
agency's badge, shield, insignia, or logo.
The badge mounts to the front of the
StalkerVUE and adds personalization
to your unit. (Minimum of 50 units)
Personalized
Stalker VUE
360-degree rotatable
clothing clamp
Convenient
Charging Options
The Stalker VUE can be conveniently charged through
its USB cable using the AC to USB power supply or
your computer's USB port.
Plus, an optional external battery
charger is available to keep
spare batteries fully charged
and ready for use.
StalkerRadar.com
StalkerVUE vs
the competition
General Specifications
FEATURE
Yes
Ability to capture
high quality still photos
Yes
Ability to record
audio only
No
Yes
Built in color LCD field
monitor with Auto OFF
No
Yes
5 embedded IR emitters
with retractable filter
for low-light recording
No
No
Yes
Rotating
camera head
No
Yes
User replaceable /
removable Lithium Ion
battery
No
Yes
Unique time/date/ID
watermark over
recorded video
No
Yes
Up to 32 GB of solid state
shockproof media
No
Yes
Agency badge / Logo
customization
No
Yes
1 year full parts
and labor warranty
No
Size:
3.77" x 2.48" x .82" (9.6 cm x 6.3 cm x 2 cm)
Weight:
10 oz. (.29 kg)
Color:
Tactical Black
Warranty:
1 Year
Camera Monitor:
1.4 Color CFT
Battery:
Rechargeable removable Lithium, 4000 mA
Battery Standby:
8+ hours (120 hours powered off)
Battery Run Time:
6 hours continuous recording
Charge Time :
4 hours
Memory:
8 GB or 32 GB, Solid State Memory
Connectivity:
USB 2.0
Operating System:
Microsoft Windows, 2000, XP, Vista, Windows 7,
Mac OSX, Linux
Video
Video Format:
MPEG 4
Playback Format:
.AVI
Still Video Format:
JPEG
Video Resolution:
640 x 480
Still Photo:
High resolution
Camera Sensor:
CMOS
Focus:
4.3 mm / F 2.7
Photography Range:
0.5m +
Approved
| RoHS Compliant
Optional Accessories:
Available in 8 Gig and 32 Gig models
n Custom Badge Personalization
Vehicle Kit
n Identification
The StalkerVUE Includes:
AC to USB power supply
Battery
Upgrade
External
battery charger
USB cable
MANAGEMENT
SYSTEMS
CERTIFIED TO
9001:
2008
1-800-STALKER
Radar | Lidar
applied concepts, inc.
2609 Technology Drive n Plano, Texas 75074
972.398.3780 n Fax 972.398.3781
006-0492-00 Rev D
StalkerRadar.com
Copyright © 2012 Applied Concepts, Inc. All Rights Reserved. Specifications are subject to change.

* Your assessment is very important for improving the work of artificial intelligence, which forms the content of this project