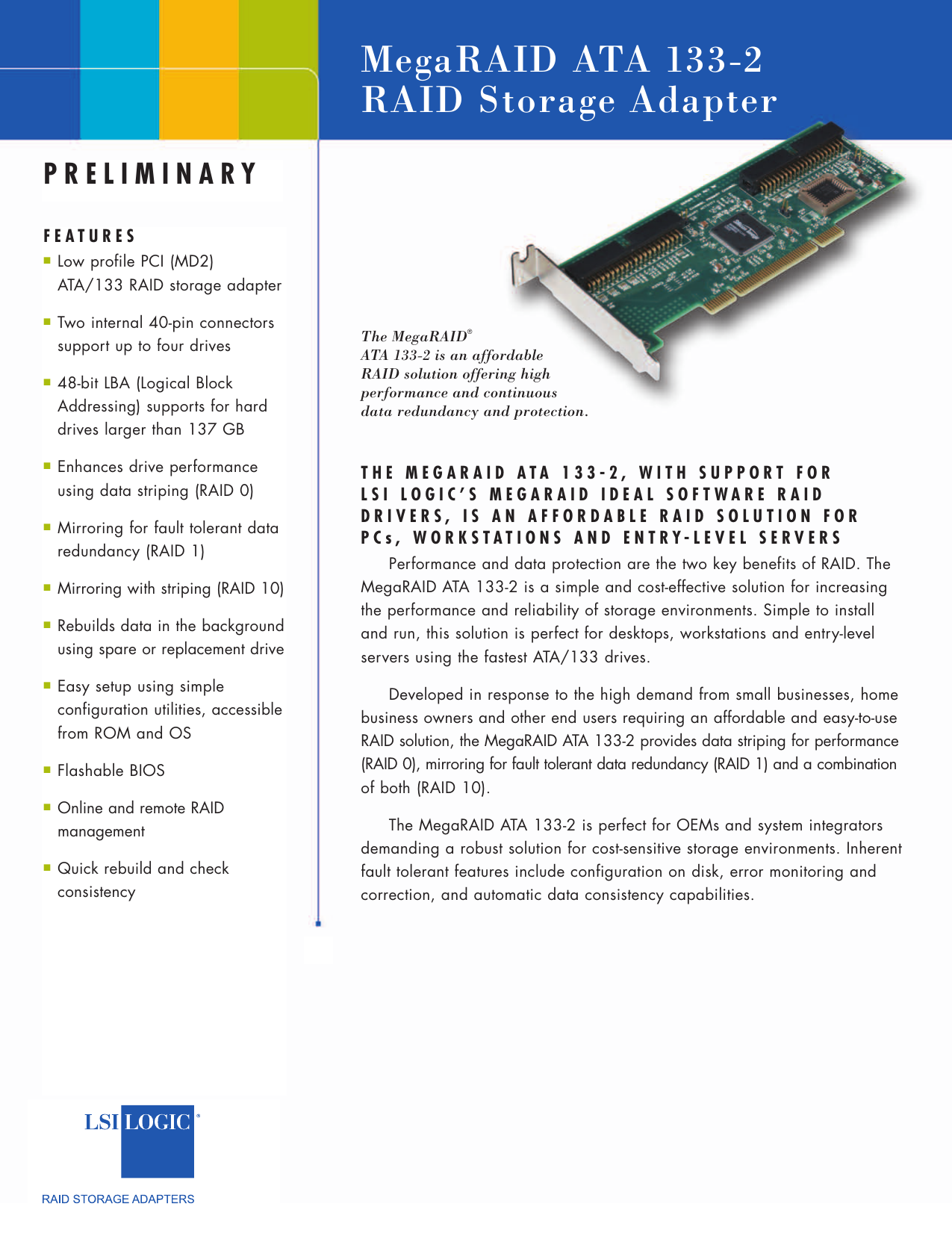 MegaRAID ATA 133-2
RAID Storage Adapter
PRELIMINARY
FEATURES
■
Low profile PCI (MD2)
ATA/133 RAID storage adapter
■
Two internal 40-pin connectors
support up to four drives
■
48-bit LBA (Logical Block
Addressing) supports for hard
drives larger than 137 GB
■
Enhances drive performance
using data striping (RAID 0)
■
Mirroring for fault tolerant data
redundancy (RAID 1)
■
Mirroring with striping (RAID 10)
■
Rebuilds data in the background
using spare or replacement drive
■
Easy setup using simple
configuration utilities, accessible
from ROM and OS
■
Flashable BIOS
■
Online and remote RAID
management
■
Quick rebuild and check
consistency
®
The MegaRAID
ATA 133-2 is an affordable
RAID solution offering high
performance and continuous
data redundancy and protection.
THE MEGARAID ATA 133-2, WITH SUPPORT FOR
LSI LOGIC'S MEGARAID IDEAL SOFTWARE RAID
DRIVERS, IS AN AFFORDABLE RAID SOLUTION FOR
P C s , W O R K S TAT I O N S A N D E N T RY- L E V E L S E RV E R S
Performance and data protection are the two key benefits of RAID. The
MegaRAID ATA 133-2 is a simple and cost-effective solution for increasing
the performance and reliability of storage environments. Simple to install
and run, this solution is perfect for desktops, workstations and entry-level
servers using the fastest ATA/133 drives.
Developed in response to the high demand from small businesses, home
business owners and other end users requiring an affordable and easy-to-use
RAID solution, the MegaRAID ATA 133-2 provides data striping for performance
(RAID 0), mirroring for fault tolerant data redundancy (RAID 1) and a combination
of both (RAID 10).
The MegaRAID ATA 133-2 is perfect for OEMs and system integrators
demanding a robust solution for cost-sensitive storage environments. Inherent
fault tolerant features include configuration on disk, error monitoring and
correction, and automatic data consistency capabilities.
MegaRAID ATA 133-2
RAID Storage Adapter
ADAPTER SPECIFICATIONS
PRELIMINARY
OS SUPPORT
Low profile (MD2) 32-bit, 33 MHz PCI card
All ATA drive modes supported up to ATA/133 (UDMA 6)
PCI bus master capable
Two internal 40-pin connectors support up to four drives
Supports Ultra ATA, EIDE, Fast ATA-2 drives
Flashable 128 KB option ROM
BIOS
48-bit LBA support for hard drives larger than 137 GB
Boot from logical drive
BBS (BIOS Boot Specs) support
PMM (POST Memory Management) support
Fast initialization of first 100 MB of logical drive
Int13 functionality accesses logical drives and loads OS present
on the drives
Supports enhanced disk drive spec (EDDS v3.0)
RAID FEATURES
RAID level support: 0 (striping), 1 (mirroring), RAID 10 (a combination
of both)
Variable stripe size for all logical drives
COD - Configuration On Disk
Drive roaming
Error logging support
Automatic consistency check of source and target drives
Supports mirror rebuilding and Windows NT crash dump
Supports Microsoft® Power Management: Windows® NT, 2000,
XP and .NET
Automatic drive status monitoring
Log events to system and event log files
Microsoft® Windows NT® 4.0/2000/XP/.NET
Linux® support: Redhat 7.2 and 7.3
P R E - B O O T C O N F I G U R AT I O N U T I L I T Y
Text-based user interface for configuration setup
Displays drive information
Displays any warning or error messages
Displays the configuration information
Co-exist with on-board IDE channels
MEGARAID CONFIGURATION CONSOLE (MCC)
Browser-based configuration and management utility for Microsoft®
Windows NT® 4.0/2000/XP/.NET and Red Hat® Linux® 7.2 & 7.3
Background program for monitoring array status and error status
Configuration information and multiple configuration options
Error log display
Automatic and on-demand mirror rebuilding
Consistency check for mirror drives
SNMP support
SMART monitoring
For more information please visit the LSI Logic web site at:
http://megaraid.lsilogic.com
LSI Logic Corporation
RAID Storage Adapter Division
Norcross, GA
Tel: 866 828 9574
LSI Logic Europe Ltd.
European Headquarters
United Kingdom
Tel: 44 1344 426544
ISO 9001 Certified
LSI Logic offers high-performance SCSI, ATA,
LSI Logic, the LSI Logic logo design and MegaRAID
are trademarks or registered trademarks of LSI Logic
Corporation. All other brand and product names
may be trademarks of their respective companies.
LSI Logic Corporation reserves the right to make
changes to any products and services herein at
LSI Logic KK Headquarters
Tokyo, Japan
Tel: 81 3 5463 7165
LSI Logic Hong Kong Ltd.
Kowloon Tong, Hong Kong
Tel: 852 21952 1789
LSI Logic Asia, Taiwan Branch
Taipei, Taiwan
Tel: 866 2 2718 7828
Warranty
any time without notice. LSI Logic does not
assume any responsibility or liability arising out of
the application or use of any product or service
described herein, except as expressly agreed to
in writing by LSI Logic; nor does the purchase,
lease, or use of a product or service from
LSI Logic convey a license under any patent
rights, copyrights, trademark rights, or any other
of the intellectual property rights of LSI Logic or of
third parties.
Copyright ©2002 by LSI Logic Corporation.
All rights reserved.
and Serial ATA RAID storage adapters to leading
server, disk array, and computer system builders
worldwide. Using only the highest quality
components, LSI Logic RAID storage adapters
are assembled in world-class facilities to assure
superior product reliability and performance.
Because of stringent quality management
programs, our RAID storage adapters carry a
three-year limited warranty.
Order No. S20114
12/02-2M – Printed in USA.

* Your assessment is very important for improving the work of artificial intelligence, which forms the content of this project