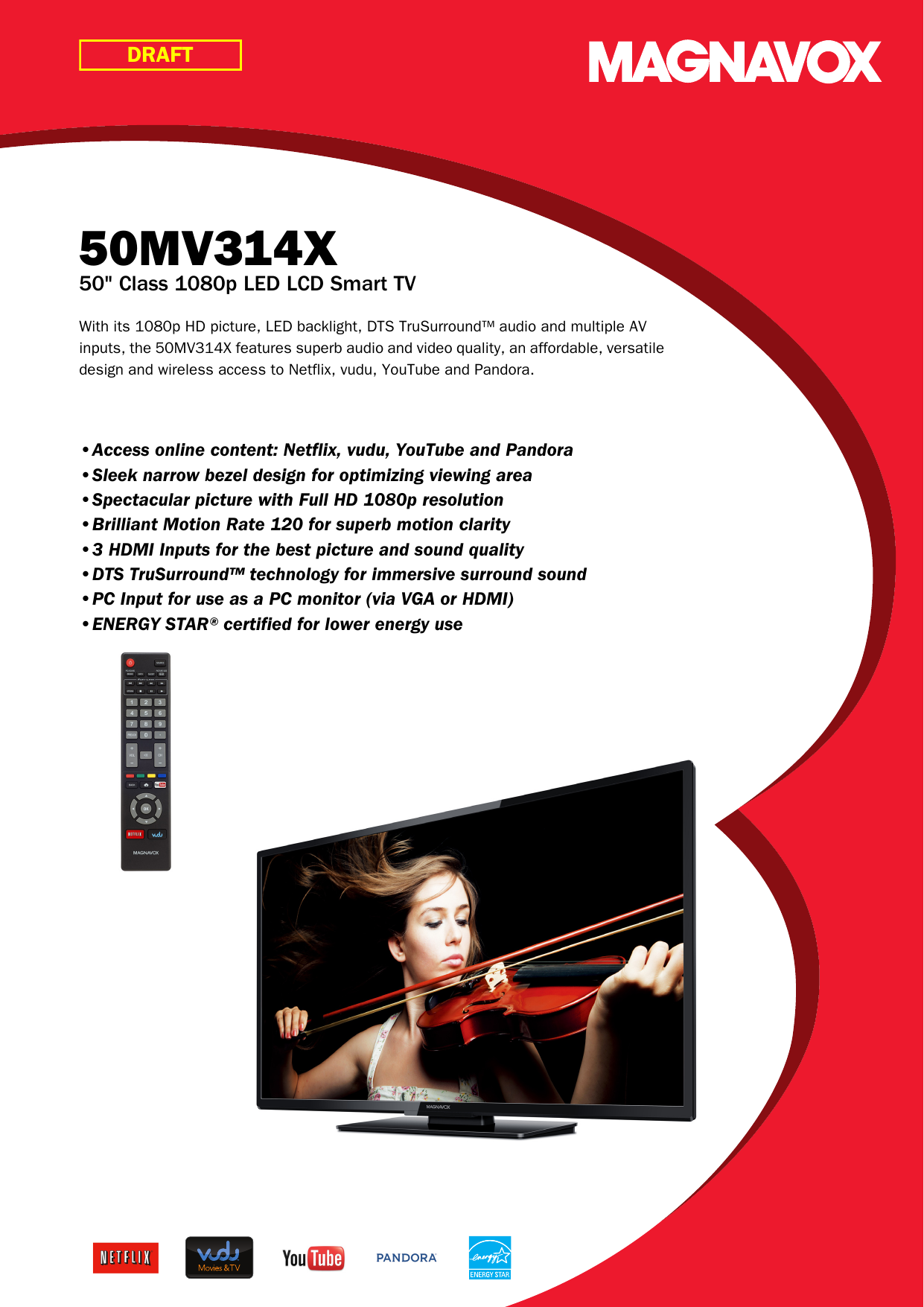 DRAFT
50MV314X
50" Class 1080p LED LCD Smart TV
With its 1080p HD picture, LED backlight, DTS TruSurround™ audio and multiple AV
inputs, the 50MV314X features superb audio and video quality, an affordable, versatile
design and wireless access to Netflix, vudu, YouTube and Pandora.
•Access online content: Netflix, vudu, YouTube and Pandora
•Sleek narrow bezel design for optimizing viewing area
•Spectacular picture with Full HD 1080p resolution
•Brilliant Motion Rate 120 for superb motion clarity
•3 HDMI Inputs for the best picture and sound quality
•DTS TruSurround™ technology for immersive surround sound
•PC Input for use as a PC monitor (via VGA or HDMI)
•ENERGY STAR® certified for lower energy use
DRAFT
50MV314X/F7
50" Class 1080p LED LCD Smart TV
Product specifications
Picture/Display
•
•
•
•
•
Aspect ratio: Widescreen
Diagonal screen size: 50 inch / 127 cm
Visible screen diagonal (inch): 49.5 inch
Panel resolution: 1080p, 1920 x 1080 pixels
Picture enhancement: Progressive scan, 3D
Combfilter, Digital Noise Reduction, Dynamic
contrast enhancement, 3/2 - 2/2 motion pull
down, Clear Pix X2
Supported Display Resolution
Resolution
Computer formats
640 x 480
800 x 600
1024 x 768
1280 x 768
1360 x 768
1920 x 1080
Refresh rate
60Hz
60Hz
60Hz
60Hz
60Hz
60Hz
• TV System: ATSC, NTSC
• Video Playback: NTSC
Connectivity
•
•
•
•
•
•
•
•
•
•
•
AV 1: CVBS in, shared audio L/R in
AV 2: YPbPr, shared audio L/R in
HDMI 1: HDMI, shared audio L/R in
HDMI 2: HDMI, shared audio L/R in
HDMI 3: HDMI, shared audio L/R in
PC: VGA-in D-Sub 15HD, shared audio L/R in
USB: USB(photo,music,movie)
AV output: Headphone out
Audio Output - Digital: Coaxial (cinch)
Other connections: Ethernet, Wireless LAN
HDMI-CEC: One touch play, Auto TV on, Power
status, System standby, RC pass through,
Routing control, System audio control, System
info
Power
Sound
• Sound System: Mono, Stereo, SAP, Dolby Digital
(AC-3)
• Sound Enhancement: DTS TruSurround™
• Output power (RMS): 2 x 10W
•
•
•
•
Mains power: 120V/60Hz
Power consumption: 145 W
Standby power consumption: <0.5W
Ambient temperature: 5°C to 40°C (41°F to
104°F)
Loudspeakers
Dimensions
• Built-in speakers: 2
• Set dimensions in inch (W x H x D):
44.7 x 26.5 x 4.3 inch
• Set dimensions with stand in inch (W x H x D):
44.7 x 28.3 x 10.7 inch
• Product weight (lb): 26.90 lb
• Product weight (+stand) (lb): 30.87 lb
• Box dimensions in inch (W x H x D):
51.9 x 31.0 x 8.2 inch
• Weight incl. Packaging (lb): 40.79 lb
• VESA wall mount compatible: 300 x 300 mm
Convenience
• Ease of Installation: Autostore, PLL Digital Tuning
• User convenience: Sleep Timer
• Ease of Use: Auto Volume Leveller (AVL), On
Screen Display, Smart Picture, Smart Sound,
Closed Captioning Full Text
• Screen Format Adjustments: 4:3, 16:9, Normal,
Zoom, Full, Movie Expand, Wide
• Child Protection: Child Lock+Parental Control
Accessories
Tuner/Reception/Transmission
• Aerial Input: 75 ohm F-type
• Tuner Bands: UHF, VHF
• Included accessories: User Manual, Quick start
guide, Remote Control, Batteries for remote
control, Table top stand, Cable management
LED Backlight
LED backlight technology delivers stunning pictures
with extreme contrasts, deep blacks, vivid details,
and rich colors - all with less energy compared to a
normal LCD TV of the same screen size.
Premium Video on Demand
Stream Netflix, vudu, YouTube and Pandora content
to your TV. Free yourself from fixed program
timeslots and watch what you like, when you like.
(Premium content may require additional fees and/
or PC registration.)
Built-in Wireless LAN
Enjoy network streaming over the Internet via built-in
wireless LAN. Also included is a simple setup
program with easy on-screen displays. (Internet
features require broadband; wireless connectivity
requires wireless router.)
Full HD 1080p Resolution
Full HD 1080p is currently the highest broadcast
resolution. It allows for the best picture quality and
produces brilliant, flicker-free progressive scan
pictures with optimum brightness and color. These
vibrant and sharp images will provide you with an
enhanced viewing experience.
BMR 120
Enjoy your favorite action packed sports and movies
with Brilliant Motion Rate of 120. BMR120,
advanced backlight control technology, provides
brilliant motion clarity and sharpness making your
HDTV experience even more enjoyable.
DTS TruSurround™
DTS TruSurround delivers an immersive virtual
surround sound experience over front facing
speaker configurations, complete with rich bass,
high frequency detail and clear dialog.
Dolby Digital
Dolby Digital, the world's leading digital
multi-channel audio standard, makes use of the way
the human ear naturally processes sound. With
Dolby Digital you experience superb quality surround
sound audio with realistic spatial cues.
3 HDMI Inputs
HDMI makes an uncompressed digital RGB
connection from the source to the screen. By
eliminating conversion to an analog signal, it
delivers an unblemished image. The non-degraded
signal reduces flicker and leads to a clearer picture.
HDMI intelligently communicates the highest
possible output resolution with the source device.
The HDMI input is fully backward compatible with
DVI sources and incorporates digital audio signals.
HDMI uses HDCP copy protection.
JPEG Photo Viewer
JPEG Photo Viewer displays photos stored on an
external USB stick, letting you easily share
memories with gathered family and friends.
Energy Star
Date of issue 2014-06-25
Product Owner: Daisuke Mizuno
Version: 0.0.0
Test leaflet, for internal use only!
Specifications are subject to change without notice.
Trademarks are the property of Koninklijke Philips N.V. or their
respective owners.
12 NC: 8670 001 20102
UPC: 0 53818 52010 9
© 2014 Magnavox.
All Rights reserved.
www.magnavox.com
Energy Star-labeled home electrical products are
designed to use less energy - saving you money
while reducing environmental pollution. In fact,
Energy Star-compliant products consume less than
1 watt of power while in standby mode. This is
achieved by having low standby power consumption
through innovatively designed standby circuitry and
stringent selection of components made with high
efficiency materials.