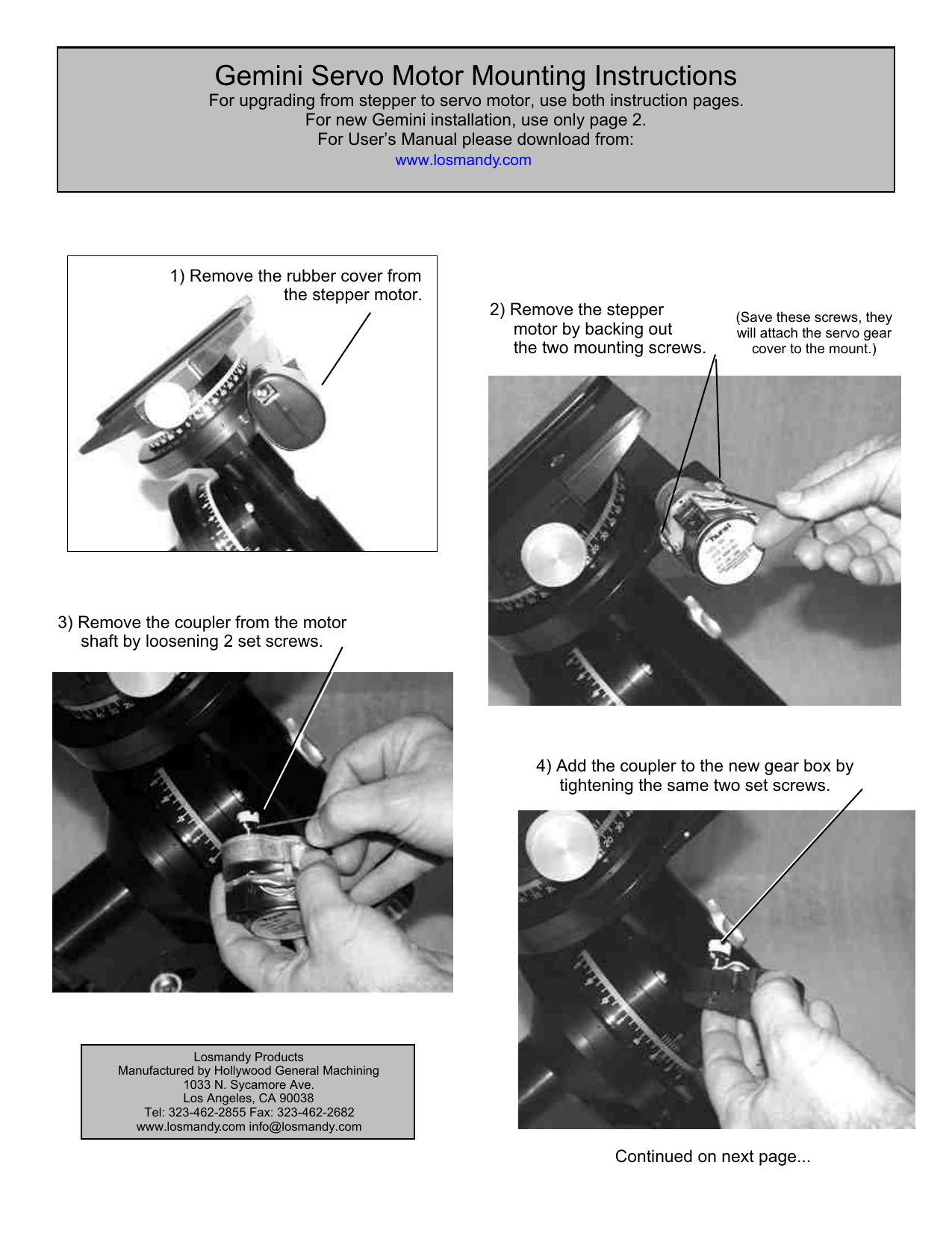 Gemini Servo Motor Mounting Instructions
For upgrading from stepper to servo motor, use both instruction pages.
For new Gemini installation, use only page 2.
For User's Manual please download from:
www.losmandy.com
1) Remove the rubber cover from
the stepper motor.
2) Remove the stepper
motor by backing out
the two mounting screws.
(Save these screws, they
will attach the servo gear
cover to the mount.)
3) Remove the coupler from the motor
shaft by loosening 2 set screws.
4) Add the coupler to the new gear box by
tightening the same two set screws.
Losmandy Products
Manufactured by Hollywood General Machining
1033 N. Sycamore Ave.
Los Angeles, CA 90038
Tel: 323-462-2855 Fax: 323-462-2682
www.losmandy.com info@losmandy.com
Continued on next page...
(C) Threaded spacers
(B) Plastic washers
(E) Allen head motor mount screws
(D) Button head gear
cover screws
(A) Set screws
5)Thread set screws (A) into motor mount holes
until they protrude out 3/8".
6) Slide the gear box on to protruding set screws. Check alignment of
the groove on the coupler so that it mates with the worm coupling.
(If it is not mating properly, the gear box will not sit flush with the mount.)
7) Add plastic washer (B) and threaded spacer (C) onto protruding
set screw. Tighten with pliers.
8) Add gear box cover using the button head screws (D).
(Those replacing stepper motors will use the screws from
dismounting the stepper motor.)
9) Put two allen head mounting screws (E) into the
servo motor, slide into the gear cover, and rotate
until you feel the screws drop into the threaded
holes. Tighten.
Motor should be pointing downward, as pictured.

* Your assessment is very important for improving the work of artificial intelligence, which forms the content of this project