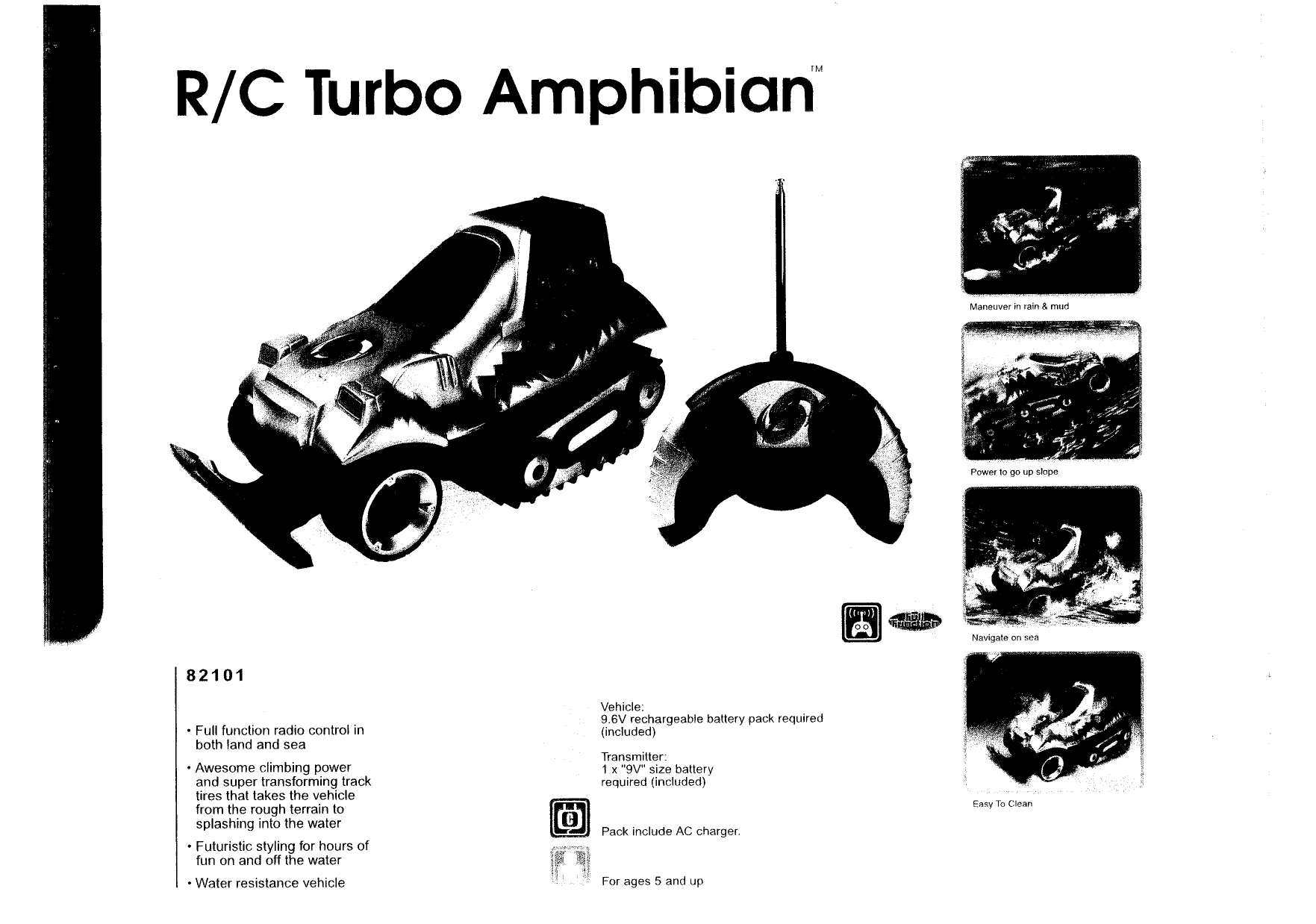 R/C Turbo Amphibian
82101
* Full function radio control in
both land and sea
* Awesome climbing power
and super transforming track
tires that takes the vehicle
from the rough terrain to
splashing into the water
* Futuristic styling for hours of
fun on and off the water
* Water resistance vehicle
Vehicle:
9.6V rechargeable battery pack required
(included)
Transmitter:
1 x "9V" size battery
required (included)
Pack include AC charger.
For ages 5 and up
Navigate on sea
Easy To Clean
Aqua Terrain
sus Sx
Navigate on ssa
This full function R/C vehicle is Ready to Run with speed and action. It has
г awesome climbing power and the super transforming track tires that takes
5 your vehicle from the rough terrain to splashing into the water. Futuristic
5 styling for hours of fun on and off the water. Available in two different R/C
| frequencies allows you to race them against each other for added fun. Vehicle
: requires 1 x 9.6V rechargeable battery pack and charger( all included ).
| Transmitter requires 1 x 9V battery ( included ).
For ages 5 years 8 up.
Нет # 82101
Std. Pack: 2
NE adam rs DRE ee id ae isa pe ps PTA
=1:284
instruction Manual
KEY FEATURES:
- Land & Water playing fun
> Radio control for full function
» Vehicle is water resistance
CONTENT:
» R/C Turbo Amphibian
* Transmitter
* 9V Battery
» Charger
- 9.6V Ni-Cd Battery Pack - Instruction Manual
| safety Precautions:
* Parents, this toy is recommended for children 5 years and older. To ensure that your child's play is both safe and fun, please review
the operating instructions with your children. If toy in the presence of children under 5 years of age, adult supervision is
recommended.
* DO NOT pick up moving vehicle
* Keep hands, hair and loose clothing away from the tires and the wheel hubs when power switch is turned ON.
* DO NOT operate your vehicle on street. Avoid hitting people, pets or home furnishings.
Warning: Changes or modifications to this unit not expressly approved by the party responsible for compliance could void the user's
authority to operate the equipment.
Cautions:
> Non-rechargeable batteries are not to be recharged.
- Rechargeable batteries are to be removed from the toy before being charged.
* Rechargeable batteries are only to be charged under adult supervision.
* Different types of batteries or new and used batteries are not to be mixed.
* Only batteries of the same or equivalent type as recommended are to be used.
* Batteries are to be inserted with correct polarity.
* Exhausted batteries are to be removed from the toy.
* Tne supply terminals are not to be short-circuited.
Care and Maintenance:
* Always remove batteries from the toy when it is not being used for a long period of time.
* Wipe the toy gently with a clean damp cloth.
* Keep the toy away from direct sunlight and/or direct heat.
* Do not submerge the toy into water that can damage the electronic assemblies.
Note:
- Parental guidance is recommended when installing or replacing batteries.
> New and alkaline batteries are recommended to use in this toy to obtain best and maximum
performance.
* You are advised to replace with new batteries as soon as the function becomes impaired.
* Interference will cause loss of control or uncontrolled running of vehicle if used in vicinity of cordless
telephones, baby monitors, electronic devices or other radio controlied devices.
* To race 2 vehicles at the same time, each must have a separate frequency. One with 27MHz,
. and the other with 49MHz, If both have the same frequency, their signals will interfere with each other.
* Users should keep and retain this information for future reference.
* Users should keep strict accordance with the manufacturer's instructions while operating the product.
Special Note to Adults:
* Regularly examine for damage to the plug, enclosure and other parts. In the event of any damage,
the toy must not be used with the charger until the damage has been repaired.
* This toy is not intended for children under 3 years old. The charger is not a toy.
* This toy must only be used with the recommended charger.
Battery requirement for Transmitter: Battery requirement for Vehicle:
>| Power Supply === ' Power Supply : ===
` Rating : DC 9V 05W < 7 Rating : DC 9V 25W
OV| Battery 1x9V/6LF22/6AM6 or Batteries : 9.6V Ni-Cd battery pack
Requires 1 x "OV" size battery \ Requires 9.6V Ni-Cd battery pack & charger (included)
(included) ®
© 0,6
S | Lerl Г Silverlit Toys (U.S.A.) Inc. 17800 Castleton Street, Suite 463, City of Industry, CA 81748, U.S.A.
©2003 Silverlit Toys Manufactory Limited. All rights reserved. Tel: 1-800-707-1159
"This product is in compliance with the
essential requirsments and other
relevant provisions
of Directive C
1995/5/EC."
A WARNING:
CHOKING HAZARD - Small parts.
Not for Children under 3 years.
E .
De EN Rds ад
"
;
FCC Statements
This device complies with part 15 of the FCC rules. Operation is subject to the following two conditions:
1)This device may not cause harmiul interference, and
2)This device must accept any interference received, including interference that may cause undesired operation.
NOTE: This equipment has been tested and found to comply with the limits for a Class 8 digital device, pursuant to Part 15 of the FCC
Rules. These limits are designed to provide reasonable protection against harmful interference in a residential installation. This
equipment generates, uses and can radiate radio frequency energy and, if not installed and used in accordance with the instructions,
may cause harmful interference to radio communications.
However, there is no guarantee that interference will not occur in a particular installation. If this equipment does cause harmful
interference 1o radio or television reception, which can be determined by turning the equipment off and on. the user is encouraged to
try to correct the interference by one or more of the following measures:
* Reorient or relocate the receiving antenna.
* Increase the separation between the equipment and receiver.
* Connect the equipment into an outlet on a circuit different from that to which the receiver is needed.
* Consult the dealer or an experienced radio/TV technician for help.
index to Parts
ir
Ef
Transmitter Turbo Amphibian Vehicle
Turbo
Amphibian
switch
Battery
Compartment
Cover
Battery
Compartment
Cover
Getting Started
Batteries:
° Your Turbo Amphibian vehicle is powered
by 9.6V Ni-Cd battery pack.
* Your transmitter is powered by 1 x 9V size
battery.
Battery Installation -- Transmitter:
1.Remove the battery compartment cover
with a coin. (pic.1)
2 Insert new "9V" size battery with
"+" € 7- signs as shown inside the battery
compartment. (pic.2)
3.Put the battery compartment cover back
in position.
Charging Battery Pack:
The 9.6V battery pack is not charged. It has to be
charged before being used for the first time,
please proceed as follows:
= Rechargeable battery pack are charged under
adult supervision.
* Collect the plug of the battery pack to the piug of
the charger, then plug the charger to the
A.C. socket.
* Battery pack must be charged for 4 hours.
* After charging, plug out of the socket and
disconnect the charger. The specifications
of the utilized unit must be absolutely observed.
Warning: In order to obtain the battery maximum
performance. Do not charge the battery pack over
6 hours.
pic. 1
Battery Installation -- Vehicle:
Make sure the power switch is on "OFF" position,
(pic. 3)
e
Make the "LOCK" turn to open position, then take
battery compartment cover. (pic. 4)
Battery
Compartment
Cover
1.Insert charged battery pack inside the battery
compartment. (pic. $)
2.Connect the plug from inside the battery compartment to
the plug of the battery compartment. (pic. 6)
3.Close the battery compartment cover and turn the lock to
"LOCK" position.
Driving Your Turbo Amphibian Vehicle
Start to play :
The Turbo Amphibian can be played on both land and
Driving Tips:
« Operate only on flat, smooth (but not slippery), dry
water. surfaces and low pile carpet or operate only in
« Switch on the Turbo Amphibian vehicle.
clam, clear water. Pools and shallow ponds are
о Steer the Turbo Amphibian vehicle by adjusting the recommended.
control levers of transmitter in different combinations * After each use, wipe with a towel and allow to dry
to perform different actions. completely.
* For best results, keep antenna up,do not point down
toward Turbo Amphibian vehicle.
After use, switch off the Turbo Amphibian vehicle.
> If the Turbo Amphibian vehicle is to be "parked" for a
relatively long time, remove all batteries from the
vehicle and the transmitter.
* When your R/C Turbo Amphibian vehicle runs
erratically, the problem is usually the result of
interference caused by high tension wires, radios,
or other R/C cars running close by on the same
frequency as yours, You may have to choose an
alternate place to race.
* Do not operate near concrete walls which may
DRIVING ON LAND y
Left Lever | Right Lever Action
Left
Lever
DRIVING ON WATER
Left Lever Lever
t
Ú
\
aj»
Pa Va a
GC Jj |=
y
Trouble Shooting:
disturb transmission.
* Your vehicie is designed for operation in fresh
water. Avoid salt water operation. Do not
submerge the transmitter in water.
/\ WARNING:
Never allow young children to
play in or around water without
adult supervision.
/A WARNING:
Do not run your vehicle far from
bank, otherwise, you may lost it.
Symptom Cause
Correction
+ High-frequency interference
occurred near to high-voltage lines,
transformers and some types of
building.
Vehicle does not react,
or reacts poorly to operation
by transmitter.
« Avoid these if possible, or choose
another place to operate the vehicle.
* Another radio control vehicle using
the same frequency is operated
near your vehicle.
Loss of control
- Out of the control range of distance.
» Race against other vehicles
using different frequencies.
* Move to another area without
radio frequency interference from
another device.
* Loose battery connection
* Main power switch is not in "ON"
position.
* Batteries are not placed in
compartment correctly.
- Batteries are exhausted.
Vehicle runs slowly or
does not run.
* Check battery connection.
* Switch on the power.
* Check the battery polarity.
* Replace all oid batteries with
new ones.