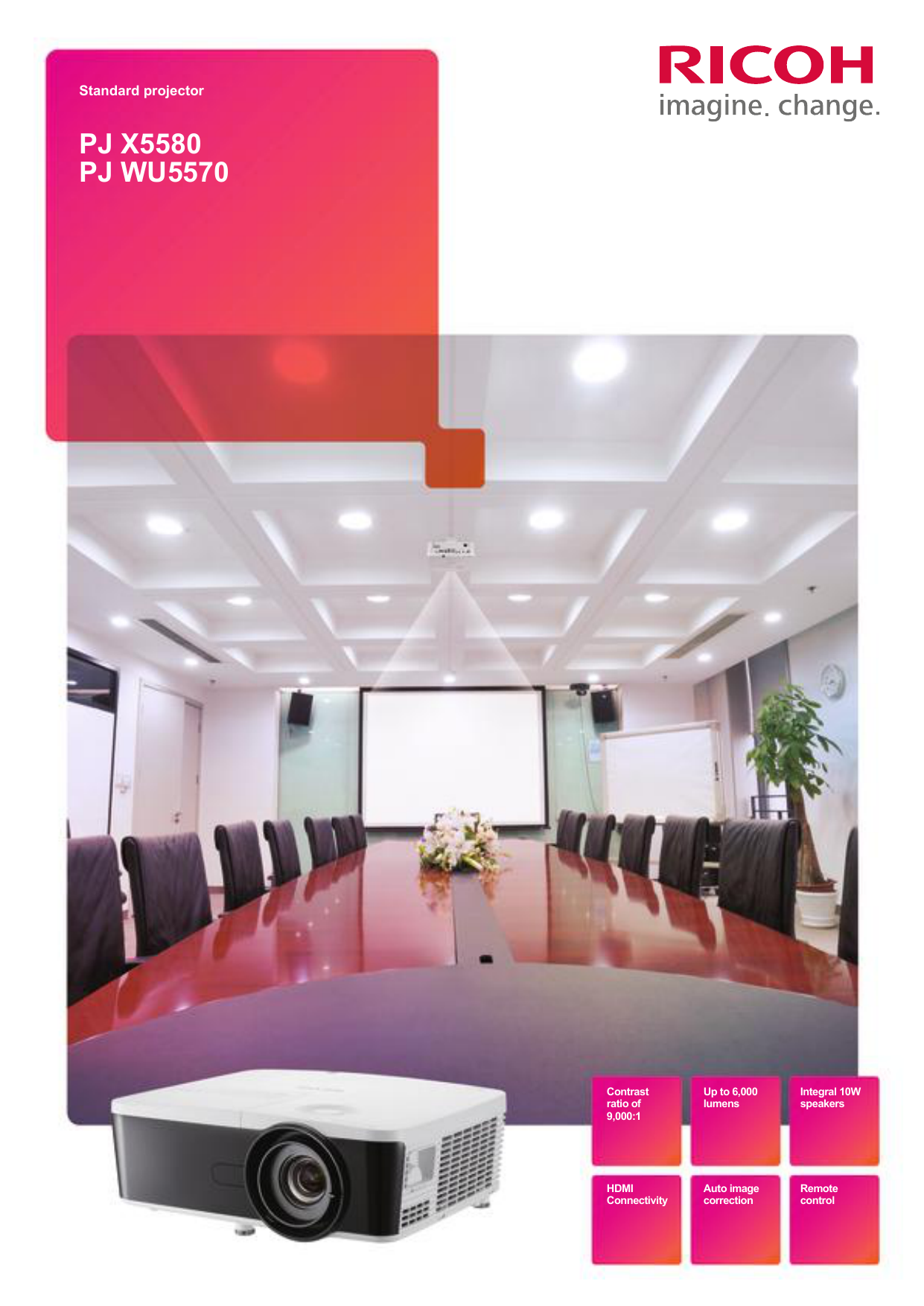 Standard projector
PJ X5580
PJ WU5570
Contrast
ratio of
9,000:1
Up to 6,000
lumens
Integral 10W
speakers
HDMI
Connectivity
Auto image
correction
Remote
control
Superior image quality with easy operation for all
your projection needs
The Ricoh PJ X5580 / PJ WU5570 is designed to meet all your projection needs, offering high quality
digital display on screens up to 300 inches in size for audiences of up to 50. With a choice of XGA and
WUXGA resolution, image quality is outstanding. Simple installation and easy operation with the latest
management utilities makes projection hassle free. Two integral 10W speakers and a wide choice of
connectivity options make this right solution for all applications including business, education and events.
Choice of XGA and WUXGA models at 5500 and 6000 lumens respectively with a high contrast ration of 9000:1
ensures vibrant images with vivid colours
Easy installation thanks to automatic image correction with horizontal and vertical lens shift, eliminates keystone
distortion
Compatibility with latest network management utilities makes operation easy for your planned or ad hoc
presentations in mid-sized screening rooms
Integral high-output 10W speakers provide easy to hear audio in large conference rooms, removing the need for
you to setup an external sound system
Connectivity options, including wireless LAN, support a range of input devices such as network PCs, USB storage
and HD sources like Blu-ray players
Superb image resolution, brightness and
feature rich specification
A choice of resolutions provides the
ideal solution
HD quality resolution and high
contrast images
You need powerful, high quality resolution images
with vivid colour to hold the attention of audiences.
The PJ X5580 / PJ WU5570 ensures that from 10
to 50 people will enjoy bright, vibrant presentations,
when seated up to 13.5 metres from the screen.
This brightness power allows you to project onto
screens from 30 to 300 inches in size, so you can
make presentations in a wide choice of rooms and
auditoriums.
The PJ WU5570 provides a combination of
WUXGA 1920 x 1200 pixel resolution and a high
contrast ratio of 9000:1. This means that you can
screen HD quality content from input sources such
as a Blu-ray player in 16:10 screen aspect ratio.
Your audiences will enjoy relaxed, comfortable
viewing even during long presentations.
Advanced choice of connectivity
options
A wide choice of connectivity options allows you to
connect a broad range of input sources. There are
two HDMI ports including one MHL enabled for
connecting mobile devices such as smart phones.
A LAN connection allows input from remote
network devices and a USB port means that you
can screen slideshows without the need for a
computer connection. A conventional VGA port is
provided along with the latest DisplayPort.
Flexible installation and easy
operation
Vertical and horizontal lens shift with keystone
correction gives you complete flexibility in
installation location so you can choose the most
appropriate place for your projection room.
Operation is also easy because the PJ X5580/
PJ WU5570 is compatible with the latest network
management and control utilities including
Crestron, AMX and PJ Link. An optional wireless
dongle even allows operation without a wired LAN
connection.
PJ X5580/PJ WU5570
MAIN SPECIFICATIONS
CONSUMABLES
GENERAL
Projection system:
Single chip DLP
Resolution:
PJ X5580: 1,024 x 768
PJ WU5570: 1,920 x 1,200
Panel:
PJ X5580: 0.7 inch
PJ WU5570: 0.67 inch
Aspect ratio:
PJ X5580: 4:3
PJ WU5570: 16:10
Brightness:
PJ X5580: 6,000 lumen
PJ WU5570: 5,500 lumen
Contrast ratio:
9,000:1
Projection screen size:
30" to 300"
Projection distance:
1 to 13.5 m (from rear of unit to
projection surface)
Throw ratio:
PJ X5580: 1.3-2.2
PJ WU5570: 1.2-2.2
Lamp:
Mercury lamp
Lamp life:
Standard: 3,000 hours (365 W)
Eco mode 1: 4,000 hours
Zoom ratio:
1.8
Zoom:
Manual
Focus:
Manual
Connection terminal:
Mini D-SUB15pin x 2 (Computer IN)
Mini D-SUB15pin x 1 (Monitor OUT)
Mini DIN 4pin x 1 (S-Video)
RCA_1pin x 1 (Video)
D-SUB 9pin x 1 (PC Control)
HDMI 1/ MHL in x1
HDMI 2 in x1
Display port x1
3.5 mm mini Jack x1/x2
RCA audio jack (Left/Mono) x1
RCA audio jack (Right) x1
USB:
Type-A x 1
Wired LAN:
RJ-45 x 1 (10BASE-T/100BASETX/1000BASE-T)
Wireless LAN:
LAN IEEE 802.11b/g/n compliant
Primary features:
Mute (Blank), Freeze, Re-size
(Magnify), Auto keystone, Password
protection, User logo, Eco mode, 3D
ready, Wall Color mode, Kensington
lock, Firmware update
Built-in speaker:
10 W x 2
Dimensions (W x D x H):
424 x 356 x 150 mm
Weight:
6.35 kg
Power source:
100 - 240 V, 50/60 Hz
ECOLOGY
Sound power level (full system):
35 dB
Power consumption:
Operating power: 495 W
Energy Saver mode: 395 W
Stand-by mode: 1 W
Operating temperature:
5°C - 40°C
Operating humidity:
20% - 80%
Storage conditions:
Temperature: -20°C - 60°C
Humidity: 20% - 80%
ACCESSORIES
Set-up guide & safety instructions, Read this first / Manual (Starting Guide),
RGB cable, Power cable, CD-ROM and manual, Remote control with
batteries, Lens cap, Filter (built-in)
www.ricoh-europe.com
Replacement lamp Type 22
For availability of models, options and software, please consult your
local supplier.
ISO9001 certified, ISO14001
certified, ISO27001 certified
All brand and/or product
names are trademarks of their
respective owners.
Specifications and external
appearance are subject to
change without notice. The
colour of the actual product
may vary from the colour
shown in the brochure. The
images in this brochure are
not real photographs and
slight differences in detail
might appear.
Copyright © 2017 Ricoh
Europe PLC. All rights
reserved. This brochure, its
contents and/or layout may
not be modified and/or
adapted, copied in part or in
whole and/or incorporated
into other works without the
prior written permission of
Ricoh Europe PLC.