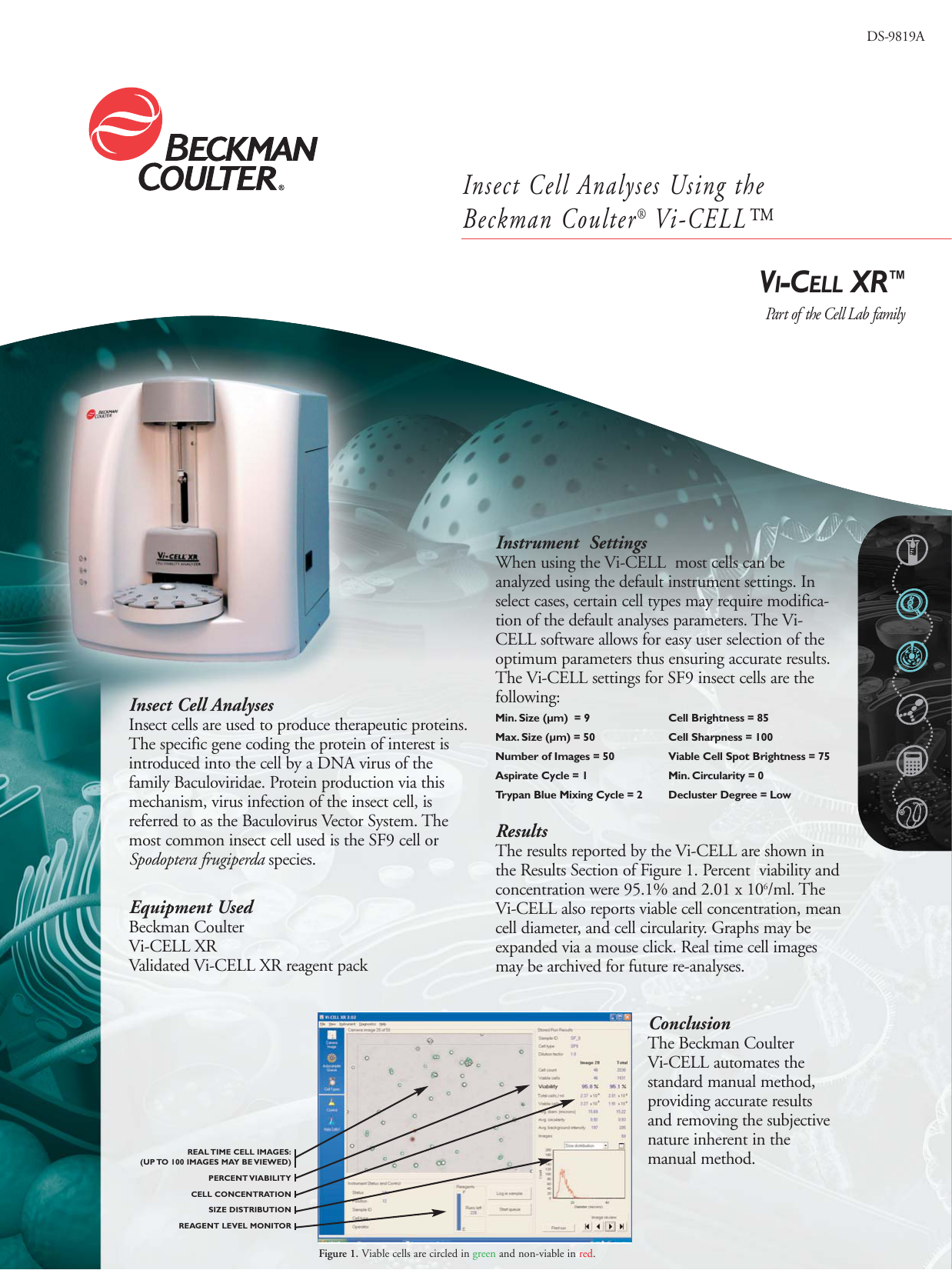 DS-9819A
Insect Cell Analyses Using the
Beckman Coulter ® Vi-CELL™
VI-CELL XR™
Part of the Cell Lab family
Instrument Settings
When using the Vi-CELL most cells can be
analyzed using the default instrument settings. In
select cases, certain cell types may require modification of the default analyses parameters. The ViCELL software allows for easy user selection of the
optimum parameters thus ensuring accurate results.
The Vi-CELL settings for SF9 insect cells are the
following:
Insect Cell Analyses
Insect cells are used to produce therapeutic proteins.
The specific gene coding the protein of interest is
introduced into the cell by a DNA virus of the
family Baculoviridae. Protein production via this
mechanism, virus infection of the insect cell, is
referred to as the Baculovirus Vector System. The
most common insect cell used is the SF9 cell or
Spodoptera frugiperda species.
Equipment Used
Beckman Coulter
Vi-CELL XR
Validated Vi-CELL XR reagent pack
Min. Size (µm) = 9
Cell Brightness = 85
Max. Size (µm) = 50
Cell Sharpness = 100
Number of Images = 50
Viable Cell Spot Brightness = 75
Aspirate Cycle = 1
Min. Circularity = 0
Trypan Blue Mixing Cycle = 2
Decluster Degree = Low
Results
The results reported by the Vi-CELL are shown in
the Results Section of Figure 1. Percent viability and
concentration were 95.1% and 2.01 x 106/ml. The
Vi-CELL also reports viable cell concentration, mean
cell diameter, and cell circularity. Graphs may be
expanded via a mouse click. Real time cell images
may be archived for future re-analyses.
Conclusion
The Beckman Coulter
Vi-CELL automates the
standard manual method,
providing accurate results
and removing the subjective
nature inherent in the
manual method.
REAL TIME CELL IMAGES:
(UP TO 100 IMAGES MAY BE VIEWED)
PERCENT VIABILITY
CELL CONCENTRATION
SIZE DISTRIBUTION
REAGENT LEVEL MONITOR
Figure 1. Viable cells are circled in green and non-viable in red.
THE VI-CELL
MANUAL TRYPAN BLUE DYE
EXCLUSION METHOD
The Vi-CELL automates the widely accepted Trypan Blue Dye
Exclusion method. The Vi-CELL combines the state of the art in
imaging technology, proprietary algorithm and fluidics management.
At the heart of the Vi-CELL is the customized liquid handling system.
This system, which allows sample aspiration, reagent handling and
subsequent instrument cleaning, is fully automated. Once the cellular
suspension has been aspirated and mixed with the trypan blue dye, it
is pumped to the flow cell for imaging. The Vi-CELL can analyze up
to 100 images for a given analysis increasing total volume from 15
to 30 times over the manual method with result in a less that
2.5 minutes.
• Automated liquid handling
• Automated lysing
• General purpose centrifugation
• High performance centrifugation
• Ultracentrifugation
Prepare
• Automated fluorescence microscopy
• Cell counting
• Cell markers
• Cell viability analysis
• Flow cytometry
• Monoclonal antibodies
• Automated liquid handling
• Flow cytometry
• Microarray technology
• Monoclonal antibodies
• Signal transduction assays
Identify
Probe
Sort
• Cell sorters
• Micro-piezeo electric tips
• Reagents (various)
Evaluate
• Monoclonal antibodies
• Multi-mode plate reading
• Genomics solutions
• Proteomics solutions
• Software informatics
As mentioned, the standard method for measuring cell viability is
the Trypan Blue Dye Exclusion method. Trypan blue stain (0.4%) is
mixed with an equal volume of cells.Viable cells, given their intact
membranes, exclude the trypan blue stain; non-viable cells, membrane permeable, stain dark blue. The manual method, however,
requires a technician, using a hemacytometer and microscope, to
enumerate both stained and unstained cells and manually calculate
the percent viability. In addition to being labor intensive , this technique has substantial accuracy error due to it's subjective nature.
VI-CELL TECHNICAL SPECIFICATIONS
INSTRUMENT FUNCTION:
Concentration Range:
5 x 104 to 1 x 107 cells / mL
*Counting Accuracy: + 6%
OPERATING SYSTEM:
Power 50 watts
(65 Watts Max.)
Voltages 100V, 120V,
220V or 240V 50/60 Hz
Windows® 98
Windows® 2000
Windows® XP
TEMPERATURE:
INSTRUMENT TYPE:
11.3kg (25lb)
10° to 40° C (50° to 104° F)
WEIGHT:
Video imaging through a
quartz flow cell
• Automated liquid handling
• Flow cytometry
• Immunoassays
• Monoclonal antibodies
• Software algorithms
Diagnose
POWER REQUIREMENTS:
UNIT DIMENSIONS:
44.5cm (17.5") height
38cm (15") width
41cm (16") depth
VI-CELL SERIES
PN
AUTO SAMPLE
VI-CELL XR
383556
Yes
SIZE RANGE
(µm)
2-70
SAMPLE VOLUME ANALYSIS TIME
(mL)
(Min)
0.5
<2.5
VIABILITY
RANGE
0-100
VI-CELL AS
6605769
Yes
5-70
1.0
<3.5
0-100
VI-CELL S
383080
No
5-70
1.0
<3.5
0-100
VI-CELL XR
QUAD PACK
VI-CELL AS, S
QUAD PACK
VI-CELL
CONCENTRATION
CONTROL
VI-CELL
FOCUS
CONTROL
383722
IMAGING
TECHNOLOGY
Auto-focus routine
Firewire Camera
1394 X 1040 CCD array
Manual focus routine
Image frame grabber
640 X 480 CCD array
Manual focus routine
Image frame grabber
640 X 480 CCD array
383198
175478
175474
Developing innovative solutions in
Systems Biology.
®
B2004-6327
©2004 Beckman Coulter, Inc.

* Your assessment is very important for improving the work of artificial intelligence, which forms the content of this project