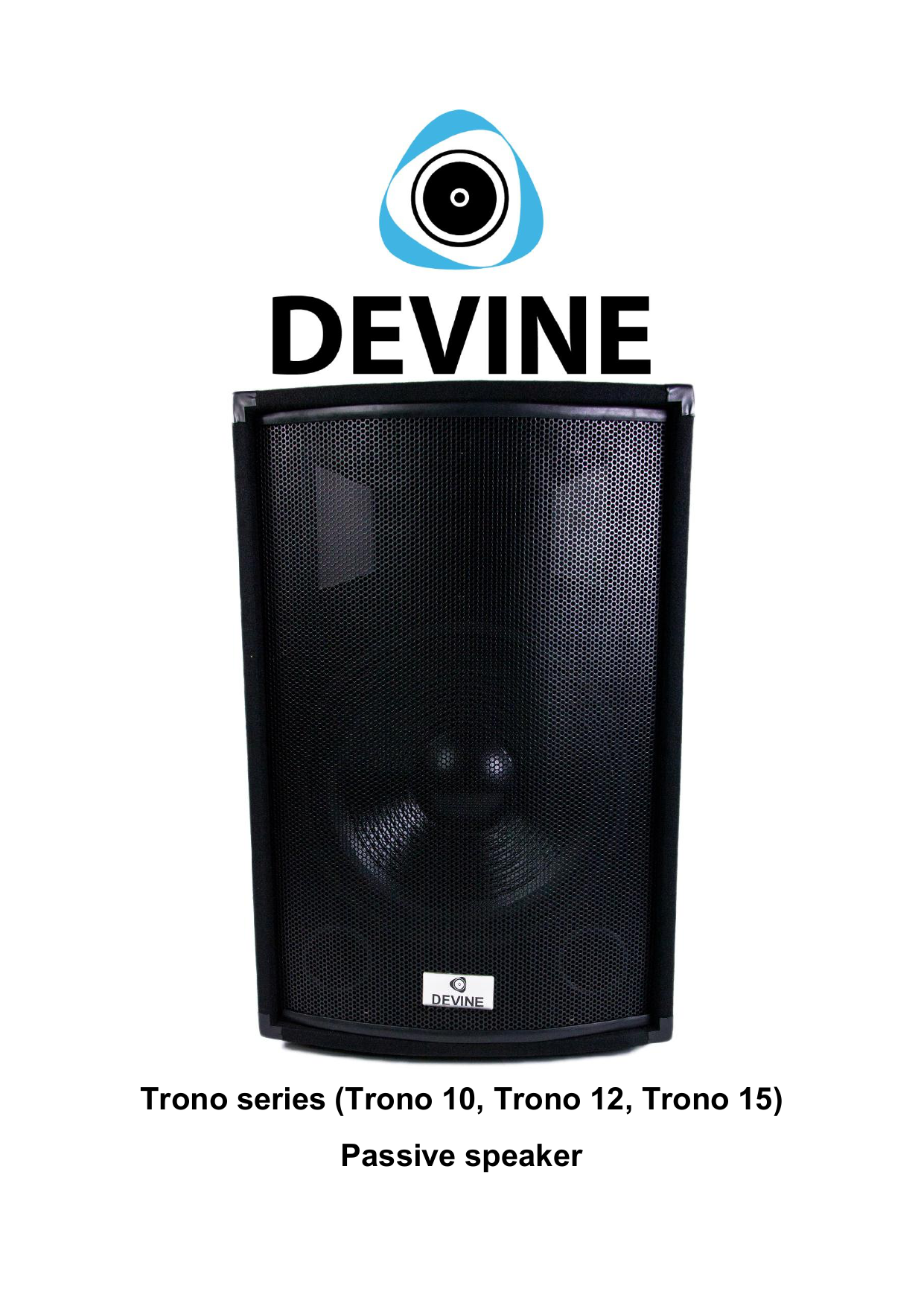 Trono series (Trono 10, Trono 12, Trono 15)
Passive speaker
Introduction
Thank you for purchasing this passive Devine Trono speaker. To make sure you use this loudspeaker
as intended and for optimal performance and protection of this speaker, Devine recommends you read
this user manual.
Box contents:
1x Trono passive loudspeaker (Trono 10, Trono 12, Trono 15)
Warning!
- This loudspeaker is not suitable for use outside. Keep this speaker away from moisture and rain.
- This loudspeaker is capable of producing sound levels that may cause severe and permanent
hearing damage.
- Make sure the speaker cabinet is installed on a proper surface when used. Place this speaker on the
floor, on a professional speaker stand or on a suitable wall-bracket. Devine is not responsible for any
damage caused by improper installation of this device.
- To clean this speaker from any dirt or dust and keep it in optimal shape, use a proper vacuum
cleaner with carpet mouthpiece. The grill can be cleaned with a damp cloth or sponge with a nonaggressive soap solution. The grill can be detached for cleaning, but it is not recommended to remove
it frequently. If you wish to clean the woofer and tweeter, use a dry cloth.
Features and technical data:
Trono 10
Trono 12
Trono 15
Passive speaker
x
x
x
Wooden enclosure
x
x
x
Black damping carpet
x
x
x
finish
Bass-reflex cabinet
x
x
x
Protective grill
x
x
x
Woofer
10 inch
12 inch
15 inch
Tweeter
1 inch with dispersion horn
Maximum RMS power
125W RMS
200W RMS
250W RMS
Maximum program
250W
400W
500W
power
Maximum short peak
500W
800W
1000W
power
Impedance
8 Ohm
Handles on both sides
x
x
x
35mm stand adapter
x
x
x
2x Pro Speaker lock
x
x
x
connector
2x 6.35mm jack
x
x
x
connector
Wire terminal
x
x
x
connectors
Sensitivity
90 dB (+/- 2dB)
92 dB (+/- 2dB)
92 dB (+/- 2dB)
Maximum SPL
117 dB
121 dB
122 dB
Size
370 x 265 x 510 mm
390 x 440 x 650 mm
440 x 475 x 750 mm
Weight
10.7 kg
17.32
22.40 kg
NOTE: Illustrations in this manual are only for your reference, illustrations might be slightly
different from the actual product.
Use of the speaker
This speaker is designed to perform in professional environments. Speech, music, or any other type of
sound can be played trough this speaker.
For optimal performance, a suitable PA-amplifier is needed. Each Trono speaker has its own
characteristics, based on the internal components. For every Trono speaker, there is a maximum
power handling, optimized for the woofer and tweeter.
Devine advises to use a PA-amplifier that has about 1.5x the RMS power of the maximum RMS power
handling of your speakers. The RMS values are measured with a static sinus and not with dynamic
music, therefore it is safe to use this kind of configuration. As the Trono speakers have a larger
maximum peak power handling, they are capable of handling short peak power values.
This configuration is also beneficial for your PA-amplifier, as it does not have to work at full power to
provide your speakers with optimal power. Make sure though that you do not exceed the maximum
capability of your speakers, which occurs when you hear distorted sounds or when the CLIP LEDs on
your amplifier are lit.
It is possible to connect a second Trono speaker to the second output of your first Trono speaker.
However, take notice that the impedance of your speaker system drops to 4 Ohm. Make sure your PAamplifier is suitable for this impedance or contact your local dealer if you have any doubts.
Use proper cable and proper connectors to connect your speakers and amplifier. Devine recommends
to use prefabricated speakercables with pre-mounted connectors.
Devine also recommends the use of the lockable speaker connectors, for optimal reliability, but for
convenience reasons there are also 6.35mm jack connectors and wire terminals positioned on the rear
of the speaker.
When making your own speaker cables, only use good quality speaker cable with at least a 2x 1.5mm²
core. Thin wiring and high power may result in melting cables!
Use your ears to make sure you don't blow up your speakers or cause any other damage to its internal
components. When you hear any distortion or when your PA-amplifier is clipping, you need to take
action and lower the volume on your mixer or amplifier.
All Trono series speakers are equipped with a 35mm stand adapter,
which makes it possible to place the speaker on a suitable height.
This makes the distribution of high and mid-frequencies easier. See
the image for details. 35mm is a standard size for speaker stands, so
most speaker stands will fit the speaker properly.
Warranty is void when damage to this speaker is caused by improper
use. When any damage to this speaker occurs, please contact your
local dealer for help.

* Your assessment is very important for improving the work of artificial intelligence, which forms the content of this project