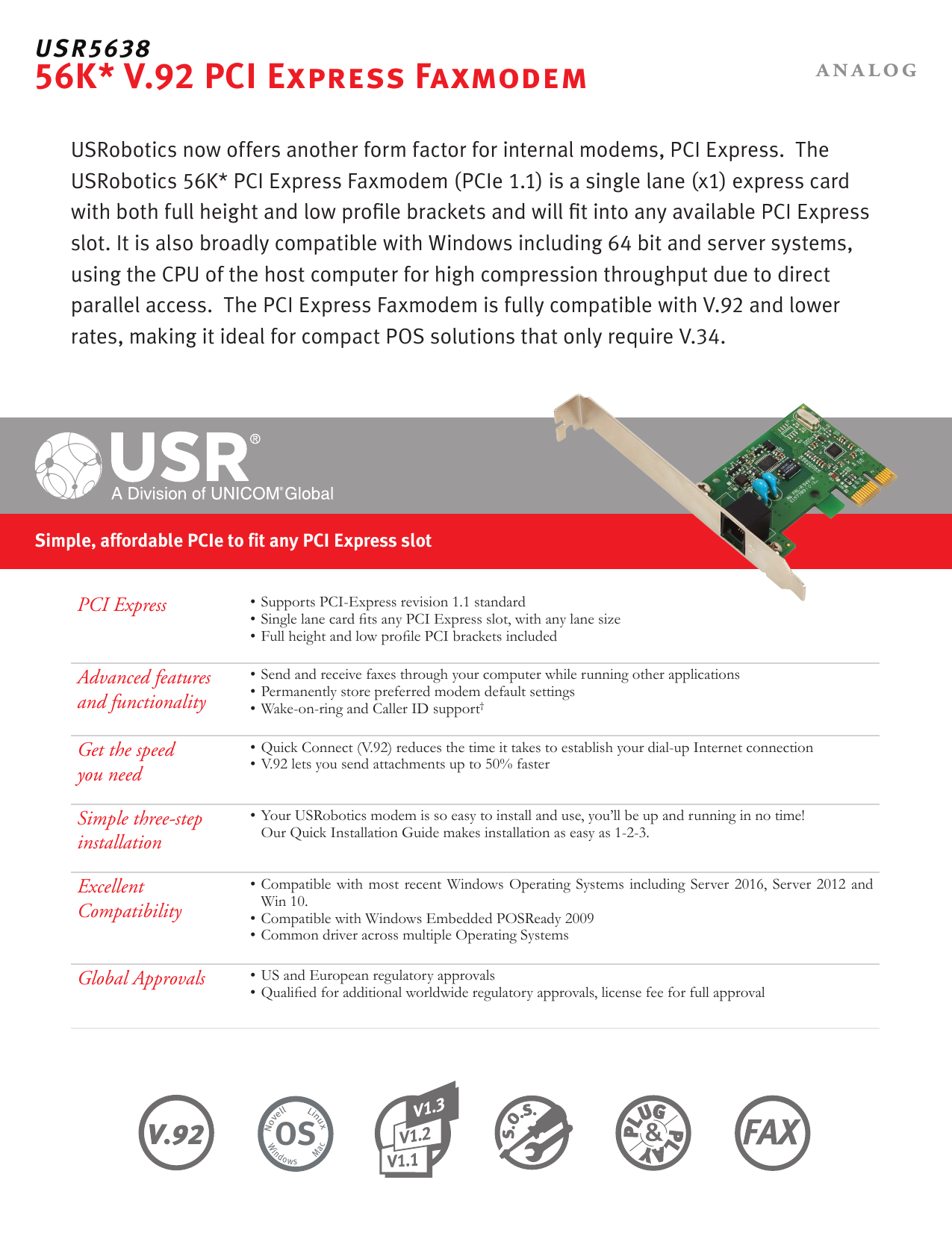 US R5638
56K* V.92 PCI Express Faxmodem
an alog
USRobotics now offers another form factor for internal modems, PCI Express. The
USRobotics 56K* PCI Express Faxmodem (PCIe 1.1) is a single lane (x1) express card
with both full height and low profile brackets and will fit into any available PCI Express
slot. It is also broadly compatible with Windows including 64 bit and server systems,
using the CPU of the host computer for high compression throughput due to direct
parallel access. The PCI Express Faxmodem is fully compatible with V.92 and lower
rates, making it ideal for compact POS solutions that only require V.34.
Simple, affordable PCIe to fit any PCI Express slot
PCI Express
•Supports PCI-Express revision 1.1 standard
•Single lane card fits any PCI Express slot, with any lane size
•Full height and low profile PCI brackets included
Advanced features
and functionality
•Send and receive faxes through your computer while running other applications
•Permanently store preferred modem default settings
•Wake-on-ring and Caller ID support†
Get the speed
you need
•Quick Connect (V.92) reduces the time it takes to establish your dial-up Internet connection
•V.92 lets you send attachments up to 50% faster
Simple three-step
installation
•Your USRobotics modem is so easy to install and use, you'll be up and running in no time! Our Quick Installation Guide makes installation as easy as 1-2-3.
Excellent
Compatibility
•Compatible with most recent Windows Operating Systems including Server 2016, Server 2012 and
Win 10.
•Compatible with Windows Embedded POSReady 2009
•Common driver across multiple Operating Systems
Global Approvals
•US and European regulatory approvals
•Qualified for additional worldwide regulatory approvals, license fee for full approval
l
el
Li
ows
M
Wi
ac
x
Nov
nu
OS
nd
Model 5638
56K PCI Express Faxmodem
M o d e l US R5 638
56K* V.92 PCI Express Faxmodem
Specifications & Standards
General
• Data: V.92, V.90, V.34, V.32bis, V.32
• Data Error Control/Compression: V.44/V.42/V42bis and MNP5
• Fax: EIA 578 (Class 1) with V.17, V.29, V.27ter, V.21, Group 3
• V.80 video conferencing support
• Hayes Compatible
Physical
• Phone line interface: One RJ-11 socket
• Caller ID support (requires service from your local phone company;
Caller ID may not be supported in some countries)†
Environmental
• Temperature:
▪▪ Operating Temperature conditions: 0 to 50 degrees C
▪▪ Non-Operating Temperature conditions: -20 to 70 degrees C
• Humidity: Operating Humidity conditions:
▪▪ 20% to 80% non-condensing
▪▪ Non-Operating Humidity conditions: 5% to 95% noncondensing
Power Consumption
• Power 3.3V
• Signal LVDS
Product Dimensions
• 2.75 x 2 x .5 in (6.98 x 5.08 x 1.27 cm)
• .08 lb (.03 kg)
Minimum System Requirements
• Windows® Server 2016/Win 10/Server 2012 R2/Server 2012/
Win 8/ Server 2011/ Win 7/ Server 2008/ VistaTM / Server 2003/
POSReady/XP/2000 32 and 64 bit operating systems (Unimodem
TSP/TAPI compliant)
• Available PCI Express slot: full height or low profile
• 2x or better CD-ROM drive
• Analog phone line
Package Contents
• USRobotics 56K* PCI Express Modem with full height PCI bracket
• Low profile bracket
• Phone cord
• Quick Installation Guide
• Installation Essentials CD-ROM: drivers for Windows, Command
Reference
Warranty
• 2-year limited manufacturer warranty from date of purchase
Regulatory
• FCC approved
• IC approved
• UL/CUL listed
• TBR-21
* Capable of receiving at up to 56 Kbps and sending at up to 48 Kbps (or 31.2 Kbps with V.90 server). Due to FCC
regulations on power output, receiving speeds are limited to 53.3 Kbps. Actual speeds may vary. V.92 and V.90 features
require compatible phone service and support from your Internet Service Provider (ISP). USRobotics modems featuring
V.92 enhancements are backward compatible and will negotiate the highest possible speed when connecting to an ISP.
† Call Waiting/Caller ID service required for utilizing Caller ID capability.
Package Dimensions/Weight
• 6.75 x 5.38 x 1.18 in (17.15 x 13.60 x 3.0 cm)
• .34 lb /.15 kg
For connection to the Public Switched Telephone Network (PSTN)
RoHS
Compliant
2011/65/EU
www.usr.com
Copyright© 2017 U.S. Robotics Corporation, a Division of UNICOM Global. All rights reserved. U.S. Robotics, and USRobotics are registered trademarks of U.S. Robotics Corporation.
Other brand names and product names are for identification purposes only and may be trademarks or registered trademarks of their respective companies.

* Your assessment is very important for improving the work of artificial intelligence, which forms the content of this project