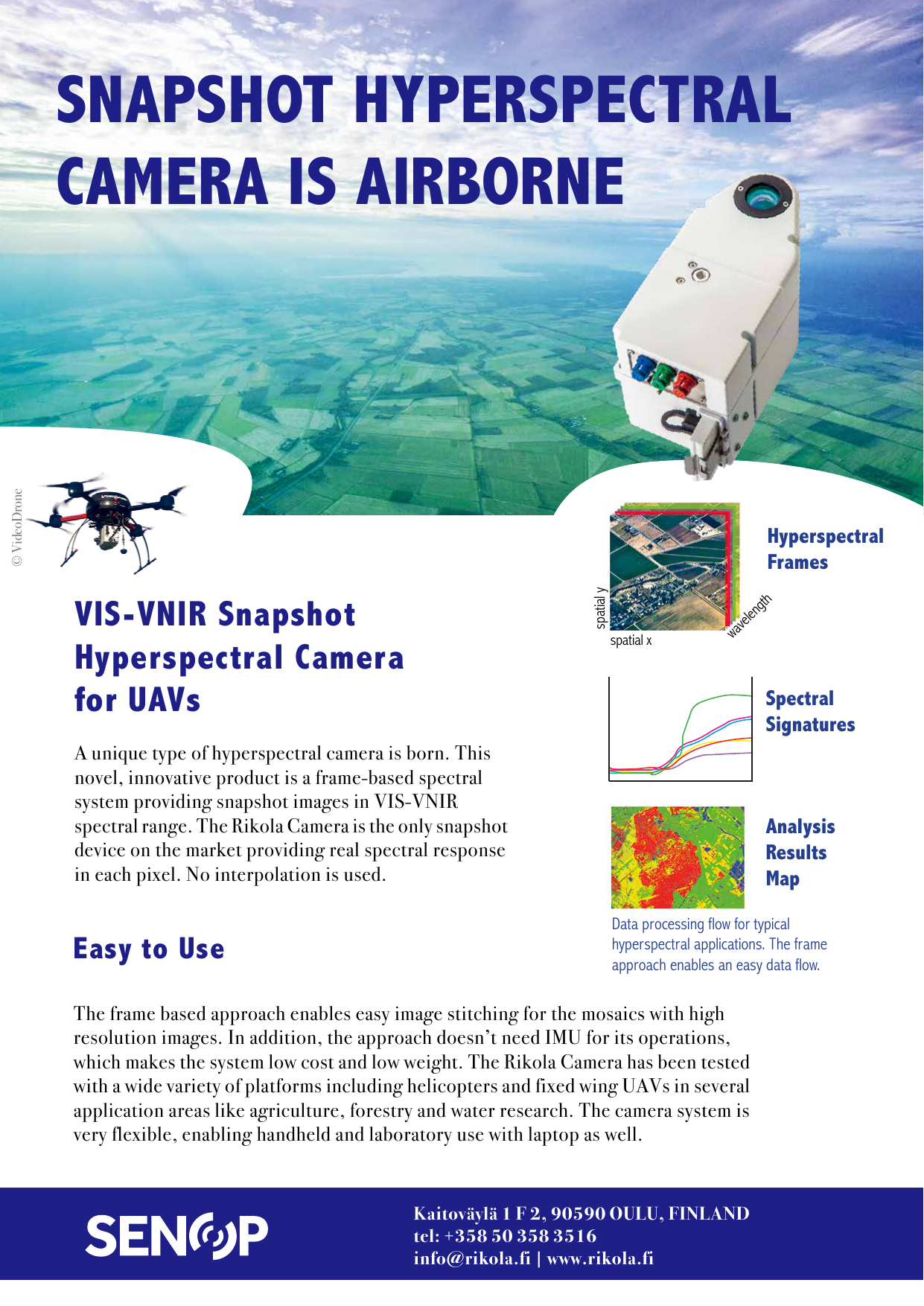 © VideoDrone
SNAPSHOT HYPERSPECTRAL
CAMERA IS AIRBORNE
spatial y
Hyperspectral
Frames
VIS-VNIR Snapshot
Hyperspectral Camera
for UAVs
spatial x
gth
len
e
v
wa
Spectral
Signatures
A unique type of hyperspectral camera is born. This
novel, innovative product is a frame-based spectral
system providing snapshot images in VIS-VNIR
spectral range. The Rikola Camera is the only snapshot
device on the market providing real spectral response
in each pixel. No interpolation is used.
Easy to Use
Analysis
Results
Map
Data processing flow for typical
hyperspectral applications. The frame
approach enables an easy data flow.
The frame based approach enables easy image stitching for the mosaics with high
resolution images. In addition, the approach doesn't need IMU for its operations,
which makes the system low cost and low weight. The Rikola Camera has been tested
with a wide variety of platforms including helicopters and fixed wing UAVs in several
application areas like agriculture, forestry and water research. The camera system is
very flexible, enabling handheld and laboratory use with laptop as well.
Kaitoväylä 1 F 2, 90590 OULU, FINLAND
tel: +358 50 358 3516
info@rikola.fi | www.rikola.fi
SNAPSHOT HYPERSPECTRAL
CAMERA IS AIRBORNE
PARAMETER
SPECIFIED VALUE
Horizontal FOV
Vertical FOV
F-number
Focal Length
Ground Pixel
36,5°
36,5°
~ 2,8
~ 9 mm
6,5 cm at 100 m altitude
Default Spectral Range
500-900 nm
Spectral Resolution
~10 nm, FWHM
Spectral Step
~ 1 nm
Calibration Unit
Spectral radiance
Spectral Bands
~380 max*
Image Sensor
Dynamic Range
Exposure Time
CMOS
12 bits
0,12-3000 ms
Frame Rate
30 frames/s
Max Spectral Image Dimensions
1010 x 1010 pixels
Operational Voltage
Power Consumption
7-9 V, the 7,5 V is recommended
5,3 W average
10,0 W momentarily
Weight
~ 720g
REMARKS
The camera has fixed optics.
Other ranges: 400-700, 450-800
and 550-950 nm.
Over the range 500-830 nm.
The peak wavelength can be
selected by ± 1 nm accuracy.
The band amount is programmable.
The used band amount can be selected
between 1-380 for the default range.
Pixel size is 5.5 µm x 5.5 µm.
Adjustable
Frame rate with 10 ms exposure time
and 1010 x 648 pixels image size.
All pixels are true image pixels.
No interpolation is used.
Without battery, GPS and relative
irradiance sensor.
* With compact flash card (typical case with UAVs), user is able to select max 100 bands among 380 bands available with ±1 nm accuracy.
Mounting
thread
(UNC 1/4-20)
Unit is mm.
Please note, this is a bottom picture!
Datasheet information is subject to change without notice.
Kaitoväylä 1 F 2, 90590 OULU, FINLAND
tel: +358 50 358 3516
info@rikola.fi | www.rikola.fi
ȕȕ
Space for the
connectors,
cables and
change of the
compact flash
card needed.

* Your assessment is very important for improving the work of artificial intelligence, which forms the content of this project