Willowbrook Place Teenage Parent Unit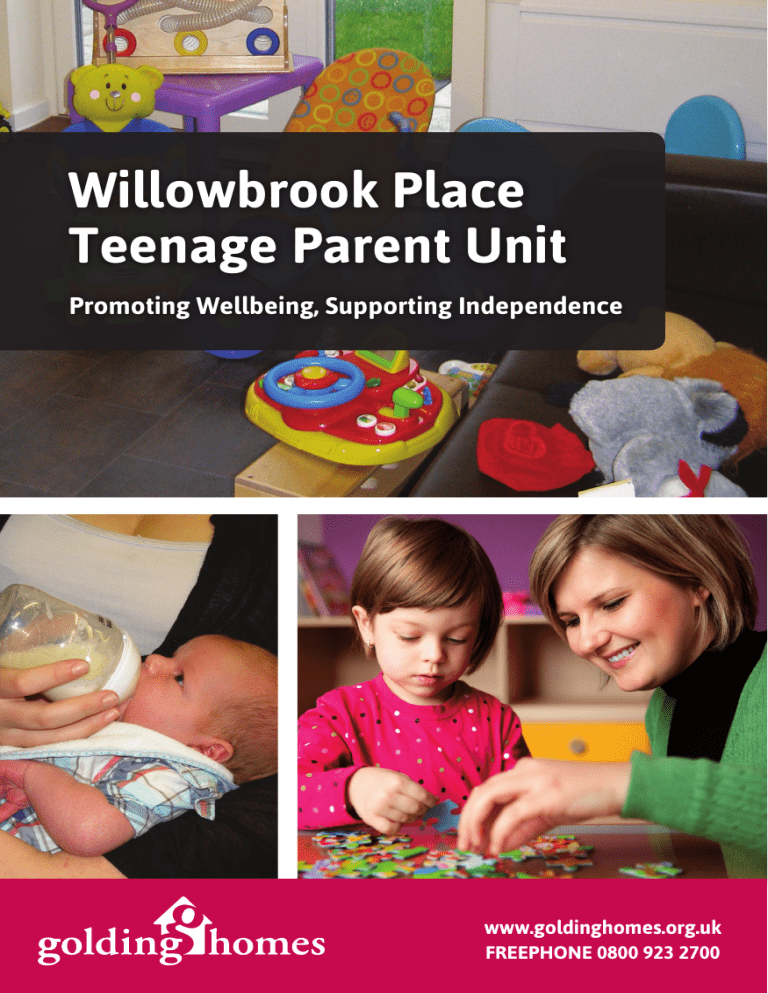 Willowbrook Place
Teenage Parent Unit
Promoting Wellbeing, Supporting Independence
www.goldinghomes.org.uk
FREEPHONE 0800 923 2700
Willowbrook Place
Our service
Willowbrook Place is a purpose
built Teenage Parent Unit offering
accommodation and housing related
support to young people between 16-21
years old who are pregnant and/or
have young dependent children.
Located in Maidstone, Willowbrook
Place comprises six self-contained
apartments, communal facilities
including a kitchen/dining area, two
sitting rooms and an office.
Funded by Kent County Council, the
service is designed to help young
parents to manage their tenancy,
develop their life and parenting skills,
encourage independent living and
reduce homelessness. Young parents
are also given support to move on
and settle back into the community
if required.
The Teenage Parent Service is
delivered by Golding Homes Support
Services working in partnership with
other statutory and non statutory
agencies. Our professional team has
extensive knowledge and experience
of supporting teenage parents.
Applicants must:
• Be aged 16-21
• Have a child or be expecting a baby
• Live in Kent
• Need support with housing
Referrals
Contact
Any organisation can refer a young
parent to the service. Self referrals
can be made.
A referral form must be completed and
this can be done in a number of ways:
Call us
Freephone: 0800 923 2700
Local rate: 01622 212600
Email us
Send an email to:
[email protected]
Online
You can complete the online
referral form which is available
on our website:
www.goldinghomes.org.uk
Once a completed referral form
is received we will contact you
to arrange an appointment to
assess support needs.
Generally we will get back to you
within five working days but
there may be a waiting list for
the service.
If there is an emergency, such
as homelessness or domestic
abuse, we will be able to advise
you of other agencies that can
help while the application is
being processed.
Willowbrook Place
We offer up to 17.5 hours of intensive
support each week for up to two
years, with three months optional
support in the community.
It is a confidential service and
information is only shared with
consent from the individuals
concerned or on a need to know
basis when there is an identified risk.
The Teenage Parent Service provides
a range of support, including:
Tenancy Management
Budgeting is a key factor to help
the young parents manage their
tenancy. The team support
them in developing good
budgeting skills.
Training, Education, Employment
We work with young parents who
wish to enter education or find
training for future employment by
helping them to develop their skills.
We also promote active participation
in the local community.
Health and Wellbeing
We promote healthy eating and
positive lifestyle choices, and work
alongside other agencies to raise
awareness of sexual health issues
and access to GP and dental care.
Childcare
Young parents are offered help to
improve their parenting skills and
knowledge. They are also assisted
in accessing child care if they wish
to pursue further education,
voluntary work or employment.
Education and Young Fathers
Young fathers may want to participate
in their children's lives and we
actively involve them in the service
we provide to mothers and children.
Domestic Abuse Issues
Some of our young parents will be
victims of domestic abuse and we
offer support in times of crisis as
well as work with relevant agencies
to promote healthy relationships.
Visits to the Teenage Parent Unit
Our professional team welcomes visits from
partners who would like to find out more about
the Teenage Parent Service and the facilities
we offer. We would be keen to hear from other
agencies that would be interested in working
in partnership with us. Please call the team on
0800 923 2700.
Room Hire
There are a number of rooms at the unit available
to partners for use. Please contact us for details.
Freephone 0800 923 2700
This information
information on
paying
your rent
is alsolanguages,
available inlarge
otherprint,
languages,
largeaudio
print,format
Braille and
This
is also
available
in other
Braille and
audio
format on request.
on
request.
Kiranızı ödeme hakkındaki bu bilgi ayrıca diğer dillerde, büyük baskı olarak, Kör alfabesi
ve ses biçiminde de edinilebilir.
Turkish
Ky informacion mbi pagesën e qirasë tuaj është gjithashtu i disponueshëm në
gjuhë të tjera, me germa të mëdha, Braille dhe në format zanor nëse kërkohet.
Albanian
Niniejsza ulotka informacyjna na temat płatności za czynsz, dostępna jest również Polish
na życzenie w innej wersji językowej, dużym drukiem, alfabetem Braille'a lub na
kasecie.
Esta informação sobre o pagamento da renda está disponível, mediante
solicitação, noutros idiomas, num formato ampliado, em Braille e em áudio.
Portugese
Farsi
.
Bengali
) 0800 923 2700
www.goldinghomes.org.uk
www.facebook.com/GoldingHomes
@GoldingHomes
Golding Homes is one of the largest housing providers in the South East
providing homes and services to over 20,000 people.
FREEPHONE 0800 923 2700 Local Rate 01622 212600
Email [email protected]
Whatman House, St. Leonard's Road
Maidstone, Kent ME16 0LS
Published in April 2013.
This leaflet has been printed on recycled paper.

* Your assessment is very important for improving the work of artificial intelligence, which forms the content of this project