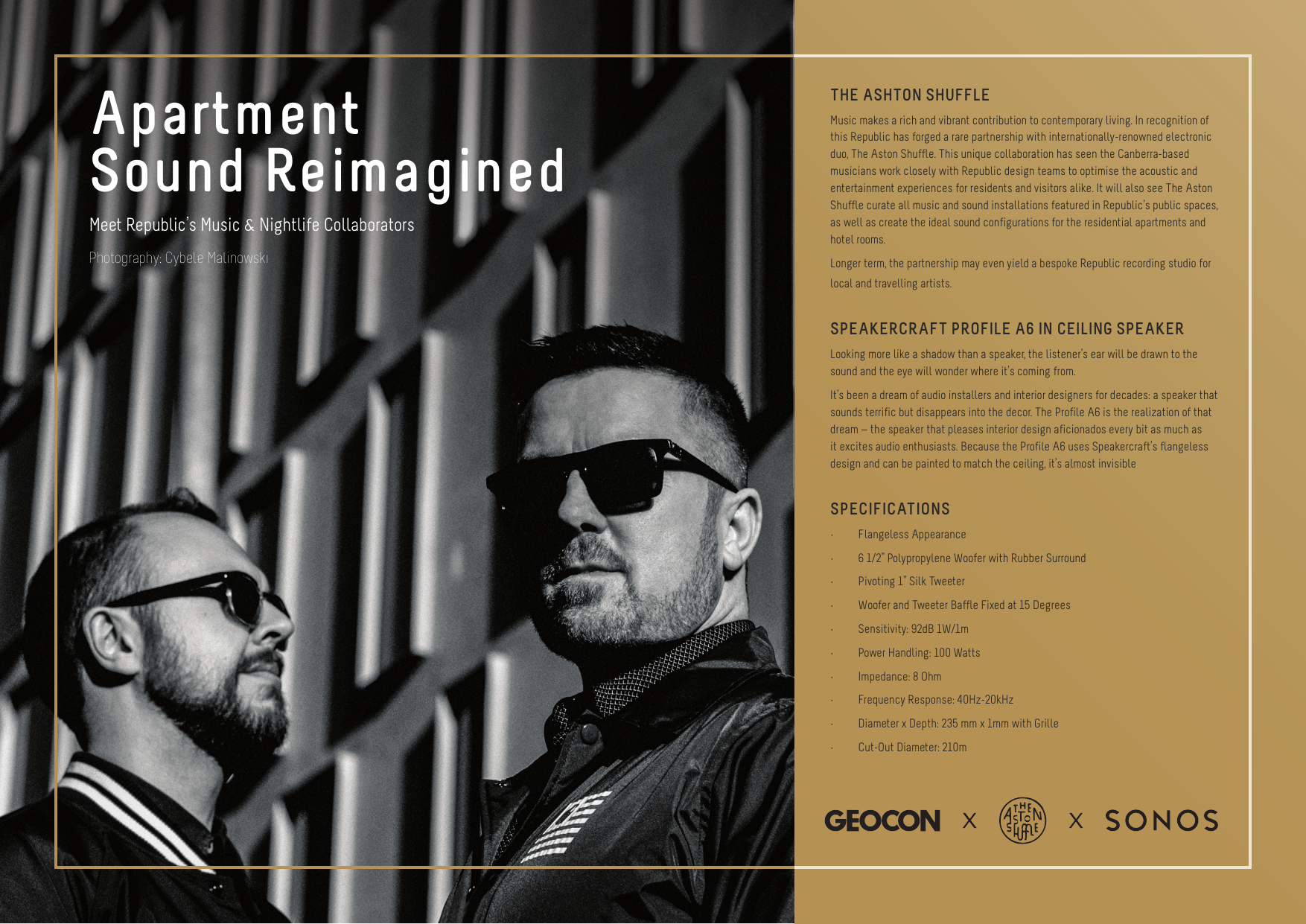 Apartment
Sound Reimagined
Meet Republic's Music & Nightlife Collaborators
Photography: Cybele Malinowski
THE ASHTON SHUFFLE
Music makes a rich and vibrant contribution to contemporary living. In recognition of
this Republic has forged a rare partnership with internationally-renowned electronic
duo, The Aston Shuffle. This unique collaboration has seen the Canberra-based
musicians work closely with Republic design teams to optimise the acoustic and
entertainment experiences for residents and visitors alike. It will also see The Aston
Shuffle curate all music and sound installations featured in Republic's public spaces,
as well as create the ideal sound configurations for the residential apartments and
hotel rooms.
Longer term, the partnership may even yield a bespoke Republic recording studio for
local and travelling artists.
SPEAKERCRAFT PROFILE A6 IN CEILING SPEAKER
Looking more like a shadow than a speaker, the listener's ear will be drawn to the
sound and the eye will wonder where it's coming from.
It's been a dream of audio installers and interior designers for decades: a speaker that
sounds terrific but disappears into the decor. The Profile A6 is the realization of that
dream — the speaker that pleases interior design aficionados every bit as much as
it excites audio enthusiasts. Because the Profile A6 uses Speakercraft's flangeless
design and can be painted to match the ceiling, it's almost invisible
SPECIFICATIONS
·
Flangeless Appearance
·
6 1/2" Polypropylene Woofer with Rubber Surround
·
Pivoting 1" Silk Tweeter
·
Woofer and Tweeter Baffle Fixed at 15 Degrees
·
Sensitivity: 92dB 1W/1m
·
Power Handling: 100 Watts
·
Impedance: 8 Ohm
·
Frequency Response: 40Hz-20kHz
·
Diameter x Depth: 235 mm x 1mm with Grille
·
Cut-Out Diameter: 210m
SONOS CONNECT: AMP
Has a built-in class-D digital amplifier that delivers 55W per channel of audiophile quality sound to
your speakers. You can even adjust the sound to get the bass, treble, balance, and loudness just the
way you like it. And the aluminium casing passively cools the amplifier so all you hear is the music.
GRAB YOUR AUX CORD
Plug in any audio device to your CONNECT:AMP—from your amplified record player to a friend's phone—
and listen out loud on your speakers.
SET UP OVER WIFI.
START IN ANY ROOM.
ADD ON.
Plug in. Connect. Stream
without interruptions or
interference.
Play different songs in different
rooms. Or the same song
everywhere.
CONTROL WITH ONE APP.
NEVER OBSOLETE.
Pick a room. Pick a song. Hit
play.
Software updates mean the
product you buy today will be
even better tomorrow.
SPECIFICATIONS
Audio
THE SOUND
THAT GETS YOU
CONNECTED.
·
Class-D digital amplifier. Powers speakers with 55 W per channel.
·
·
·
Subwoofer output with 80 Hz crossover.
Radiant cooling. Operates silently so all you hear is the music. Amplifier is kept cool by the
aluminium casing, not a noisy fan.
·
·
Audio line-in. Auto-detecting RCA.
Speaker connections. Spring binding posts.
Adjustable bass and treble controls to optimise sound performance. Adjust volume by individual
room or by groups of rooms.
Physical
·
·
·
Weight - 5.1 lbs. (2.3 kg).
Product finish - Anodised precision machined extrusion aluminium case.
Side panel buttons & lights - Volume and Play/Pause buttons. LED indicates Sonos component
status and mute status.

* Your assessment is very important for improving the work of artificial intelligence, which forms the content of this project