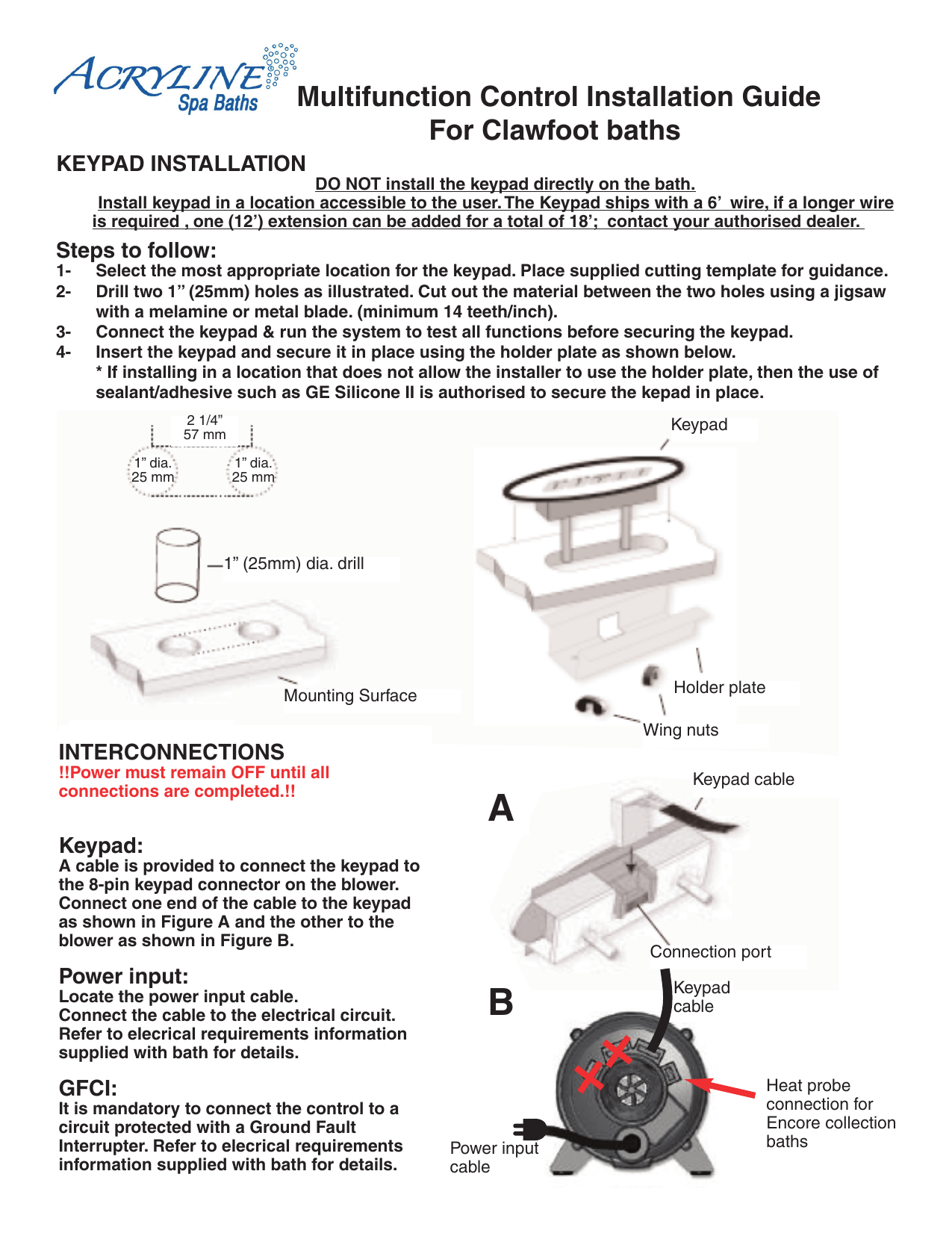 Multifunction Control Installation Guide
For Clawfoot baths
KEYPAD INSTALLATION
DO NOT install the keypad directly on the bath.
Install keypad in a location accessible to the user. The Keypad ships with a 6' wire, if a longer wire
is required , one (12') extension can be added for a total of 18'; contact your authorised dealer.
Steps to follow:
1234-
Select the most appropriate location for the keypad. Place supplied cutting template for guidance.
Drill two 1" (25mm) holes as illustrated. Cut out the material between the two holes using a jigsaw
with a melamine or metal blade. (minimum 14 teeth/inch).
Connect the keypad & run the system to test all functions before securing the keypad.
Insert the keypad and secure it in place using the holder plate as shown below.
* If installing in a location that does not allow the installer to use the holder plate, then the use of
sealant/adhesive such as GE Silicone II is authorised to secure the kepad in place.
2 1/4"
57 mm
1" dia.
25 mm
Keypad
1" dia.
25 mm
1" (25mm) dia. drill
Holder plate
Mounting Surface
Wing nuts
INTERCONNECTIONS
!!Power must remain OFF until all
connections are completed.!!
Keypad cable
A
Keypad:
A cable is provided to connect the keypad to
the 8-pin keypad connector on the blower.
Connect one end of the cable to the keypad
as shown in Figure A and the other to the
blower as shown in Figure B.
Connection port
Power input:
Locate the power input cable.
Connect the cable to the electrical circuit.
Refer to elecrical requirements information
supplied with bath for details.
B
GFCI:
It is mandatory to connect the control to a
circuit protected with a Ground Fault
Interrupter. Refer to elecrical requirements
information supplied with bath for details.
Power input
cable
Keypad
cable
Heat probe
connection for
Encore collection
baths
CR Y L I N E
CR
Spa Baths
CLAWFOOT BATH HEAT PROBE
INSTALLATION
Heat probe ships connected to blower, if the probe must be disconnected to facilitate installation, reconnect heat probe prior to connecting power supply.
1. Install blower motor at desired location. (Location must be CLEAN, DRY, AND WARM)
2. If disconneted, connect the heat probe wire to the blower as indicated in Image A
3. Use red tape (supplied) to install heat probe on air line. The heat probe must be installed as far from the
blower as possible with the silver side faceing the air line. (see image B)
Position probe on air line with siver side face down.
Use red tape supplied on PVC spool to fasten
B
8 Pin connection port for
multifunction control
A
Muffler
Heat probe wire 36"
to bath
Self tapping set screw
#2 robertson head
4 Pin connection port
for heat probe
Keypad on adj. wall. (do not
attempt to mount keypad on
bath shell)
Hartford loop (included/ not installed) must exceed
height of bath rim by 4". ** If blower is above bath,
the hartford loop can be deleted **
See multifunction Keypad
installation instructions
Low voltage control wire from
keypad to blower. (6' included,
optional 12' extension available)
120V GFI plug (15A)
See electrical Requirements
1 1/2" PVC air line
from bath to blower,
must not exceed 12'
(not supplied)
Keypad plugs
into this port
Heat probe
plugs into this
port
Single System Electrical Requirements USA
(True Drain® Channel System or Injectors )
& !
&
!
" !
!
$ %
"!% "
!
!% "
!
!
!
!
#
"!
"
"
!
!
!
!
!
120 V
Source Source
N
L
15 Amp
GFI Outlet
Ground
Equipment Ground
01/10
%
!
DTHH
Blower
L
$
G N
&
!

* Your assessment is very important for improving the work of artificial intelligence, which forms the content of this project