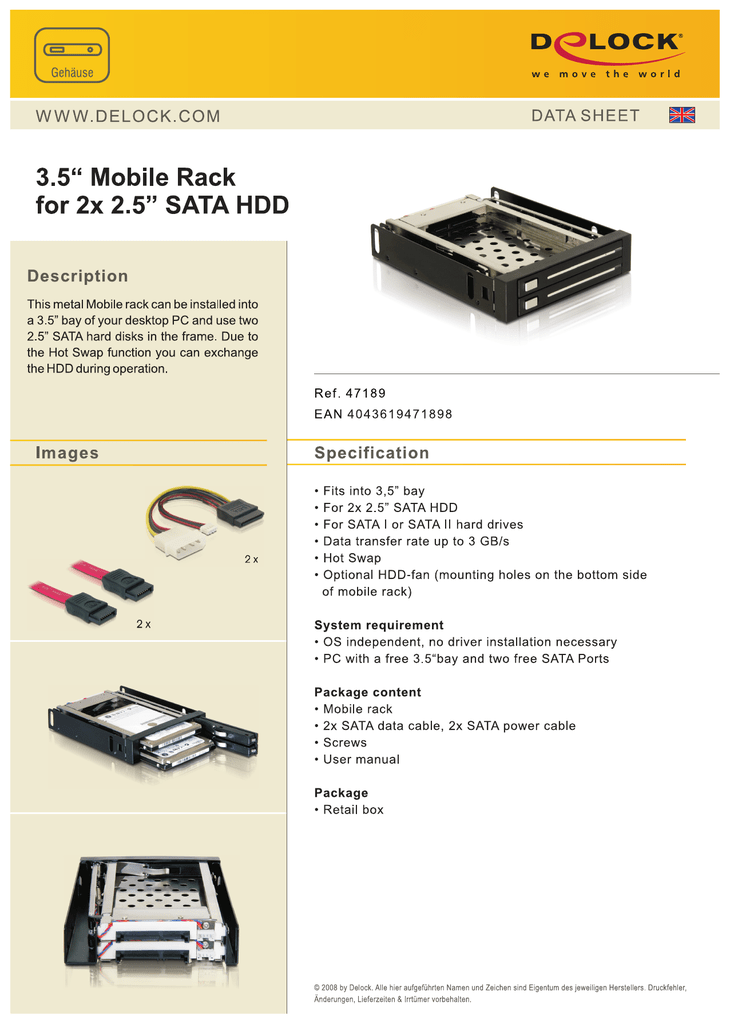 DELOCK
Geháuse we move the world
WWW.DELOCK.COM DATA SHEET E
3.5" Mobile Rack
for 2x 2.5" SATA HDD
Description
This metal Mobile rack can be installed into
a 3.5" bay of your desktop PC and use two
2.5" SATA hard disks in the frame. Due to
the Hot Swap function you can exchange
the HDD during operation.
Ref. 47189
EAN 4043619471898
Images Specification
* Fits into 3,5" bay
* For 2x 2.5" SATA HDD
* For SATA | or SATA || hard drives
* Data transfer rate up to 3 GB/s
* Hot Swap
* Optional HDD-fan (mounting holes on the bottom side
of mobile rack)
System requirement
* OS independent, no driver installation necessary
* PC with a free 3.5*bay and two free SATA Ports
Package content
* Mobile rack
* 2X SATA data cable, 2x SATA power cable
* Screws
* User manual
Package
* Retail box
O 2008 by Delock. Alle hier aufgeführten Namen und Zeichen sind Eigentum des jeweiligen Herstellers. Druckfehler,
Änderungen, Lieferzeiten & Irrtümer vorbehalten.

* Your assessment is very important for improving the work of artificial intelligence, which forms the content of this project