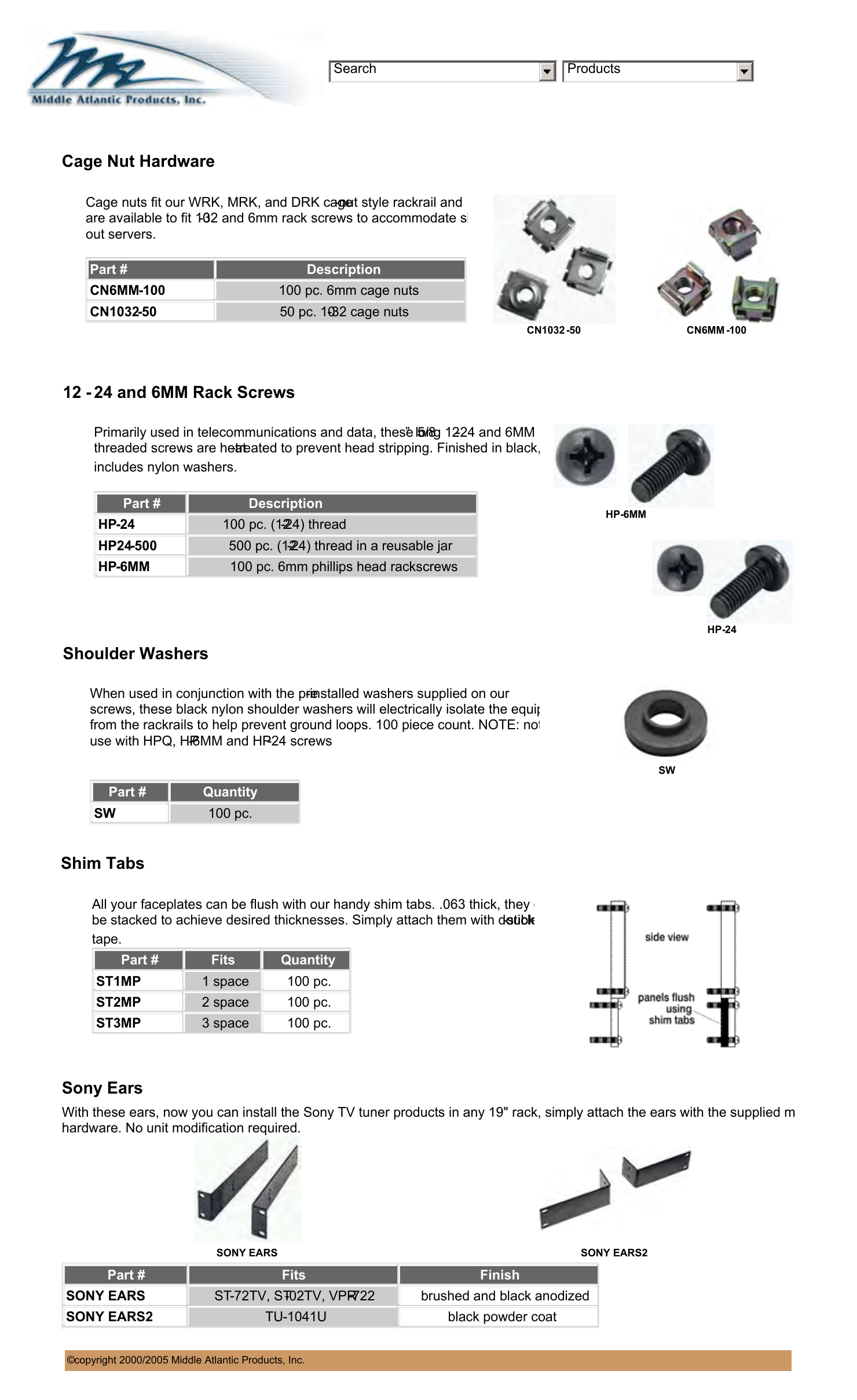 Search
Products
Cage Nut Hardware
Cage nuts fit our WRK, MRK, and DRK cage
-nut style rackrail and
are available to fit 10
-32 and 6mm rack screws to accommodate slide
out servers.
Part #
Description
CN6MM-100
100 pc. 6mm cage nuts
CN1032-50
50 pc. 10
-32 cage nuts
CN1032 -50
CN6MM -100
12 - 24 and 6MM Rack Screws
Primarily used in telecommunications and data, these
" long
5/8 12-24 and 6MM
threaded screws are heat
-treated to prevent head stripping. Finished in black,
includes nylon washers.
Part #
Description
HP-24
HP-6MM
100 pc. (12
-24) thread
HP24-500
500 pc. (12
-24) thread in a reusable jar
HP-6MM
100 pc. 6mm phillips head rackscrews
HP-24
Shoulder Washers
When used in conjunction with the pre
-installed washers supplied on our
screws, these black nylon shoulder washers will electrically isolate the equipment
from the rackrails to help prevent ground loops. 100 piece count. NOTE: not for
use with HPQ, HP
-6MM and HP-24 screws
SW
Part #
SW
Quantity
100 pc.
Shim Tabs
All your faceplates can be flush with our handy shim tabs. .063 thick, they can
be stacked to achieve desired thicknesses. Simply attach them with double
-stick
tape.
Part #
Fits
Quantity
ST1MP
1 space
100 pc.
ST2MP
2 space
100 pc.
ST3MP
3 space
100 pc.
Sony Ears
With these ears, now you can install the Sony TV tuner products in any 19" rack, simply attach the ears with the supplied metric
hardware. No unit modification required.
SONY EARS
Part #
SONY EARS2
Fits
Finish
SONY EARS
ST-72TV, ST-02TV, VPR
-722
brushed and black anodized
SONY EARS2
TU-1041U
black powder coat
©copyright 2000/2005 Middle Atlantic Products, Inc.

* Your assessment is very important for improving the work of artificial intelligence, which forms the content of this project