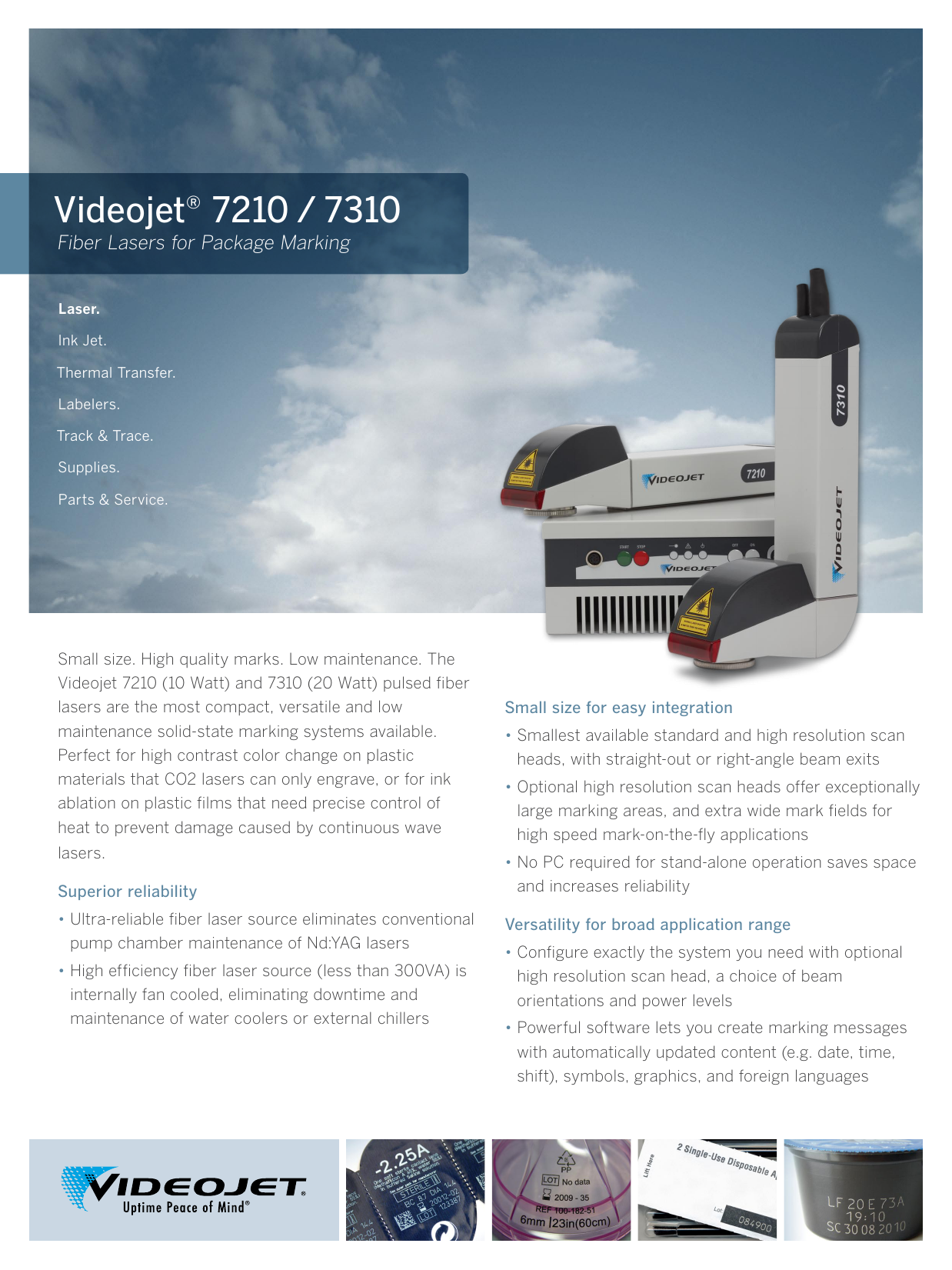 Videojet® 7210 / 7310
Fiber Lasers for Package Marking
Laser.
Ink Jet.
Thermal Transfer.
Labelers.
Track & Trace.
Supplies.
Parts & Service.
Small size. High quality marks. Low maintenance. The
Videojet 7210 (10 Watt) and 7310 (20 Watt) pulsed fiber
lasers are the most compact, versatile and low
maintenance solid-state marking systems available.
Perfect for high contrast color change on plastic
materials that CO2 lasers can only engrave, or for ink
ablation on plastic films that need precise control of
heat to prevent damage caused by continuous wave
lasers.
Superior reliability
•U
ltra-reliable fiber laser source eliminates conventional
pump chamber maintenance of Nd:YAG lasers
•H
igh efficiency fiber laser source (less than 300VA) is
internally fan cooled, eliminating downtime and
maintenance of water coolers or external chillers
Small size for easy integration
•S
mallest available standard and high resolution scan
heads, with straight-out or right-angle beam exits
•O
ptional high resolution scan heads offer exceptionally
large marking areas, and extra wide mark fields for
high speed mark-on-the-fly applications
•N
o PC required for stand-alone operation saves space
and increases reliability
Versatility for broad application range
•C
onfigure exactly the system you need with optional
high resolution scan head, a choice of beam
orientations and power levels
•P
owerful software lets you create marking messages
with automatically updated content (e.g. date, time,
shift), symbols, graphics, and foreign languages
Videojet 7210 / 7310
Fiber Lasers for Package Marking
Laser. Ink Jet. Thermal Transfer. Labelers. Track & Trace. Supplies. Parts & Service.
USER INTERFACES
Marking Fields
6 mm marking head SHF60A
10 mm marking head SHF100A
Focal Length
50
100
165
258
100
Max. height/mm
19.5
70.2
115.4
180.5
75.8
Max. width/mm
26
70.2
115.4
180.5
118.7
163
254
420
142.2
215.5
361.5
193.5
301.5 498.5
Marking Formats
Standard fonts (Windows® TrueType®/ TTF; PostScript®/ PFA, PFB; Open
Type®/ OTF) and individual fonts, such as high-speed or OCR
Machine-readable codes: ID-MATRIX; ECC plain; BAR CODES/ -stacked
omnidirectional/ -limited [CCA/B]/ expanded
Graphics/ graphic components, logos, symbols, etc. (dxf, jpg, ai, etc.)
Linear, circular, angular text marking; rotation, reflection, expansion,
compression of marking contents
Sequence and serial numbering; Automatic date, layer and time coding,
real-time clock; Online coding of individual data (weight, contents, etc.)
LASER
Laser Source
Ytterbium (Yb) pulsed fiber laser
Power classes 10 and 20 Watt
Central emission wavelength: 1,060 - 1,070 nm (1.06 - 1.07 μm)
Laser Beam Deflection
Digital high-speed galvanometer scan
Laser Beam Orientation
90-degree (standard) and straight-out (option)
Integrated keypad
Handheld control unit; configurable in 16 languages (option)
Smart Graph software on PC; configurable in 20 languages (option)
SOFTWARE
Smart Graph
Graphics-orientated user interface under Windows® XP/Vista for the
intuitive and fast preparation of complete marking jobs on PCs
System configuration
Text/ data/ graphics/ parameter editor
Configurable in 20 languages, e.g. in German, English, Japanese
Easy access to standard CAD and graphics programs thanks to import
functions for the most important file formats (dxf, jpg, ai, etc.)
WYSIWYG
Various password-protected security levels
Smart Graph Com
ActiveX software interface for integration into operation software
Communication
Ethernet (TCP/IP, 100Mbit LAN), RS232, digital I/Os
Inputs for encoders and product detector triggers
I/Os for start, stop, external error, job select, trigger, trigger enable,
encoder; system ready, ready to mark, marking, shutter closed, error,
bad, good signals and machine/ operator interlocks
Customer-specific solutions
INTEGRATION
Focal lengths 6 mm marking head: f = 50/ 100/ 165/ 258 mm
Focal lengths 10 mm marking head: f = 100/ 163/ 254/ 420 mm
Direct integration into complex production lines through the laser's
scripting interface
Integration via Ethernet and RS232 interface
Highly precise side guided height adjustment via dovetail joint
Marking Unit Dimensions
SUPPLY
Focusing (precision optics):
6 mm marking head (SHF60A), standard, 90° beam exit
Electrical Requirements
100 - 240 V (autorange), 250 VA, 1 PH, 50/ 60 Hz
Environmental Protection
IP54S, air cooled
Temperature/ Humidity Range
5 - 40° C (40 - 105° F)/ 10 - 90 %, non-condensing
Weight
Supply Unit Dimensions
Supply unit – 17 kg/ 37 lbs.
Marking unit 6 mm – 4.4 kg/ 9.7 lbs.
Marking unit 10 mm – 6 kg/ 13 lbs.
according to DIN EN 60825-1;10/2003
INVISIBLE LASER RADIATION
AVOID EYE OR SKIN EXPOSURE
TO DIRECT OR SCATTERED
RADIATION
LASER CLASS 4
conform
800-843-3610
www.videojet.com / info@videojet.com
Videojet Technologies Inc. / 1500 Mittel Blvd.
Wood Dale IL 60191-1073 / USA
Phone 630-860-7330 Fax 630-616-3623
©2010 Videojet Technologies Inc. — All rights reserved.
Videojet Technologies Inc.'s policy is one of continued product improvement. We reserve the right to alter design and/or specifications without notice.
Videojet and Uptime Peace of Mind are registered trademarks of Videojet Technologies Inc. Windows and OpenType are registered trademarks of
Microsoft Corporation. TrueType is a registered trademark of Apple Computer, Inc. PostScript is a registered trademark of Adobe Systems Inc.
Part No. SL000488
Fiber-Pkg-0110
Printed in U.S.A.