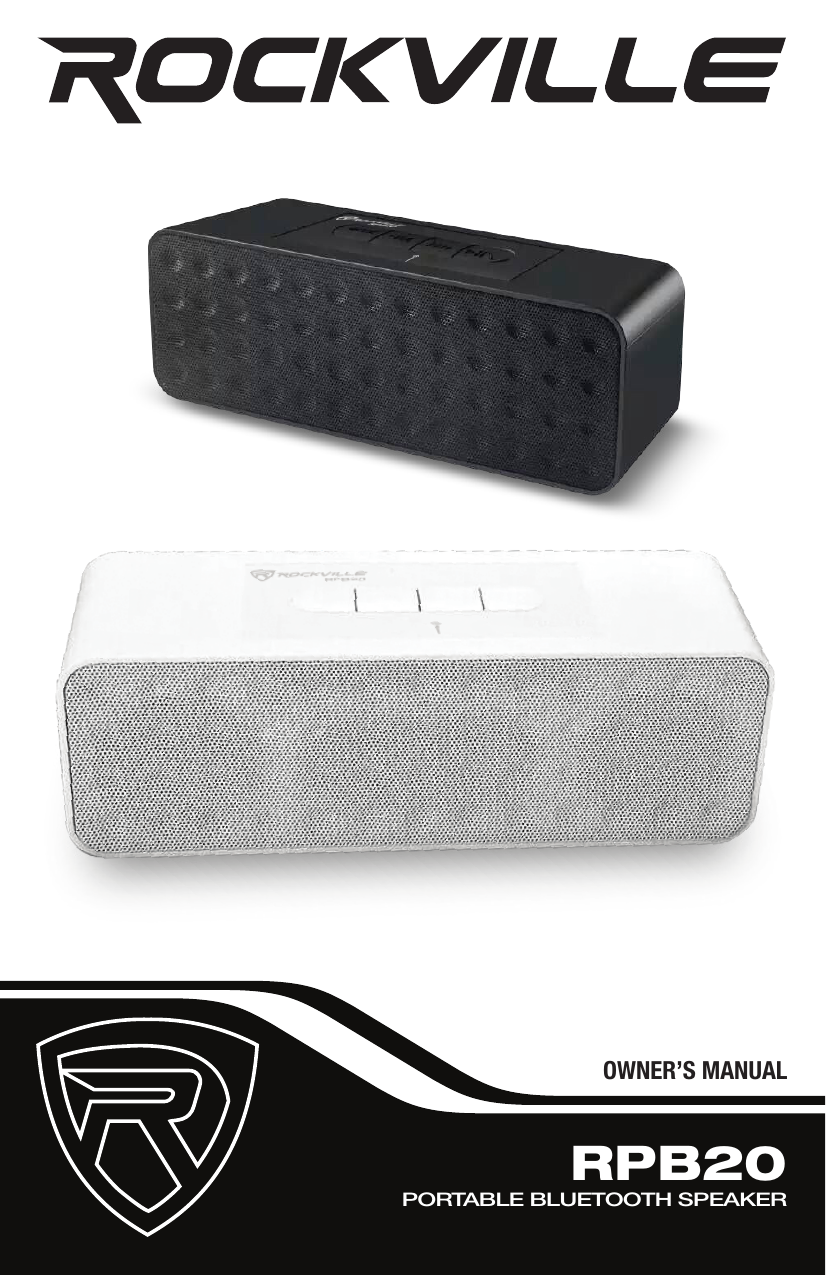 OWNER'S MANUAL
RPB20
PORTABLE BLUETOOTH SPEAKER
Thank you for purchasing this Rockville RPB20 Portable Bluetooth
Speaker.
The RPB20 by Rockville After many months of engineering, Rockville is finally ready to introduce an entire line of portable Bluetooth
speakers. Rockville's line of portable Bluetooth speakers are the
most premium on the market. The RPB20 comes in black or white.
It has a beautiful design that will look great on any table or desk.
The Rockville RPB20 has an amazing 30 watts of power! This is
more powerful and has better bass than Bluetooth speakers that
cost $100! I personally tested this side by side with 10 other Bluetooth speakers. The clarity of this was on another level! The bass
hit 10 times harder and this speaker went 10 times louder without
any distortion at all!
Please read this guide carefully for proper use of your Rockville
RPB20 Portable Powered Bluetooth Speaker. Should you need
technical assistance please call our technical help line at 1-646758-0144, Monday through Friday, 9am to 5pm EST.
IMPORTANT SAFETY INSTRUCTIONS
RISK OF ELECTRIC SHOCK
DO NOT OPEN
• To reduce risk of electric shock, never open the unit. There are no user serviceable
parts, refer service to an authorized Rockville service center.
• Do not expose this unit to any kind of moisture.
• Please ensure that the unit is situated in a properly ventilated area.
• Make sure the unit is placed on a level and stable surface.
Features and Specifications
• Rockville RPB20 multi-purpose portable rechargeable Bluetooth speaker system
• 30 Watts Peak Power/10 Watts RMS Power
• Dual 2˝ long excursion drivers provide true 2-channel stereo sound
• Rechargeable 2000mAH / 3.7V battery supports 10 hours of playback at 70% volume
• Charge time: 2.5 Hours
• Battery charges with included USB cable
• Extremely loud and powerful bass
• Built-in limiter circuit eliminates distortion – Distortion free playback even at top volumes
• Bluetooth version 2.1 with EDR (enhanced data rate)
• Bluetooth quick-connect technology pairs with your phone in 5 seconds
• A2DP audio streaming with 32 foot max Bluetooth range
• Automatically remembers and syncs with previously synced devices
• Playback Controls - Play, Pause, Skip Forward, Skip Back, Volume Up, Volume Down
• Will control next song, pause, play on popular apps like Pandora, Spotify,
Youtube, and others
• The built-in mic allows you to speak through the device so you can make and
receive phone calls hands-free
• Compatible with any Bluetooth devices such as iPad, iPhone, Laptops,
Android phone, other cell phones, iPods, other Bluetooth MP3 Players
• Material: ABS, metal grille
• Power Input: DC5V/500mA
• Plays back SD cards up to 32 GB
• 3.5MM aux input (aux cable included)
• Distortion: Less than 1%
• Professional voice conformations
• Frequency Response: 50HZ – 20KHZ
• Signal to noise ratio: 85dB
• Unit dimensions in inches: 8.66˝ Lx 2.68˝ H x 2.91˝ W
• Unit Weight: 1.06 LBS
Included
• RPB20 Bluetooth Speaker
• 3.5mm MP3 Cable
• Micro USB Charging Cable
• Owner's Manual
• Warranty card
Functions
1. Power On/Off
2. Power input port, DC 5V: used to recharge internal battery
3. Micro SD port (supports cards up to 32Gb)
4. 3.5mm Aux input
5. Mode
6. Previous / Volume 7. Next/Volume +
8. Play/ Pause /Hands free calling
9. Microphone
1
5
2
3
6
7
6
4
8
Bluetooth Pairing
1. Ensure your device is in Bluetooth mode and discoverable.
2. Under list of available devices search for RPB20.
3. Select RPB20.
WHEN PAIRING YOUR BLUETOOTH DEVICE PLEASE MAKE
SURE THE VOLUME ON THE DEVICE IS TURNED UP.
Bluetooth Music
Press the /
+ buttons at the top of the unit to navigate through tracks.
Press and hold the /
+ buttons for 5 seconds to raise or lower the volume.
Bluetooth Hands-Free
1. To answer a call press the PLAY button.
2. Press the PLAY button to end a call.
SD Mode
1. Insert Micro SD card (up to 32Gb supported) into the SD slot at the rear of the unit.
2. SD card should be automatically recognized and music will begin to play.
3. Press the /
+ buttons at the top of the unit to navigate through
tracks. Press and hold the /
+ buttons for 5 seconds to raise or lower
the volume.
Aux Mode
1. Upon plugging in a 3.5mm jack, the unit will automatically switch to that AUX
input regardless of current mode. To switch back to previous mode, use the
MODE button.
2. Press and hold the /
+ buttons for 5 seconds to raise or lower the
volume.
Charging
1. To charge the RPB20 plug the included micro USB cable into the port marked DC5V.
2. Charge time is 2.5 hours.
FEDERAL COMMUNICATIONS COMMISSION COMPLIANCE INFORMATION
Responsible party name: Rockville
Address: 600 Bayview Ave,
Entrance A,
Inwood, NY 11096
Hereby declares that the product Rockville RPB20 portable Bluetooth speaker complies
with FCC rules as mentioned in the following paragraph:
This device complies with Part 15 of the FCC rules. Operation is subject to the following
two conditions: (1) this device may not cause harmful interference, and (2) this device
must accept any interference received, including interference that may cause undesired operation.
Note: This equipment has been tested and found to comply with the limits for a Class B digital
device, pursuant to Part 15 of the FCC rules. These limits are designed to provide reasonable
protection against harmful interference in a residential installation. This equipment generates,
uses and can radiate radio frequency energy and, if not installed and used in accordance with
the instructions, may cause harmful interference to radio communications. However, there is no
guarantee that interference will not occur in a particular installation. If this equipment does cause
harmful interference to radio or television reception, which can be determined by turning the
equipment off and on, the user is encouraged to try to correct the interference by one or more of
the following measures:
•
•
•
•
Reorient or relocate the receiving antenna.
Increase the separation between the equipment and receiver.
Connect the equipment into an outlet on a circuit different from that to which the
receiver is connected.
Consult the dealer or an experienced radio/TV technician for help.
RockvilleAudio.com
© 2016 ROCKVILLE // Features and specifications are subject to change and or improvement without notice.

* Your assessment is very important for improving the work of artificial intelligence, which forms the content of this project