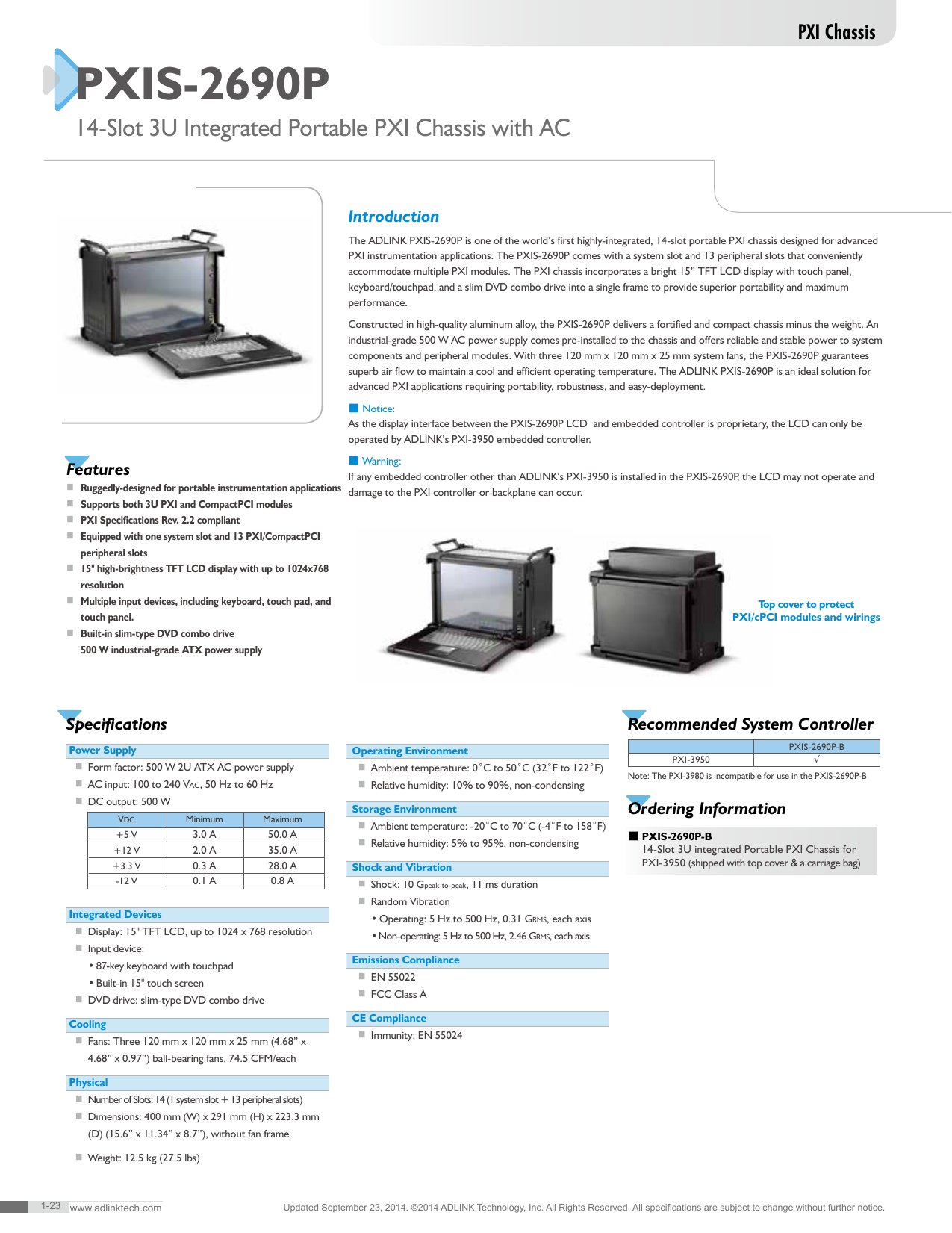 PXI Chassis
PXIS-2690P
14-Slot 3U Integrated Portable PXI Chassis with AC
Introduction
The ADLINK PXIS-2690P is one of the world's first highly-integrated, 14-slot portable PXI chassis designed for advanced
PXI instrumentation applications. The PXIS-2690P comes with a system slot and 13 peripheral slots that conveniently
accommodate multiple PXI modules. The PXI chassis incorporates a bright 15" TFT LCD display with touch panel,
keyboard/touchpad, and a slim DVD combo drive into a single frame to provide superior portability and maximum
performance.
Constructed in high-quality aluminum alloy, the PXIS-2690P delivers a fortified and compact chassis minus the weight. An
industrial-grade 500 W AC power supply comes pre-installed to the chassis and offers reliable and stable power to system
components and peripheral modules. With three 120 mm x 120 mm x 25 mm system fans, the PXIS-2690P guarantees
superb air flow to maintain a cool and efficient operating temperature. The ADLINK PXIS-2690P is an ideal solution for
advanced PXI applications requiring portability, robustness, and easy-deployment.
■Notice:
As the display interface between the PXIS-2690P LCD and embedded controller is proprietary, the LCD can only be
operated by ADLINK's PXI-3950 embedded controller.
■Warning:
If any embedded controller other than ADLINK's PXI-3950 is installed in the PXIS-2690P, the LCD may not operate and
■ Ruggedly-designed for portable instrumentation applications
damage to the PXI controller or backplane can occur.
■ Supports both 3U PXI and CompactPCI modules
■ PXI Specifications Rev. 2.2 compliant
■ Equipped with one system slot and 13 PXI/CompactPCI peripheral slots
■ 15" high-brightness TFT LCD display with up to 1024x768 resolution
■ Multiple input devices, including keyboard, touch pad, and Top cover to protect
PXI/cPCI modules and wirings
touch panel.
Features
■
Built-in slim-type DVD combo drive
500 W industrial-grade ATX power supply
Specifications
Recommended System Controller
Power Supply
Operating Environment
■
Form factor: 500 W 2U ATX AC power supply
■
AC input: 100 to 240 VAC, 50 Hz to 60 Hz
■ DC output: 500 W
VDC
+5 V
+12 V
+3.3 V
-12 V
Minimum
Maximum
3.0 A
2.0 A
0.3 A
0.1 A
50.0 A
35.0 A
28.0 A
0.8 A
Integrated Devices
■
Display: 15" TFT LCD, up to 1024 x 768 resolution
■
Input device:
• Built-in 15" touch screen
■
DVD drive: slim-type DVD combo drive
■
■
Relative humidity: 10% to 90%, non-condensing
Storage Environment
■
Ambient temperature: -20˚C to 70˚C (-4˚F to 158˚F)
■
Relative humidity: 5% to 95%, non-condensing
Shock and Vibration
■
Shock: 10 Gpeak-to-peak, 11 ms duration
■
Random Vibration
PXIS-2690P-B
√
Note: The PXI-3980 is incompatible for use in the PXIS-2690P-B
Ordering Information
■PXIS-2690P-B
14-Slot 3U integrated Portable PXI Chassis for
PXI-3950 (shipped with top cover & a carriage bag)
• Operating: 5 Hz to 500 Hz, 0.31 GRMS, each axis
• Non-operating: 5 Hz to 500 Hz, 2.46 GRMS, each axis
■
EN 55022
■
FCC Class A
CE Compliance
Cooling
Ambient temperature: 0˚C to 50˚C (32˚F to 122˚F)
PXI-3950
Emissions Compliance
• 87-key keyboard with touchpad
■
Fans: Three 120 mm x 120 mm x 25 mm (4.68" x ■
Immunity: EN 55024
4.68" x 0.97") ball-bearing fans, 74.5 CFM/each
Physical
■
Number of Slots: 14 (1 system slot + 13 peripheral slots)
■
Dimensions: 400 mm (W) x 291 mm (H) x 223.3 mm (D) (15.6" x 11.34" x 8.7"), without fan frame
■
Weight: 12.5 kg (27.5 lbs)
1-23 www.adlinktech.com
Updated September 23, 2014. ©2014 ADLINK Technology, Inc. All Rights Reserved. All specifications are subject to change without further notice.

* Your assessment is very important for improving the work of artificial intelligence, which forms the content of this project