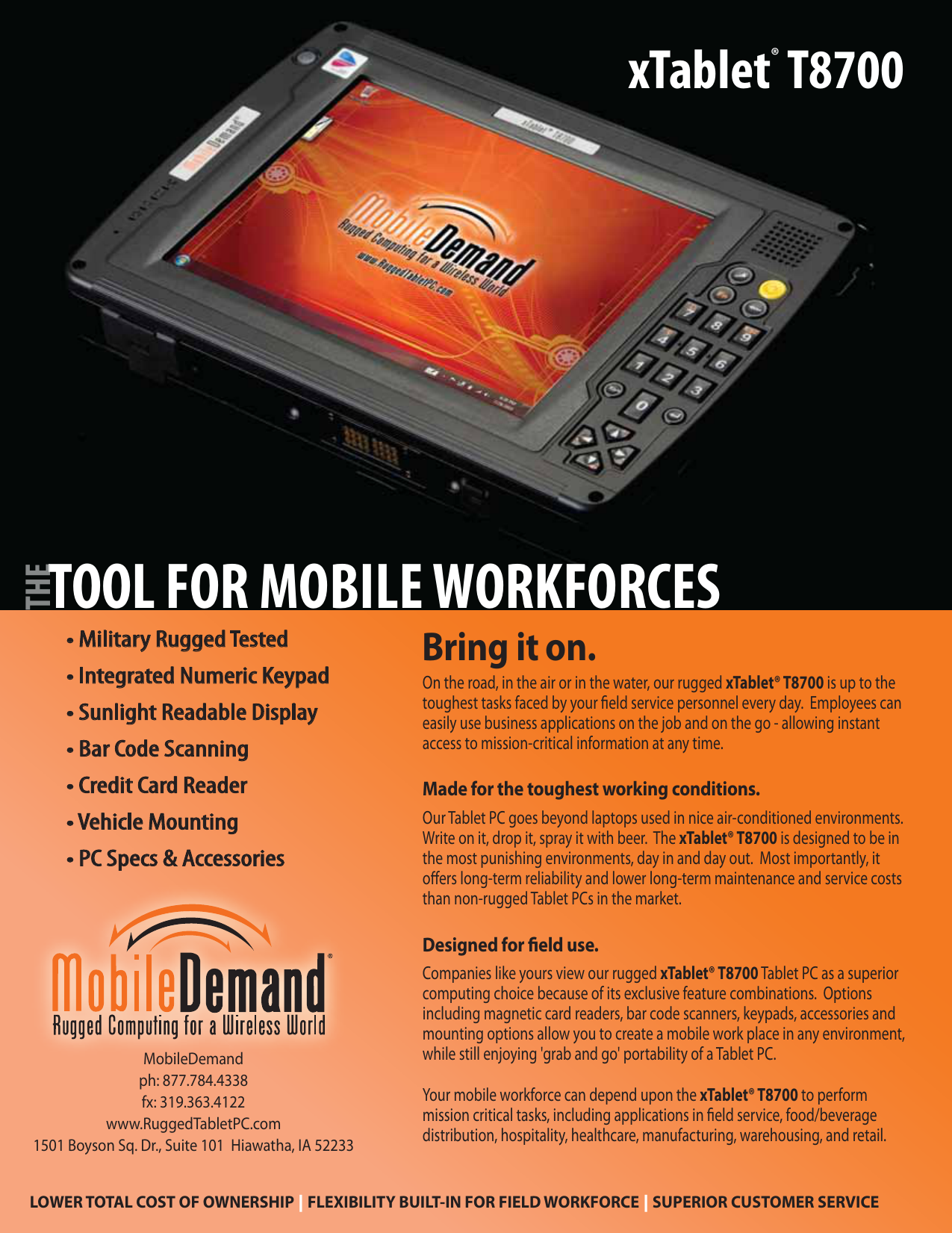 xTablet T8700
®
THE
TOOL FOR MOBILE WORKFORCES
• Military Rugged Tested
• Integrated Numeric Keypad
Bring it on.
• Bar Code Scanning
On the road, in the air or in the water, our rugged xTablet® T8700 is up to the
toughest tasks faced by your field service personnel every day. Employees can
easily use business applications on the job and on the go - allowing instant
access to mission-critical information at any time.
• Credit Card Reader
Made for the toughest working conditions.
• Vehicle Mounting
Our Tablet PC goes beyond laptops used in nice air-conditioned environments.
Write on it, drop it, spray it with beer. The xTablet® T8700 is designed to be in
the most punishing environments, day in and day out. Most importantly, it
offers long-term reliability and lower long-term maintenance and service costs
than non-rugged Tablet PCs in the market.
• Sunlight Readable Display
• PC Specs & Accessories
Designed for field use.
MobileDemand
ph: 877.784.4338
fx: 319.363.4122
www.RuggedTabletPC.com
1501 Boyson Sq. Dr., Suite 101 Hiawatha, IA 52233
Companies like yours view our rugged xTablet® T8700 Tablet PC as a superior
computing choice because of its exclusive feature combinations. Options
including magnetic card readers, bar code scanners, keypads, accessories and
mounting options allow you to create a mobile work place in any environment,
while still enjoying 'grab and go' portability of a Tablet PC.
Your mobile workforce can depend upon the xTablet® T8700 to perform
mission critical tasks, including applications in field service, food/beverage
distribution, hospitality, healthcare, manufacturing, warehousing, and retail.
LOWER TOTAL COST OF OWNERSHIP | FLEXIBILITY BUILT-IN FOR FIELD WORKFORCE | SUPERIOR CUSTOMER SERVICE
Physical and Environmental Characteristics
Wireless & GPS Network Characteristics
Dimensions
Wireless
10.6" W x 7.2" H x 1.65" D
(270 mm W x 183 mm H x 42 mm D)
Display
8.4" (213 mm) diagonal, 6.75" W x 5.0" H
(171 mm W x 127 mm H)
4.60 lb. (2.08 kg) – base configuration
Weight
Sealing Dust
IP 54; Rain: MIL-STD 810G, 506.4 II
4" per hour, 40psi for 10 minutes on all axes
Drop / Shock
Lightweight magnesium alloy for strength
MIL-STD 810G, 506.5 IV: 26 repeated drops to
plywood over concrete from 36 inches
Operating Temp -4 F to +122 F (-20 C to +50 C)
Storage Temp -22 F to +140 F (-30 C to +60 C)
Humidity
5% - 95% non-condensing
WWAN
GPS
802.11a/b/g (11/54 Mbps) 2.4 GHz,
Bluetooth (Class II)
EV-DO, EDGE / GPRS / GSM through
PCMCIA Slot (Type II Cardbus)
Protective antenna cover maintains
sealing, ruggedness
Integrated GPS (optional)
Docking Systems
Desktop Cradle Desktop: USB(2), Serial, Ethernet (RJ-45)
Vehicle Cradle
Durable, key lock, fan cooling system
USB, serial (9 pin D-SUB), power options
Regulatory Approvals
FCC Class B, FCC/SAR, cUS, CE, CB, TUV, UL
Performance Characteristics
Processor
Accessories:
Vehicle cradle, desktop cradle
Carrying case, hand strap
Carrying case with keyboard
Two and Four Point shoulder straps
AC & auto power adapters
3M® Vikuiti® Brand screen protector
Automatic Data Capture:
Imager / Bar Code Scanner
Depth of field: 2" to 13" (5cm – 33cm)
Laser / Bar Code Scanner
Depth of field: 1.5" to 30" (4cm–90cm)
Mag Stripe Reader:
Dual & three track, bi-directional
Read standard cards: ISO'ANSI'CDL/AAMVA
USB keyboard emulation & HID capable
Intel® Core Duo ULV U2500, 1.2 GHz
2MB L2 Cache, FSB 533 MHz
System Memory 2GB DDR2 RAM
Hard Drive
Shock Mounted, 2.5 inch Hard Disk, 160GB
Solid State Drive Optional, 64GB-128GB+
Operating System Windows® 7 Professional
Windows® Vista Business
Windows® XP Tablet PC Edition®
Display
800 (W) x 600 (H) (SVGA) Color TFT
1024 (W) x 768 (H) (XGA) Color TFT (option)
xView Sunlight Readable Option, 300nit
Digitizer & Passive Touch Screen Standard
Full backlit numeric keypad, programmable keys
Keyboard
Enter, Up / Down / Left / Right Navigation,
Escape, Security, Rotate Display,
Function Key, Suspend/Power
System Expansion Compact Flash Type II Slot
PC Card Slot Type II-Card Bus 2.1 (PCMCIA)
PCI Express Slot (internal)
RJ-11 integrated fax/modem
RJ-45 10BaseT 10/100/1000 Ethernet
(2) USB 2.0
Mini-USB
Surface contact docking connector
Serial Port (9 pin D-SUB)
Battery System High capacity 7000 mAh Li-ION battery pack
Low capacity 3900 mAh Li-ION pack (option)
Hot swappable battery system (option)
External belt mounted battery (option)
LED
(4) color LEDs for notification, power / charger
indicator, hard disk activity, wireless
Mono speaker, microphone-in / speaker-out jack
Audio
We do rugged.
xTablet
T8700
xTablet C1200
xTablet
T7000
Contact MobileDemand to help
you take your xTablet® T8700 rugged
Tablet PC where you need to go!
877.784.4338
www.RuggedTabletPC.com
Copyright © 2011 MobileDemand, LC. All rights reserved.
MobileDemand and xTablet are registered trademarks of MobileDemand, LC.
All other trademarks are the property of their respective owners.
In a continuing effort to improve our products, MobileDemand, LC reserves
the right to change specifications and features without prior notice.
Microsoft product images reprinted with permission from Microsoft Corporation.
Intel, the Intel logo, Intel Atom, and Intel Atom Inside are
trademarks of Intel Corporation in the U.S. and other countries.