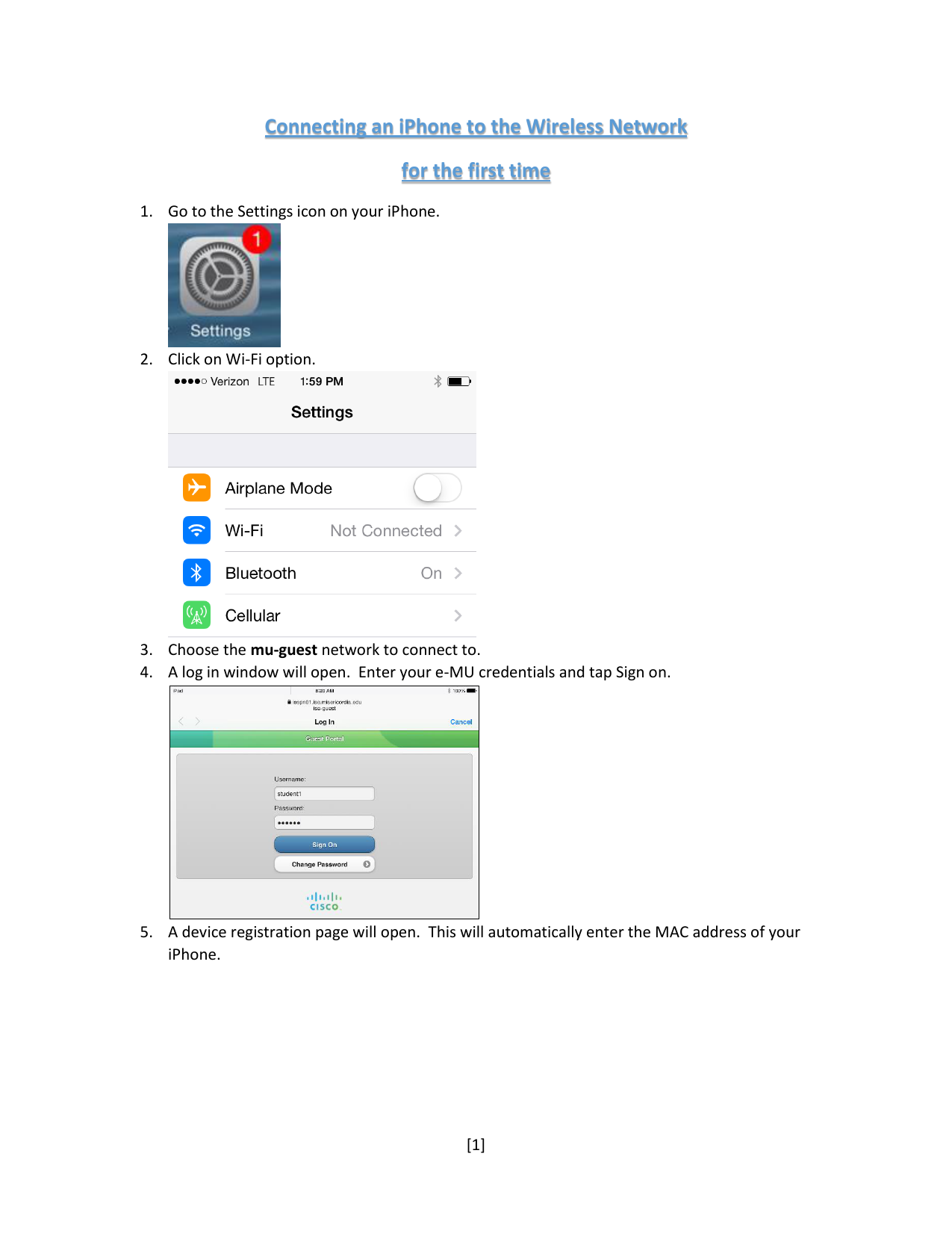 Connecting an iPhone to the Wireless Network
for the first time
1. Go to the Settings icon on your iPhone.
2. Click on Wi-Fi option.
3. Choose the mu-guest network to connect to.
4. A log in window will open. Enter your e-MU credentials and tap Sign on.
5. A device registration page will open. This will automatically enter the MAC address of your
iPhone.
[1]
6. Enter a meaningful description such as Mike Smith's iPhone.
7. Tap the Register button.
8. You will be prompted to install the Misericordia-iOS profile.
9. Tap Install.
10. When prompted with installing this profile will change settings on your iPhone choose Install
Now.
11. Enter your passcode if you have one set up.
[2]
12. You will be prompted for your W-Fi account password. This is your e-MU password. Enter your
password and tap Next.
13. The profile is now installed.
14. Tap Done.
15. Tap General at the top of your screen.
16. Tap Settings at the top of your screen. This will take you back to your settings.
17. Tap the Wi-Fi Not Connected >
18. Choose the Cougars network to connect to.
[3]
19. Accept the certificate when prompted.
20. You are now connected to the Cougars network. You should see it listed next to Wi-Fi on the
left hand side bar.
21. Push the Home button to go back to your main screen.
22. Open Safari and now you are able to access the Internet.
[4]

* Your assessment is very important for improving the work of artificial intelligence, which forms the content of this project