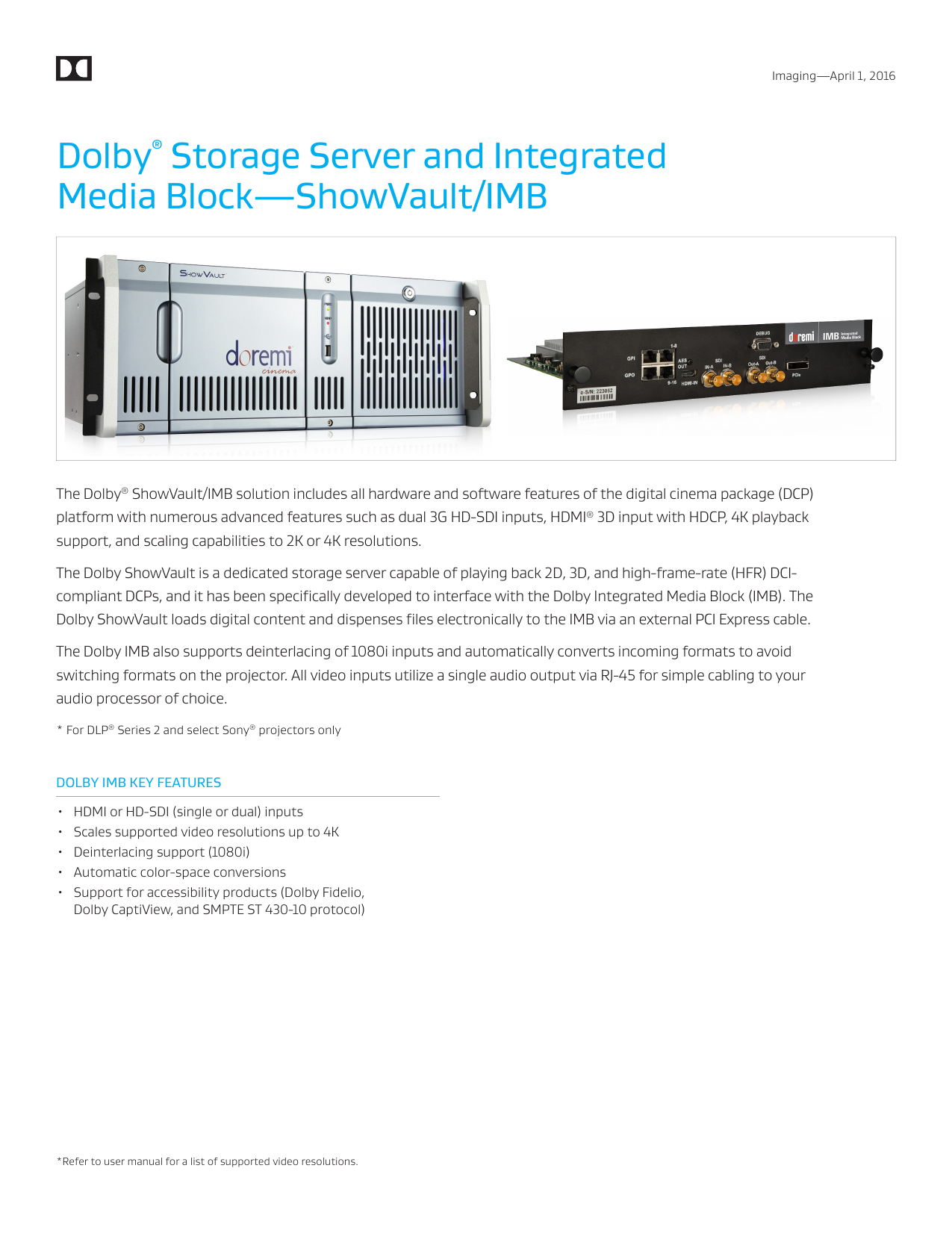 Imaging—April 1, 2016
Dolby Storage Server and Integrated
Media Block—ShowVault/IMB
®
The Dolby® ShowVault/IMB solution includes all hardware and software features of the digital cinema package (DCP)
platform with numerous advanced features such as dual 3G HD-SDI inputs, HDMI® 3D input with HDCP, 4K playback
support, and scaling capabilities to 2K or 4K resolutions.
The Dolby ShowVault is a dedicated storage server capable of playing back 2D, 3D, and high-frame-rate (HFR) DCIcompliant DCPs, and it has been specifically developed to interface with the Dolby Integrated Media Block (IMB). The
Dolby ShowVault loads digital content and dispenses files electronically to the IMB via an external PCI Express cable.
The Dolby IMB also supports deinterlacing of 1080i inputs and automatically converts incoming formats to avoid
switching formats on the projector. All video inputs utilize a single audio output via RJ-45 for simple cabling to your
audio processor of choice.
* For DLP® Series 2 and select Sony® projectors only
DOLBY IMB KEY FEATURES
•
•
•
•
•
HDMI or HD-SDI (single or dual) inputs
Scales supported video resolutions up to 4K
Deinterlacing support (1080i)
Automatic color-space conversions
Support for accessibility products (Dolby Fidelio,
Dolby CaptiView, and SMPTE ST 430-10 protocol)
*Refer to user manual for a list of supported video resolutions.
Imaging—April 1, 2016
Dolby Storage Server and Integrated Media Block—ShowVault/IMB
IMB
SHOWVAULT STORAGE
•
•
•
•
•
•
•
•
•
•
• Up to 6 TB of RAID 5 storage*
HDMI input with HDCP support
Dual 3G HD-SDI input
Eight audio pairs (through two RJ-45 connectors)
Eight general purpose outputs (RJ-45)
Four general purpose inputs
PCIe connection and gigabit Ethernet connection to Dolby ShowVault server
Output resolution up to 4096 × 2160 in 2D and 2048 × 1080 in 3D
HFR 3D 48 fps
Dual-projector support
LTC Output
SHOWVAULT INTERFACE
•
•
•
•
•
•
•
External PCI Express (for IMB communication)
Gigabit Ethernet for media transfer
Gigabit Ethernet for management control and subtitling
RS-422 serial control port
USB 2.0
DVD-ROM*
CRU data port*
SHOWVAULT POWER
• Dual-redundant power supply
• 100–240 VAC; 50–60 Hz (300 W max)
SHOWVAULT DIMENSIONS
• 3-U: 48 × 52 × 13 cm (19" × 20.5" × 5.25")
• 4-U: 48 × 28 × 19 cm (19" × 11" × 7")
FORMATS: ENCRYPTED/NONENCRYPTED
• JPEG 2000
• MPEG-2
• H.264
*ShowVault 4-U
The English version of this document is the only legally binding version.
Translated versions are not legally binding and are for convenience only.
Dolby Laboratories, Inc. 1275 Market Street, San Francisco, CA 94103-1410 USA T +1-415-558-0200 dolby.com
Dolby and the double-D symbol are registered trademarks of Dolby Laboratories. All other trademarks remain
the property of their respective owners. © 2016 Dolby Laboratories, Inc. All rights reserved.

* Your assessment is very important for improving the work of artificial intelligence, which forms the content of this project