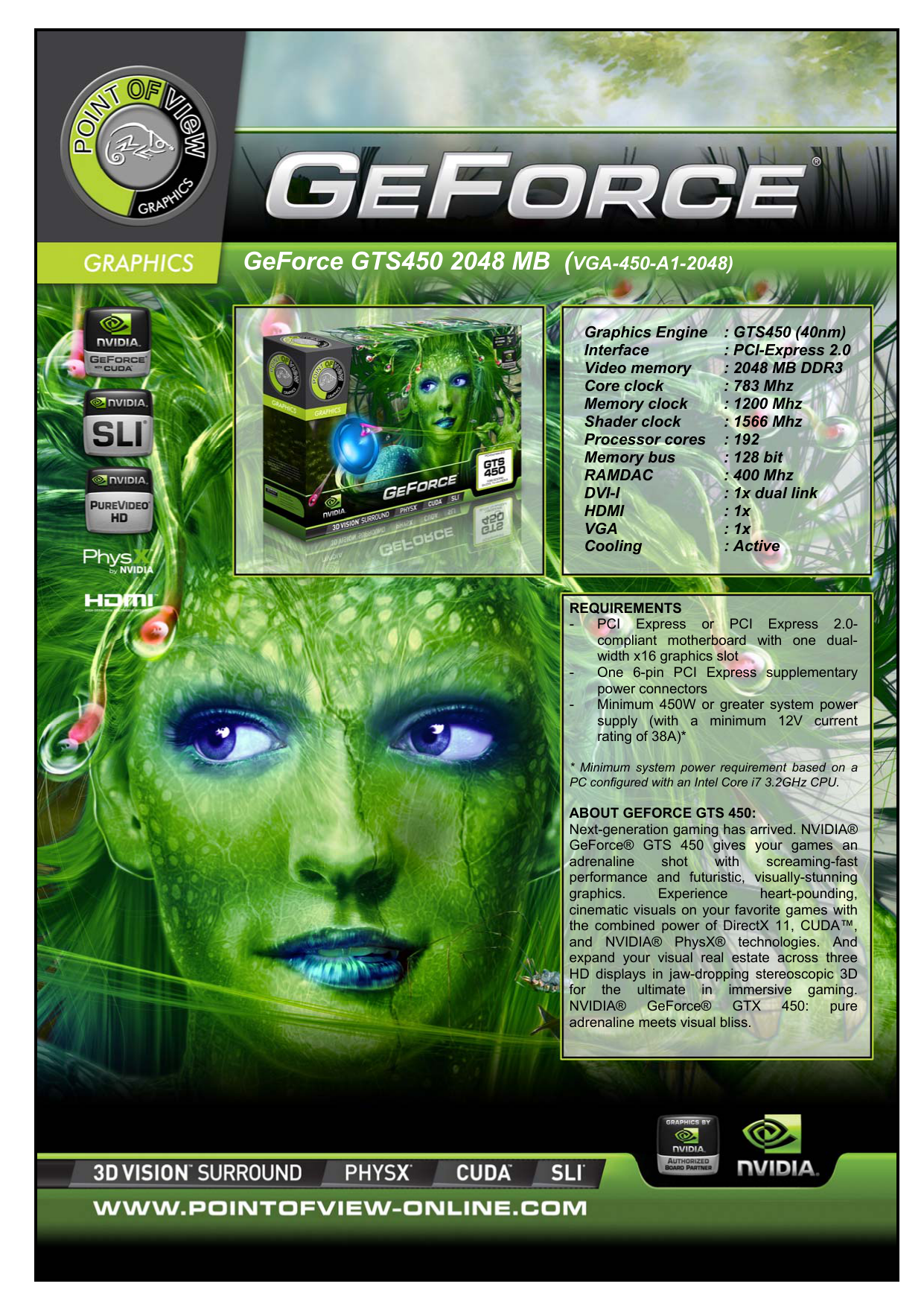 GeForce GTS450 2048 MB (VGA-450-A1-2048)
Graphics Engine
Interface
Video memory
Core clock
Memory clock
Shader clock
Processor cores
Memory bus
RAMDAC
DVI-I
HDMI
VGA
Cooling
: GTS450 (40nm)
: PCI-Express 2.0
: 2048 MB DDR3
: 783 Mhz
: 1200 Mhz
: 1566 Mhz
: 192
: 128 bit
: 400 Mhz
: 1x dual link
: 1x
: 1x
: Active
REQUIREMENTS
PCI Express or PCI Express 2.0compliant motherboard with one dualwidth x16 graphics slot
One 6-pin PCI Express supplementary
power connectors
Minimum 450W or greater system power
supply (with a minimum 12V current
rating of 38A)*
* Minimum system power requirement based on a
PC configured with an Intel Core i7 3.2GHz CPU.
ABOUT GEFORCE GTS 450:
Next-generation gaming has arrived. NVIDIA®
GeForce® GTS 450 gives your games an
adrenaline
shot
with
screaming-fast
performance and futuristic, visually-stunning
graphics.
Experience
heart-pounding,
cinematic visuals on your favorite games with
the combined power of DirectX 11, CUDA™,
and NVIDIA® PhysX® technologies. And
expand your visual real estate across three
HD displays in jaw-dropping stereoscopic 3D
for the ultimate in immersive gaming.
NVIDIA® GeForce® GTX 450: pure
adrenaline meets visual bliss.

* Your assessment is very important for improving the work of artificial intelligence, which forms the content of this project