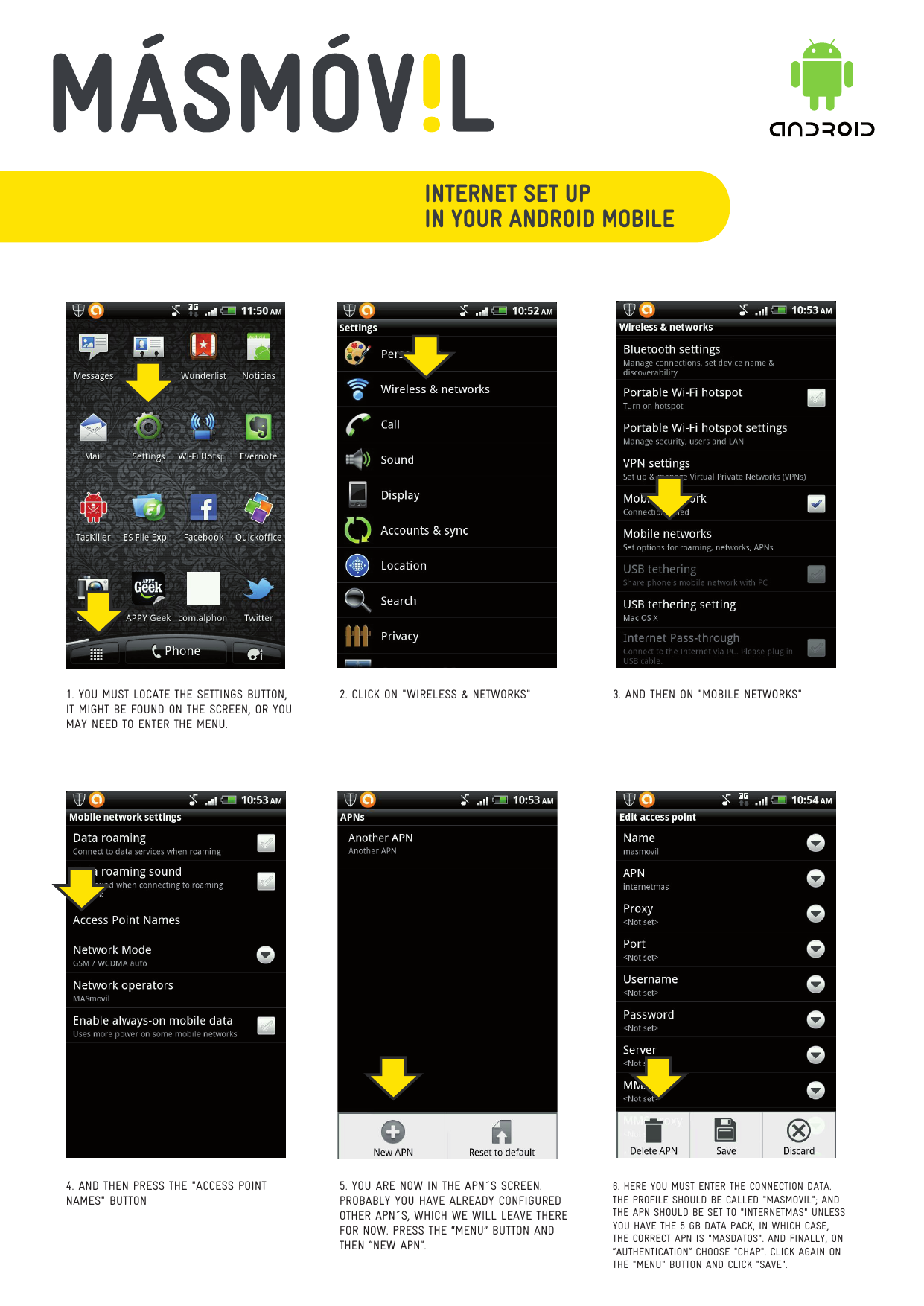 INTERNET SET UP
IN YOUR ANDROID MOBILE
1. YOU MUST LOCATE THE SETTINGS BUTTON,
IT MIGHT BE FOUND ON THE SCREEN, OR YOU
MAY NEED TO ENTER THE MENU.
2. CLICK ON "WIRELESS & NETWORKS"
3. AND THEN ON "MOBILE NETWORKS"
4. AND THEN PRESS THE "ACCESS POINT
NAMES" BUTTON
5. YOU ARE NOW IN THE APN´S SCREEN.
PROBABLY YOU HAVE ALREADY CONFIGURED
OTHER APN´S, WHICH WE WILL LEAVE THERE
FOR NOW. PRESS THE "MENU" BUTTON AND
THEN "NEW APN".
6. HERE YOU MUST ENTER THE CONNECTION DATA.
THE PROFILE SHOULD BE CALLED "MASMOVIL"; AND
THE APN SHOULD BE SET TO "INTERNETMAS" UNLESS
YOU HAVE THE 5 GB DATA PACK, IN WHICH CASE,
THE CORRECT APN IS "MASDATOS". AND FINALLY, ON
"AUTHENTICATION" CHOOSE "CHAP". CLICK AGAIN ON
THE "MENU" BUTTON AND CLICK "SAVE".
INTERNET SET UP
IN YOUR ANDROID MOBILE
7. YOU HAVE NOW GOT THE MASMOVIL APN
CONFIGURED CORRECTLY. TO MAKE SURE
EVERYTHING IS CORRECTLY CONFIGURED,
WE WILL REMOVE THE APN YOU HAD BEFORE
(IF ANY).
8. PRESS TWICE ON THE APN YOU WANT TO
REMOVE, AND THE SCREEN WITH THE
CONFIGURATION INFORMATION WILL APPEAR.
PRESS "MENU" AND "DELETE".
9. NOW EVERYTHING IS SET, IF YOU STILL
CAN NOT CONNECT TO THE INTERNET, RESTART
YOUR PHONE FOR THE CHANGES TO TAKE EFFECT.

* Your assessment is very important for improving the work of artificial intelligence, which forms the content of this project