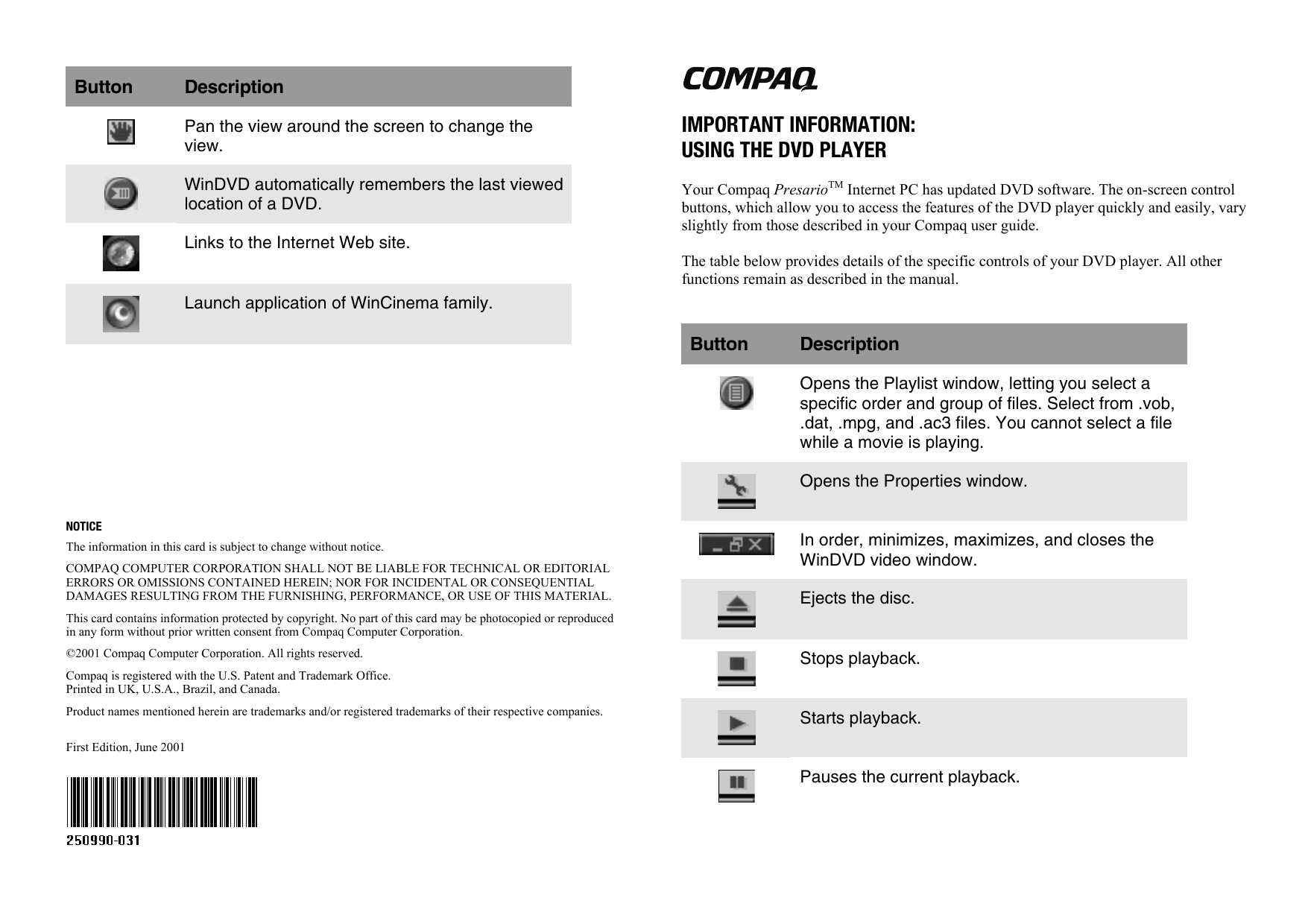 Button
Description
Pan the view around the screen to change the
view.
IMPORTANT INFORMATION:
USING THE DVD PLAYER
WinDVD automatically remembers the last viewed
location of a DVD.
Your Compaq PresarioTM Internet PC has updated DVD software. The on-screen control
buttons, which allow you to access the features of the DVD player quickly and easily, vary
slightly from those described in your Compaq user guide.
Links to the Internet Web site.
The table below provides details of the specific controls of your DVD player. All other
functions remain as described in the manual.
Launch application of WinCinema family.
Button
Description
Opens the Playlist window, letting you select a
specific order and group of files. Select from .vob,
.dat, .mpg, and .ac3 files. You cannot select a file
while a movie is playing.
Opens the Properties window.
NOTICE
The information in this card is subject to change without notice.
COMPAQ COMPUTER CORPORATION SHALL NOT BE LIABLE FOR TECHNICAL OR EDITORIAL
ERRORS OR OMISSIONS CONTAINED HEREIN; NOR FOR INCIDENTAL OR CONSEQUENTIAL
DAMAGES RESULTING FROM THE FURNISHING, PERFORMANCE, OR USE OF THIS MATERIAL.
In order, minimizes, maximizes, and closes the
WinDVD video window.
Ejects the disc.
This card contains information protected by copyright. No part of this card may be photocopied or reproduced
in any form without prior written consent from Compaq Computer Corporation.
©2001 Compaq Computer Corporation. All rights reserved.
Stops playback.
Compaq is registered with the U.S. Patent and Trademark Office.
Printed in UK, U.S.A., Brazil, and Canada.
Product names mentioned herein are trademarks and/or registered trademarks of their respective companies.
Starts playback.
First Edition, June 2001
Pauses the current playback.
Button
Description
Advances frame by frame while in Pause mode.
Loops current title or chapter.
Jumps to the previous chapter.
Jumps to the next chapter.
Plays the disc in fast reverse mode.
Plays the disc is fast forward mode.
Expands the view for additional controls.
Resumes playback of video from a menu screen.
Opens the audio and video adjustment window.
Opens the online help system.
Increases or decreases audio output.
Allows smooth rewind and smooth fast forward.
Button
Description
Mutes the audio if it is checked.
Allows you to use the directional buttons just as
you would the mouse button or Tab key. The
arrows represent (clockwise from top): Navigate
right, Navigate down, Navigate left. Center: Select
or Enter.
The numeric keypad provides you with a method
of selecting numbers. This is more likely to be
used while playing a video CD than a DVD disc.
Any time that you enter a numeric value, click the
corresponding key on the numeric keypad and
then click the check mark to accept that number.
Displays all of the menus available (Root, Audio
Language, Subtitles, and so on) on the DVD disc
currently being played and allows you to select a
menu to navigate.
Opens a submenu showing you all of the titles
available on the DVD disc currently being played
and allows you to select a new title to play back.
Opens a submenu showing you the chapter
currently being played. You can select another
chapter from this menu.
Displays the subtitle menu. If multiple language
subtitles are available, use this menu to select
your choice.
When available, selects the angle to view from a
list of optional angles.
If Zoom is already active, returns to normal view.

* Your assessment is very important for improving the work of artificial intelligence, which forms the content of this project