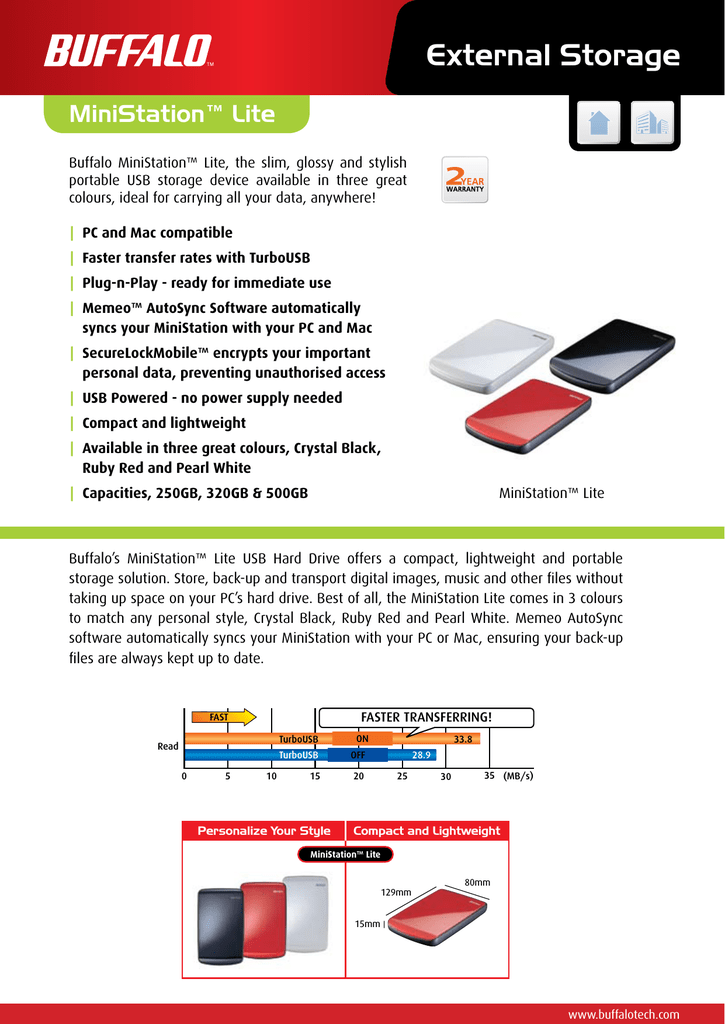 External Storage
MiniStation™ Lite
Buffalo MiniStation™ Lite, the slim, glossy and stylish
portable USB storage device available in three great
colours, ideal for carrying all your data, anywhere!
| PC and Mac compatible
| Faster transfer rates with TurboUSB
| Plug-n-Play - ready for immediate use
| Memeo™ AutoSync Software automatically
syncs your MiniStation with your PC and Mac
| SecureLockMobile™ encrypts your important
personal data, preventing unauthorised access
| USB Powered - no power supply needed
| Compact and lightweight
| Available in three great colours, Crystal Black,
Ruby Red and Pearl White
MiniStation™ Lite
| Capacities, 250GB, 320GB & 500GB
Buffalo's MiniStation™ Lite USB Hard Drive offers a compact, lightweight and portable
storage solution. Store, back-up and transport digital images, music and other files without
taking up space on your PC's hard drive. Best of all, the MiniStation Lite comes in 3 colours
to match any personal style, Crystal Black, Ruby Red and Pearl White. Memeo AutoSync
software automatically syncs your MiniStation with your PC or Mac, ensuring your back-up
files are always kept up to date.
FASTER TRANSFERRING!
FAST
TurboUSB
Read
0
5
10
ON
TurboUSB
OFF
15
20
Personalize Your Style
33.8
28.9
25
30
35 (MB/s)
Compact and Lightweight
MiniStation™ Lite
129mm
80mm
15mm
www.buffalotech.com
External Storage
SPECIFICATIONS
Internal Hard Drives
Number of Drives
1
Drive Interface
SATA
Interface
Standard Compliance
Connector Type
Number of Ports
Data Transfer Rates
USB 2.0
USB Mini B
1
Max 480Mbps
Other
OS compatibility
Win 2000/XP/VistaTM, Mac OS 10.2.7 or later
Dimensions (WxHxD)
Power Consumption
Weight
Operating Environment
80mm x 15mm x 129mm
MAX 2.5W
190g
5-35OC, 20-80% (non-condensing)
Power Supply
USB bus powered
Product Part Numbers
Black Chassis
HD-PE250U2/BK
HD-PE320U2/BK
HD-PE500U2/BK
White Chassis
HD-PE250U2/WH
HD-PE320U2/WH
HD-PE500U2/WH
Red Chassis
HD-PE250U2/RD
HD-PE320U2/RD
HD-PE500U2/RD
About Buffalo
Buffalo Technology UK Ltd. is a leading global provider of award-winning networking, memory, storage and multimedia solutions for thehome and small business
environments as well as for system builders and integrators. With almost three decades of networking and computer peripheral experience, Buffalo has proven its
commitment to delivering innovative, solutions that have put the company at the forefront of infrastructure technology.
© Buffalo Inc. 2009. BUFFALO logo, AirStation, Nfiniti, AOSS, TeraStation, LinkStation, DriveStation, DriveStation 2Share, MiniStation and LinkTheater are either
trademarks or registered trademarks of Melco Holdings Inc. or Buffalo Inc. Microsoft Windows and Microsoft logo are either registered trademarks or trademarks of
Microsoft corporation in United States and/or other countries. The names and logos of other companies mentioned herein belong to their respective owners.
The information within this datasheet is subject to change without notice. All rights reserved. E & OE.
Feb 09
Note: 1TB = 1,000,000,000,000Bytes. Actual data throughput will vary depending upon environment factors.

* Your assessment is very important for improving the work of artificial intelligence, which forms the content of this project