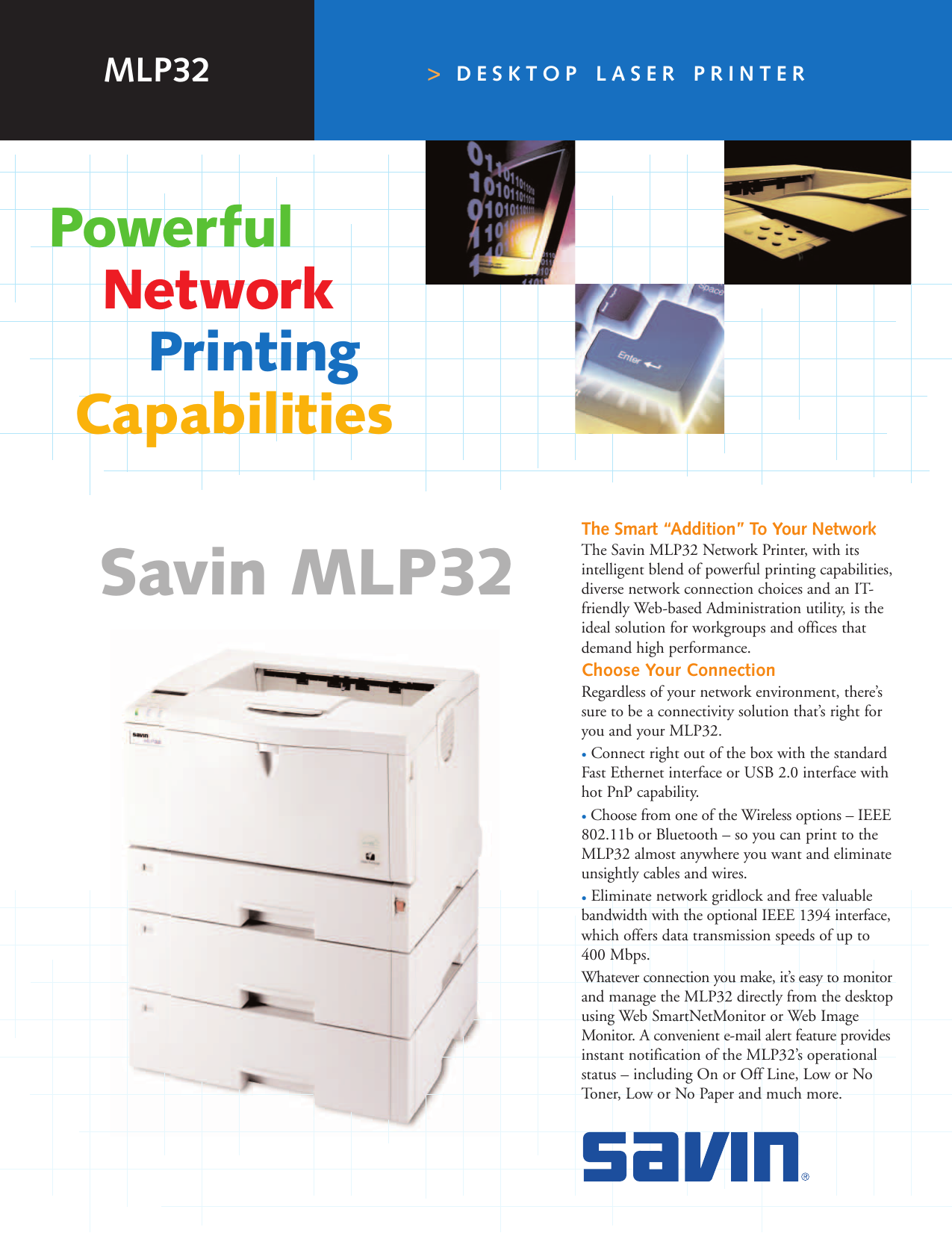 MLP32
>
DESKTOP LASER PRINTER
Powerful
Network
Printing
Capabilities
The Smart "Addition" To Your Network
Savin MLP32
The Savin MLP32 Network Printer, with its
intelligent blend of powerful printing capabilities,
diverse network connection choices and an ITfriendly Web-based Administration utility, is the
ideal solution for workgroups and offices that
demand high performance.
Choose Your Connection
Regardless of your network environment, there's
sure to be a connectivity solution that's right for
you and your MLP32.
• Connect right out of the box with the standard
Fast Ethernet interface or USB 2.0 interface with
hot PnP capability.
• Choose from one of the Wireless options – IEEE
802.11b or Bluetooth – so you can print to the
MLP32 almost anywhere you want and eliminate
unsightly cables and wires.
• Eliminate network gridlock and free valuable
bandwidth with the optional IEEE 1394 interface,
which offers data transmission speeds of up to
400 Mbps.
Whatever connection you make, it's easy to monitor
and manage the MLP32 directly from the desktop
using Web SmartNetMonitor or Web Image
Monitor. A convenient e-mail alert feature provides
instant notification of the MLP32's operational
status – including On or Off Line, Low or No
Toner, Low or No Paper and much more.
Savin MLP32
GENERAL SPECIFICATIONS
Configuration
Desktop
Print Technology
Electrophotographic laser, dual component toner
Print Speed (Letter) 32 ppm (1200 x 1200 dpi)
First Print Speed
6.5 seconds or less
Warm-up Time
Less than 19 seconds
Resolution
1200/600/300 dpi
Maximum Duty Cycle Up to 200,000 pages per month
Dimensions (WxDxH) 18.8" x 17.2" x 13.5"
Weight
44 lbs.
PAPER HANDLING SPECIFICATIONS
Input Capacity
Output Capacity
Duplex Printing
Paper Size
Paper Weight
High Performance Standards
The real test of a network printer is how it performs
on daily printing tasks. Whether you're printing
memos, spreadsheets, electronic forms or envelopes,
the MLP32 is always up for the job.
• Fast 32 ppm output – at up to 1200 dpi resolution – combined with a quick 6.5 second First
Print Time, speeds print jobs from the computer
into your hands. And, the MLP32 performs at
virtually the same speed when producing twosided documents, which is a great way to reduce
paper costs and hardcopy storage resources.
• Store print jobs in the optional hard disk drive
and output them when you want, in the quantities
you want. Plus, it's easy to manage stored print
jobs using DeskTopBinder Lite document management software.
• Power through large print jobs virtually uninterrupted with the MLP32's generous paper capacity
of up to 1,600 sheets. You'll also have access to a
variety of paper sizes – from invoice to ledger.
• Add the optional 4-Bin Mailbox or 1-bin Shift
Tray to separate and organize your printed documents to simplify retrieval and distribution.
CONTROLLER SPECIFICATIONS
CPU
Memory
Hard Disk Drive
Printer Languages
Fonts
Printer Drivers
Standard Interfaces
Optional Interfaces
Utilities
TX4955 300MHz
64MB; 320MB maximum
Optional
PCL 5e/6 emulation, Adobe PostScript 3, RPCS (Refined Printing Command
Stream), and PDF Direct Print
PCL: 35 Intellifonts, 10 TrueType, 1 bitmap; Adobe PostScript 3: 136 Type 1 fonts
PCL: Windows 95/98/Me/NT 4.0/2000/XP/Server 2003
Adobe PostScript 3: Windows 95/98/Me/NT 4.0/2000/XP/Server 2003;
Mac OS (8.6.0 or later); Mac OS X (10.1.x or later)
RPCS: Windows 95/98/Me/NT 4.0/2000/XP/Server 2003
Bi-directional IEEE 1284-compliant Parallel, USB 1.1/2.0, 10/100 BaseTX
IEEE 1394, IEEE 802.11b Wireless LAN, Bluetooth Wireless
SmartNetMonitor; Web SmartNetMonitor; Web Image Monitor (embedded to
NIC); DeskTopBinder Lite; Plug-In to HP Web JetAdmin; Plug-In to HP OpenView,
CA Unicenter and IBM Tivoli NetView; Printer Utility for Mac; and Font Manager 2000
PAPER HANDLING OPTIONS
Paper Feed Unit Type 600*
Paper Size
8.5" x 11", 8.5" x 14", 11" x 17"
Paper Weight
16 - 28 lb. bond
Paper Capacity
500 sheets
*MLP32 can accommodate up to two additional Paper Feed Units.
Envelope Cassette Type 2600*
Paper Size
Com10, Monarch, C5, C6, DL
Capacity
60 envelopes
*One optional Paper Feed Unit is required for the Envelope Cassette. High quality envelopes are recommended.
Duplex Unit AD410
Paper Size
8.5" x 11", 8.5" x 13", 8.5" x 14", 11" x 17"
Paper Weight
17 - 28 lb. bond
4-Bin Mailbox CS380*
Paper Size
Sizes supported through Standard Tray
Paper Weight
16 - 28 lb. bond
Stack Capacity
50 sheets per bin
*Cannot be simultaneously installed with the 1-bin Shift Sort Tray.
Accessible to All
With standard PCL 5e/6 emulation, Adobe PostScript 3 and our own Refined Printing Command
Stream (RPCS) the MLP32 offers support for
Windows and Macintosh users. And because RPCS
is optimized for Windows clients, you'll gain
enhanced printing performance and functionality.
For more information contact
your authorized Savin dealer.
Paper Types
Standard Configuration: 500 sheets, plus Bypass Tray (100 sheets or 10 envelopes)
Maximum Paper Input Capacity: 1,600 sheets/4 sources
250 sheets
Optional
Standard Tray: 7.25" x 10.5", 8.5" x 11", 8.5" x 14", 11" x 17"
Standard Bypass Tray: Width 3.5" to 12"; Length 5.8" to 17"
Standard Tray/Optional Paper Feed Unit: 16 - 28 lb. bond
Standard Bypass Tray: 14 lb. bond - 90 lb. index
Plain paper, recycled, envelopes, laser-quality qualified transparencies and labels
@
www.savin.com
1-Bin Shift Sort Tray
Paper Size
Paper Weight
Stack Capacity
Type 2600*
Sizes supported through standard tray
16 - 28 lb. bond
250 sheets
*Cannot be simultaneously installed with the 4-bin Mailbox.
INTERFACE OPTIONS
IEEE 802.11b Wireless LAN Interface Type A*
Data Transmission Speed 1/2/5.5/11 Mbps
*Cannot be used in conjunction with 10/100 BaseTX Ethernet.
Bluetooth Interface Board Type 2045
Data Transmission Speed 1 Mbps
IEEE 1394 Interface Board Type 4510
Cables (Included)
2.0m 6-pin to 6-pin cable, 2.0m 6-pin to 4-pin cable
Hardware Specifications
6 pins; 2 ports available
Data Transmission Speed 400/200/100 Mbps
System Requirement
Windows 2000 Professional/Server with Service Pack 1
Windows XP for IP over IEEE 1394 (TCP/IP Protocol)
MEMORY OPTIONS
Hard Disk Drive Type 2600*
Savin Corporation Stamford, Connecticut 06904 ©2003 Savin Corporation.
SAVIN® is a registered trademark of Savin Corporation. Windows® and Windows® 95/98/Me/NT 4.0/
2000/XP are registered trademarks of Microsoft Corporation. Macintosh®, Mac®OS and AppleTalk®
are registered trademarks of Apple Computer, Inc. Adobe® and PostScript® are registered trademarks of
Adobe Systems, Inc. PCL® is a registered trademark of Hewlett-Packard Company. All other trademarks
are the property of their respective owners. Product specifications and external appearances subject to
change without notice. Print speed may be affected by network, application or PC performance.
Products may be shown with optional features accessories. For maximum performance and yield,
we recommend using genuine Savin parts and supplies.
Printed in U.S.A. on recycled paper. (S1868) 35M 10/03
*HDD is required for Locked Print (Secure Printing), Sample Print, Job Spooling and permanent font download.
64MB/128MB/256MB Memory*
Hardware Specifications
144-pin DIMM SDRAM (PC133 compliant)
*Additional Memory Module is recommended to duplex print (two-sided), at the highest (1200 dpi) resolution.
Additional memory or optional HDD is required for electronic collation.