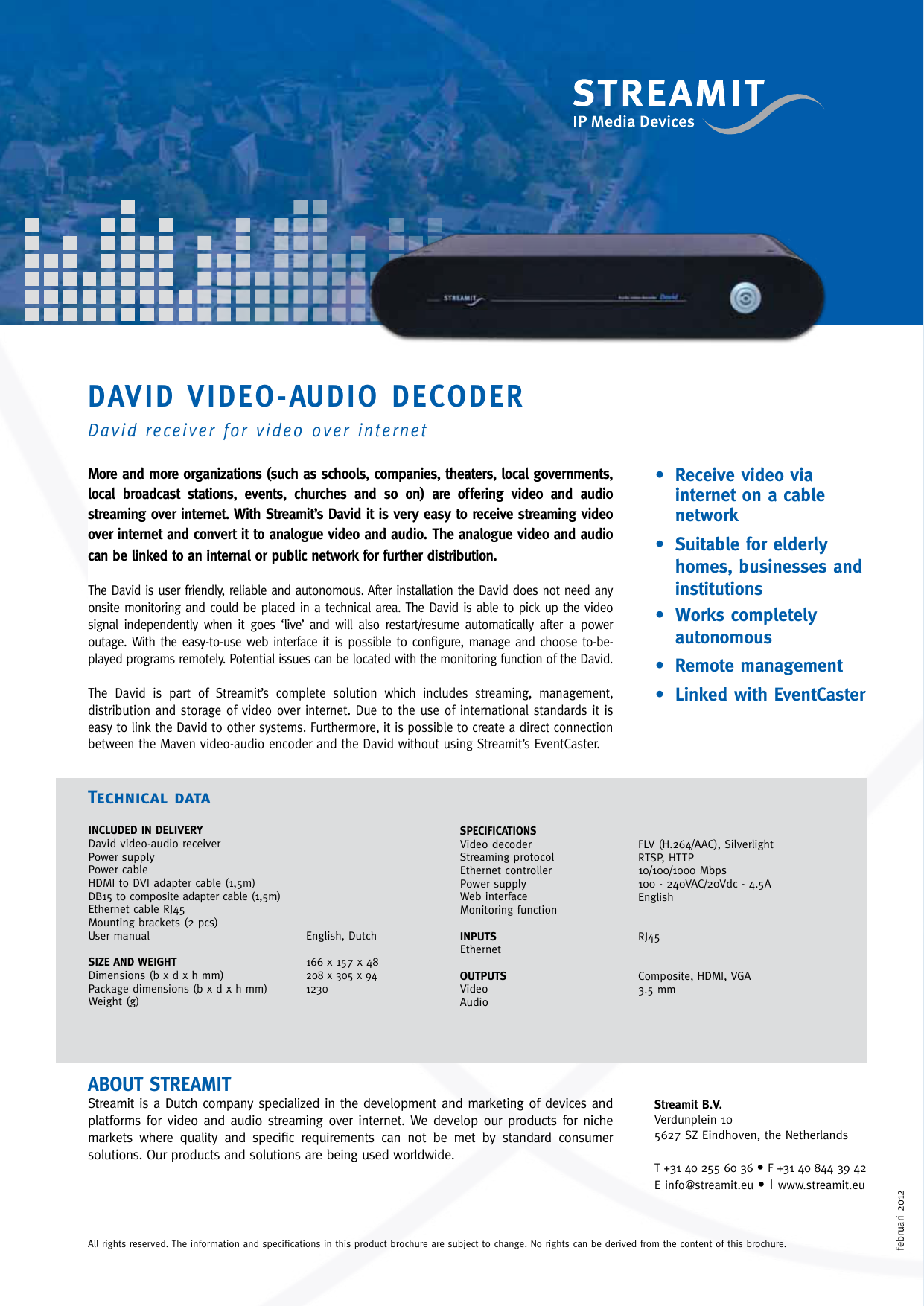 david video-audio decoder
David receiver for video over internet
More and more organizations (such as schools, companies, theaters, local governments,
local broadcast stations, events, churches and so on) are offering video and audio
streaming over internet. With Streamit's David it is very easy to receive streaming video
over internet and convert it to analogue video and audio. The analogue video and audio
can be linked to an internal or public network for further distribution.
The David is user friendly, reliable and autonomous. After installation the David does not need any
onsite monitoring and could be placed in a technical area. The David is able to pick up the video
signal independently when it goes 'live' and will also restart/resume automatically after a power
outage. With the easy-to-use web interface it is possible to configure, manage and choose to-beplayed programs remotely. Potential issues can be located with the monitoring function of the David.
The David is part of Streamit's complete solution which includes streaming, management,
distribution and storage of video over internet. Due to the use of international standards it is
easy to link the David to other systems. Furthermore, it is possible to create a direct connection
between the Maven video-audio encoder and the David without using Streamit's EventCaster.
•Receive video via
internet on a cable
network
•Suitable for elderly
homes, businesses and
institutions
•Works completely
autonomous
•Remote management
•Linked with EventCaster
technical data
INCLUDED IN DELIVERY
David video-audio receiver
Power supply
Power cable
HDMI to DVI adapter cable (1,5m)
DB15 to composite adapter cable (1,5m)
Ethernet cable RJ45
Mounting brackets (2 pcs)
User manual
SIZE AND WEIGHT
Dimensions (b x d x h mm)
Package dimensions (b x d x h mm)
Weight (g)
SPECIFICATIONS
Video decoder
Streaming protocol
Ethernet controller
Power supply
Web interface
Monitoring function
English, Dutch
166 x 157 x 48
208 x 305 x 94
1230
FLV (H.264/AAC), Silverlight
RTSP, HTTP
10/100/1000 Mbps
100 - 240VAC/20Vdc - 4.5A
English
INPUTS
Ethernet
RJ45
OUTPUTS
Video
Audio
Composite, HDMI, VGA
3.5 mm
about Streamit
Streamit B.V.
Verdunplein 10
5627 SZ Eindhoven, the Netherlands
T +31 40 255 60 36 • F +31 40 844 39 42
E info@streamit.eu • I www.streamit.eu
All rights reserved. The information and specifications in this product brochure are subject to change. No rights can be derived from the content of this brochure.
februari 2012
Streamit is a Dutch company specialized in the development and marketing of devices and
platforms for video and audio streaming over internet. We develop our products for niche
markets where quality and specific requirements can not be met by standard consumer
solutions. Our products and solutions are being used worldwide.

* Your assessment is very important for improving the work of artificial intelligence, which forms the content of this project