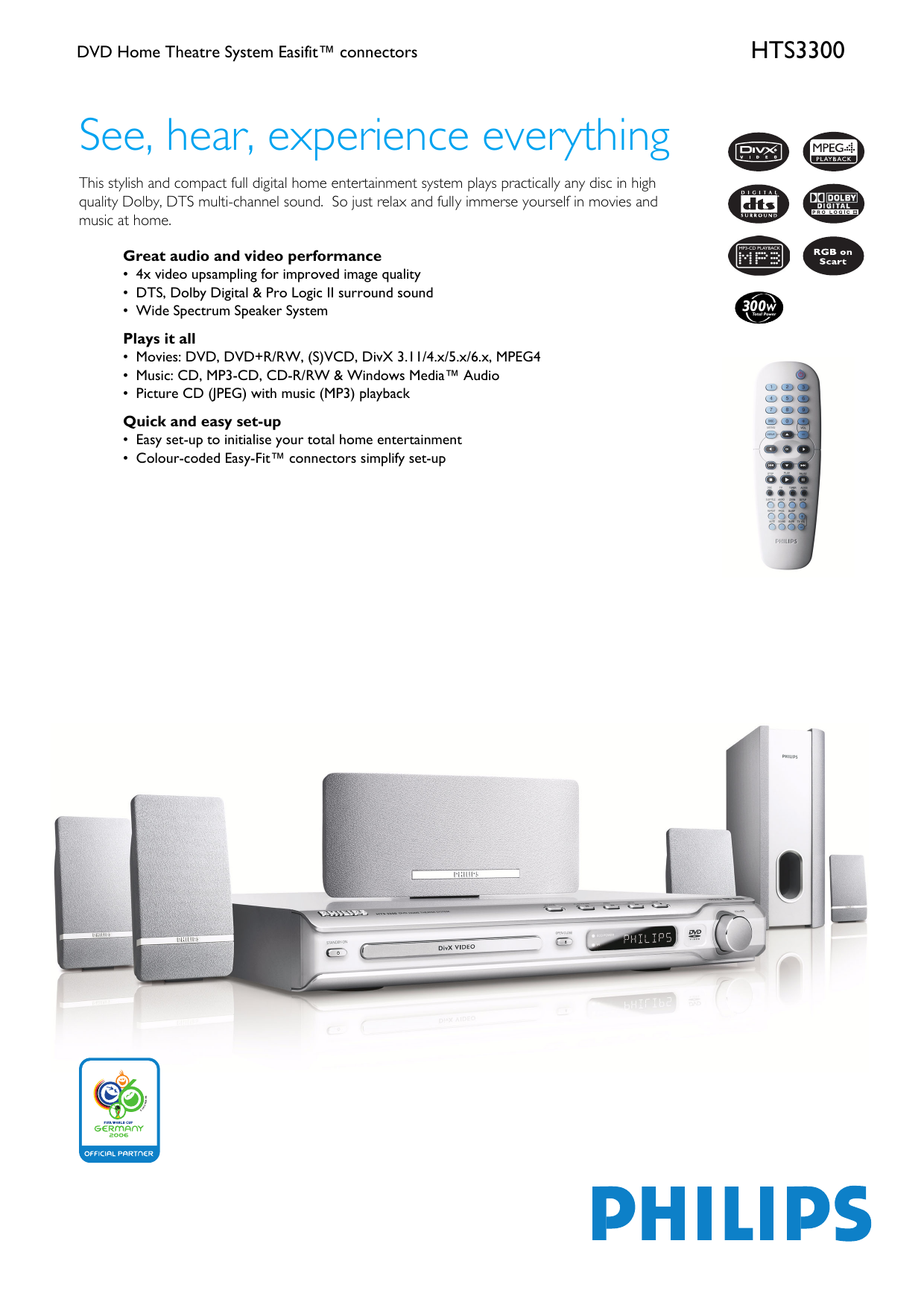 DVD Home Theatre System Easifit™ connectors
See, hear, experience everything
This stylish and compact full digital home entertainment system plays practically any disc in high
quality Dolby, DTS multi-channel sound. So just relax and fully immerse yourself in movies and
music at home.
Great audio and video performance
• 4x video upsampling for improved image quality
• DTS, Dolby Digital & Pro Logic II surround sound
• Wide Spectrum Speaker System
Plays it all
• Movies: DVD, DVD+R/RW, (S)VCD, DivX 3.11/4.x/5.x/6.x, MPEG4
• Music: CD, MP3-CD, CD-R/RW & Windows Media™ Audio
• Picture CD (JPEG) with music (MP3) playback
Quick and easy set-up
• Easy set-up to initialise your total home entertainment
• Colour-coded Easy-Fit™ connectors simplify set-up
HTS3300
DVD Home Theatre System Easifit™ connectors
HTS3300/05
Technical specifications
Product highlights
Picture / Display
Still picture playback
Sound
Tuner / Reception / Transmission
• Aspect ratio: 4:3, 16:9
• D/A converter: 12 bit, 108 MHz
• Picture enhancement: 4x Video Upsampling
• D/A converter: 24 bit, 192 kHz
• Equaliser settings: Action, Classic, Concert,
Digital, Drama, Jazz, Rock, Sci-Fi
• Frequency response: 30-20000 Hz
• Output power (RMS): 2x70, 4x40
• Signal to noise ratio: >65 dB
• Sound enhancement: Class "D" digital amplifier
• Sound system: Dolby Digital, Dolby Prologic II,
DTS, Stereo
• Total sound power (RMS): 300 W
Loudspeakers
•
•
•
•
•
•
•
•
•
•
•
• Playback Media: Picture CD
• Picture compression format: JPEG
• Slide show: with music (MP3)
•
•
•
•
Auto digital tuning
Auto store
Number of preset channels: 20
Tuner bands: FM stereo, MW
Connectivity
• Other connections: AUX in, Easy fit speaker
connectors, FM antenna, MW antenna, SCART1
(CVBS, S-video/RGB out)
Convenience
• Remote control: Multi functional
Satellite speaker: Magnetically shielded front
Satellite speaker freq range: 120-20000 Hz Hz
Satellite speaker impedance: 12 ohm
Satellite speaker drivers: 3" full range woofer
Centre speaker: Magnetically shielded
Centre freq range: 120-20000 Hz Hz
Centre speaker impedance: 6 ohm
Centre speaker drivers: 3" full range woofer
Subwoofer freq range: 30-120 Hz
Subwoofer impedance: 6 ohm
Subwoofer driver: 6.5" high efficiency woofer
Video playback
• Compression formats: MPEG1, MPEG2, MPEG4,
DivX 3.11, DivX 4.x, DivX 5.x
• Playback Media: 80mm + 120mm audio discs,
CD, CD-R/CD-RW, DivX, DVD, DVD+RW,
DVD+R, DVD-RW (Video mode), DVD-R,
DVD-Video, MP3-CD, MPEG4, Picture CD,
Video CD/SVCD
• Disc playback modes: Angle, CD Text, Night
mode, PBC, Repeat, Resume Playback from Stop
• Video disc playback system: NTSC, PAL
Audio Playback
• Compression format: Dolby Digital, DTS, MP3,
PCM, Windows Media (TM) Audio
• Playback Media: CD, MP3-CD, WMA, CD-R/
RW
• MP3 bit rates: 32-256 kbps and VBR
Accessories
• Included accessories: 1x centre speaker, 1x
subwoofer, 2x front satellite speakers, 2x rear
satellite speakers, AC power cord, Batteries for
remote control, FM/MW antenna, Quick user
guide, Remote control, Scart cable, User manual,
Warranty certificate
Dimensions
• Center speaker dimensions (W x H x D):
225 x 94 x 75 mm
• Centre speaker weight: 0.68 kg
• Packaging dimensions (W x H x D):
570 x 310 x 444 mm
• Set dimensions (W x H x D):
360 x 54 x 324 mm
• Set Weight: 2.7 kg
• Subwoofer dimensions (W x H x D):
360 x 340 x 130 mm
• Subwoofer weight: 3.92 kg
• Surround Speaker dimensions (W x H x D):
94 x 175 x 65 mm
• Surround speaker Weight: 0.4 kg
• Weight incl. packaging: 17.5 kg
Power
• Power supply: 200-240 V, 50Hz
• Standby power consumption: < 0.5 W
•
Date of issue 2005-12-16
Version: 14.0
12 NC: 9073 100 12479
EAN: 87 10895 87065 8
Specifications are subject to change without notice.
Trademarks are the property of Koninklijke Philips
Electronics N.V. or their respective owners.
© 2005 Koninklijke Philips Electronics N.V.
All Rights reserved.
www.philips.com
Video Upsampling
Video Upsampling is a technology that decreases
distortion to dramatically improve picture quality.
Increasing the video processing to 54MHz or even
108MHz, is in effect converting the video to 8:8:8*
(54MHz) or 16:16:16 (108MHz) format which has
about 4 to 8 times more horizontal resolution
bandwidth than in standard DVD format. This
processing reduces the MPEG "mosquito net" distortion
dramatically, resulting in picture quality that is pure and
distortion free.
DTS,Dolby Digital,Pro Logic II
A built-in DTS and Dolby Digital decoder eliminates the
need for an external decoder by processing all six
channels of audio information to provide a surround
sound experience and an astoundingly natural sense of
ambience and dynamic realism. Dolby Pro Logic II
provides five channels of surround processing from any
stereo source.
Wide Spectrum Speaker System
Wide spectrum speaker covers the entire audible audio
frequency in order to capture and reproduce a more
realistic sound. As there is one driver reproducing the
entire audio range, this results in minimum phase
distortion or time distortion to affect the audio quality.
Multi-format Movies-DivX, MP4
Multi format playability allows you to play most disc
formats for maximum compatibility and viewing
pleasure.
Music: Windows Media™ Audio
Multi format playability allows you to play most disc
formats for maximum disc compatibility and listening
pleasure.
Picture CD with MP3 Playback
Picture CD is a CD-R or CD-RW disc on which you can
store your MP3 and digital pictures. When inserting a
Picture CD in the DVD player, a screen menu will pop
up, showing your JPEG's and/or MP3 files on the disc.
Just select the music and picture files you wish to enjoy
and press play or OK. You can watch your pictures on
TV with your music playing simultaneously.