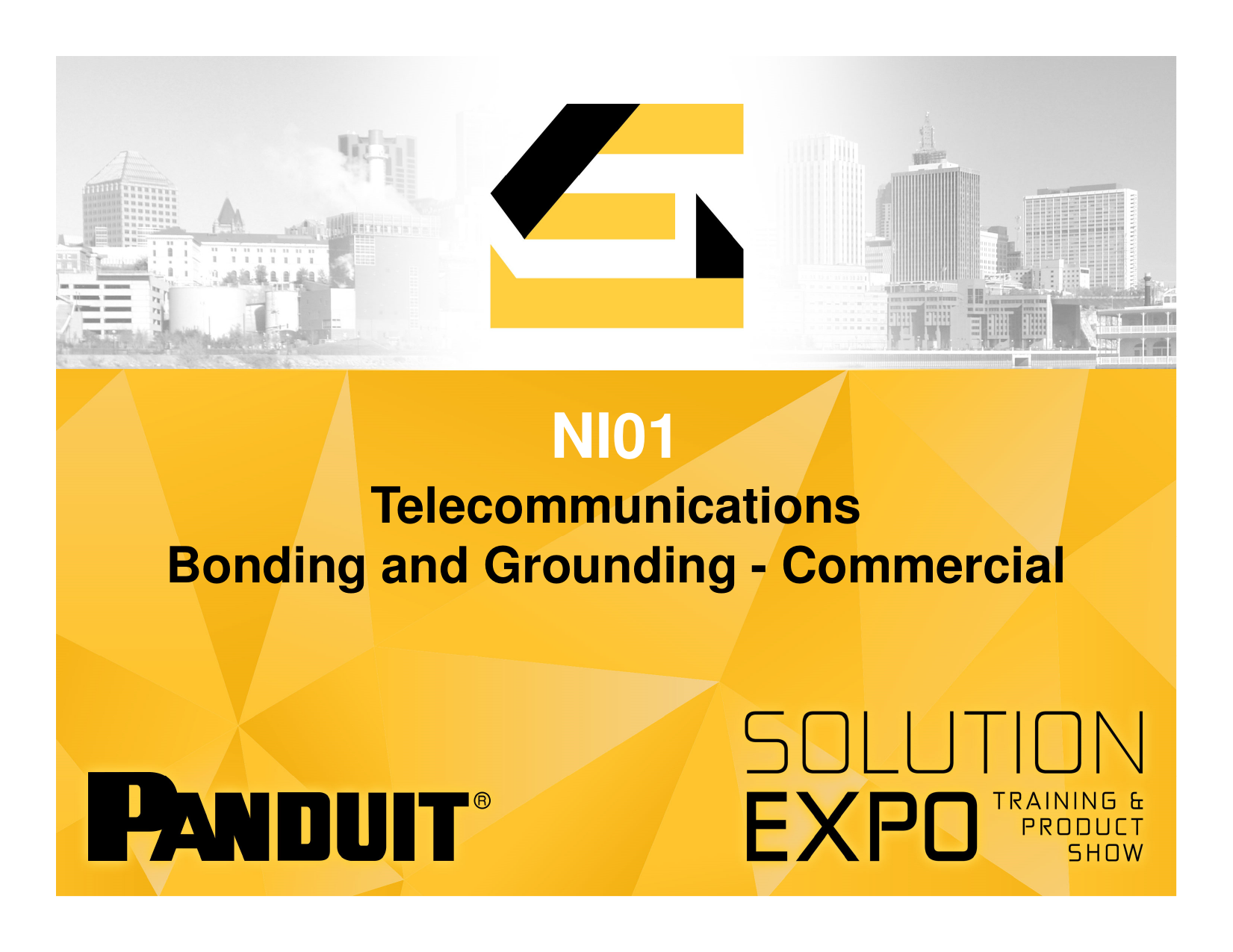 NI01
Telecommunications
Bonding and Grounding - Commercial
2
Telecommunications
Bonding and Grounding
John French
Technical System Engineer
jrf@panduit.com
4/16/2015
Grounding and Bonding 101
What is Grounding and Bonding?
A Grounding & Bonding System
is most often associated with
the protection of personnel, equipment and
property from electrical disturbances caused by
lightning, Electrostatic Discharge (ESD), surge
or fault currents and transient voltages.
Grounding and Bonding 101
What Does Grounding Do?
• Provides a reference to earth to stabilize the system
voltage for the Power Distribution System.
• Provide paths for fault current to get back to its
source without damaging equipment and facilitate
operation of over current devices (breakers and
fuses).
• Promote equalization of electric potentials
(voltages) between equipment, earth and personnel
by bonding conductive paths together
– Lightning
– Electrostatic discharge
SM
What are the effects of
Improper Grounding?
Lower Reliability
• An improperly designed grounding (and bonding) system may be a
primary source of interference and emission.
• According to the IEEE, the typical AC third-prong ground circuit is
almost never sufficient to prevent damage to network equipment
susceptible to ground-fault related potentials.
• Poorly designed or improperly applied grounding, bonding, and
shielding techniques often adversely affect the performance of
electronic equipment – from the circuit board to the network system.
• Approximately 70% of all anomalies, dysfunctions, or problems
associated with power distribution systems are directly or indirectly
related to bonding and grounding issues.
SM
Grounding and Bonding 101
The Risks of Improper Grounding & Bonding
Safety
Shocks
Fire hazards
Lightning
Insurance data: $500 million/year due to lightning damage
Equipment failure
Industry experts estimate 27-33% of damaged equipment due to
ESD (Electrostatic Discharge)
The risk of electrical noise
The performance of shielded data cable requires proper bonding &
grounding.
Understanding Grounding Systems
To have a good conversation about Grounding
Systems we need to establish a vocabulary to
use to describe different areas of the system.
We need to learn 3 terms:
• Earthing
• Grounding
• Bonding
SM
Understanding Grounding Systems
Understanding these three things will
alleviate MOST
grounding issues within any facility.
Earthing
SM
Grounding
Bonding
Design is Critical
A properly designed grounding and bonding
system is:
– Intentional,
– Visually verifiable,
– and Adequately Sized
…to handle expected currents safely and
without undue effect on susceptible
electronic equipment.
SM
Integrated bonding and grounding enhances
long-term equipment reliability and safety
Data center
SM
Telecommunications
room
Entrance and direct
burial
How does telecommunications
grounding and bonding work?
•
• Equalize potentials
(voltages) by bonding
conductive paths
together – minimizes
current flow
SM
Provide paths for
current to get back to
its source without
damaging equipment
Best Practice:
Start at the Source and work your way down.
MDC
MDC
Equipment
Cabinet #1
Equipment
Cabinet #2
Service
Entrance
SM
• To prevent ground
loops always route
grounds down and
out.
• Never daisy chain.
• Avoid multiple
grounds.
Facility
Electrical
Defining grounding and bonding
NFPA 70-2011 (National Electrical Code,
a.k.a. "NEC")
• Grounded (Grounding). Connected (connecting) to ground or to a
conductive body that extends the ground connection.
• Bonded (Bonding). Connected to establish electrical continuity and
conductivity.
SM
Does the National Electrical Code
require telecom grounding?
645.15 Grounding.
All exposed non–current-carrying metal parts of an
information technology system shall be bonded to the
equipment grounding conductor in accordance with
Article 250 or shall be double insulated…. Where signal
reference structures are installed, they shall be bonded to
the equipment grounding conductor provided for the
information technology equipment.
(NEC: NFPA 70-2011)
SM
Does the National Electrical Code specify an
acceptable path for Fault Current?
250.5(4) Grounding and Bonding
Electrical equipment, wiring, and other
electrically conductive material likely to become
energized shall be installed in a manner that
creates a low impedance circuit from any point
on the wiring system to the electrical supply
source to facilitate the operation of overcurrent
devices should a second ground fault from a
different phase occur on the wiring system. The
earth shall not be considered as an effective
fault-current path.
(NEC: NFPA 70-2011)
SM
Grounding Systems as Defined by BICSI
The ITS designer must recognize that three separate and distinct grounding
(earthing) systems should be in Place at every site.
They are the:
• ac grounding electrode system (e.g., in some countries it may also be known as
the earthing system).
• Equipment grounding system (e.g., in some countries it may also be known as
the equipment bonding system).
• Telecommunications bonding infrastructure.
Because the purpose of each of these systems is unique, one cannot be used in
place of the other two. Also, the installation requirements, improvement methods,
and test methods of the three systems vary greatly.
SM
Grounding Systems as Defined by BICSI
Equipment
Grounding
System
Telecommunications
Bonding Infrastructure
Grounding
Electrode System
(GES)
SM
18
Telecom Bonding Updates
4/16/2015
What is driving the need? (based on R&M Research)
• Tolerance windows have
shrunk as data rates have
increased
• Susceptibility to noise is
higher for high speed
Ethernet (1G, 10G)
• Noise disturbances cannot be
compensated by electronics
• Good quality cable and
properly engineered grounding
and bonding system can help
mitigate noise
Purpose and scope of TIA-607-B
TIA-607-B grounding is normative and applies
to entire building, not just data center
TIA-607-B, "Generic
Telecommunications
Bonding and Grounding
(Earthing) for Customer
Premises", is now
approved!
Scope now
includes
grounding of
ITE
Scope of TIA-607-B
What
is TIA-607-B?
Distributors
Scope: Specifies requirements for a
generic telecommunications bonding
and grounding infrastructure, and its
interconnection to other systems, for
locations where telecommunications
equipment will be or are installed
Major revision of J-STD-607-A:
• Includes G&B of telecommunications
spaces (distributors and computer
rooms)
• Continued harmonization efforts (as
practicable) on terminology and
practices with international
standards
Computer
Rooms
TGB
TMGB
TBB
How does the telecommunications bonding
system work?
• Provide paths for current to get back to its source without
damaging equipment
– e.g. faults
– Primary path for "dead metal"
– Supplemental path for powered equipment
• Promote equalization of electric potentials (voltages) by
bonding conductive paths together
– Lightning
– Electrostatic discharge
Implementation of a telecommunications
grounding and bonding system
TIA-607-B
does not
talk about
ESD
• Provide electrostatic discharge (ESD)
protection
• Bond the equipment to the racks/cabinets
• Ensure that the racks/cabinets have electrical
continuity
• Bond the racks/cabinets back to the electrical
panel
• Bond nearby conductive items to the
telecommunications grounding and bonding
system
24
The 5 Steps document - GRFL02--SA-ENG
ESD protection (best practice – not in TIA-607-B)
• Manufacturers ESD resistance is designed to
work under normal operational scenarios
• All built-in ESD protection is worthless when the
product is opened – must use external ESD
protection
• Service call – swap components
VGA port
USB/1394 ports
Serial port
Modem port
Ethernet port
Notebook:
DC power input
Desktop:
AC power line
DVI/HDMI port
Source Littelfuse
Example ESD protection wrist strap and
docking options
Panduit part RGESDWS
Banana jack on ESD protection
wrist strap fits ESD port
provided on equipment (Cisco
6500 shown)
Bent 45o port acts
as a hook to hold
wrist strap
Equipment in cabinets and racks
TIA-607-B:
"Rather than relying
on the ac power cord
ground wire, it is
desirable that
equipment be
grounded in a
verifiable manner as
described in this
Standard."
Figure 7—Example of three methods to bond
equipment and racks to ground
Implementing the equipment
grounding requirement
Bond equipment
with a jumper
when possible
Bonding cage nuts have
teeth that cut paint when
installed (CBN4K)
28
Bonding screws have threadforming threads and serrations
under the head that remove the
paint off mounting flanges and
patch panels (RGTBSG-C)
Some equipment isn't designed for a
supplemental bonding system
• Can't add a jumper
• Can't add a bonding screw or a bonding cage nut
That's OK. So long as the AC power system and the telecom bonding
system are bonded together, no safety issues result
Most servers cannot be
grounded directly to the
telecommunications
grounding system
Ground strip kits
RGS Family
• Ground strips have same xsectional area as #6 AWG wire
• Strips also future-proof against a
future installer bonding to the rack
without thread-forming screws
BICSI 002 will call for grounding strips or a
grounding busbar in the cabinet. When the
final standard is approved, the Grounding 5
Steps document will be updated to be
consistent with the standard.
Install the
strip on the
vertical rail
and bond all
other
jumpers to it
TIA-607-B requires racks and cabinets to be
electrically continuous
• Electrical continuity must be
confirmed through the use of
bonding jumpers, bonding
hardware, or the removal of paint
• Bonding jumpers must be a
minimum of #12 AWG
All Panduit racks and cabinets
are electrically continuous,
eliminating the need for
jumpers
Panduit telecom bonding
products are not impacted by
Cabinet 2.0
Integral bonding means that no
additional jumpers are required to
create electrical continuity within the
rack or cabinet, which saves costs,
speeds installation, and removes a
variable that could otherwise cause
problems later
If the rack/cabinet is not electrically continuous,
use a busbar
• Bond busbar to rack/cabinets with
thread-forming screws to create
electrical continuity between the
equipment mounting rails
• Bond to busbar with 2-hole lug
tongues for long-term connection
reliability
Threadforming screws
2-hole lug
mounting
New terminology introduced by TIA-607-B:
Telecommunications Equipment Bonding
Conductor (TEBC)
Example TEBCs routed along auxiliary cable brackets
(which help to maintain 50 mm separation)
TEBCs
TEBCs are bonded to the TGB
• "The TEBC
connects the
TMGB/TGB to
equipment
racks/cabinets"
• Minimum
separation from
power and
telecom cables is
50 mm (2 in)
Acceptable telecommunications equipment
bonding conductor topologies for the telco closet,
per TIA-607-B
Rack bonding
conductor
(RBC)
Telecommunications
equipment bonding
conductor (TEBC)
Use two-hole lugs to bond to busbars and racks &
cabinets. Compression is required on busbars
Two hole compression lug
One hole mechanical lug
Connector considerations – TIA-607-B
We will add this
after we have
finished
characterizing the
vibration and
stress relaxation
characteristics
Mechanical connectors are
allowed for bonding the
TEBC/RGB to racks, but Panduit
recommends compression to
prevent loosening
The intent of the standard is that only double set
screw mechanicals can be used on racks. Not
clearly stated in TIA-607-B
Mesh-BN: a collection of components (As per CENELEC documents,
includes TIA-942's Data Center Grounding Infrastructure as the
"Supplemental Bonding Network" and IEEE Std 1100 calls the
MCBN), per TIA-607-B
Building steel
Conduits
Cabling
pathways
(not shown)
Information
technology
equipment (ITE)
Racks and
cabinets
Supplemental
bonding grid
(SBG)
Rack bonding
conductor
(RBC)
Watch for this common problem
Common Bonding Network
Jumper Kit (RGCBNJ660P22)
Specify who
bonds the racks
to the SBG!
When you see a supplemental bonding grid (SBG) with nothing attached to it, the
customer intended to have grounding but got nothing!!! Making this bond was in
no one's scope of work...
(20% of the data centers have this problem)
HTAP Crimping
• HTCT HTAPs require 12
tons of compression
• CT-2930/L is
recommended
• Can use other
manufacturers' tools
and retain UL
Listing/CSA Certification
• Must use Panduit
locator dies
Patented
locating rib
guarantees fullwidth crimp 1st
time, every
time!
CT-2930/L
CD-930H-250 Locator Die
HTCT HTAP
Conductor sizing isn't only about electrical issues…
Standards call for a minimum #6
AWG for mechanical strength
Size matters!
Source: Picture from Internet
Supplemental bonding grid construction per
TIA-607-B
Make aisle grounds
convenient to racks
and cabinets
Cross aisle grounds at
least every 10 feet
(Unless column in way)
•Use #6 AWG wire
•Use pedestal
grounding clamps at
conductor intersections
•1/0 bond to TGB
• Bond to AC power
ground through a local
TGB
When do we make an SBG on
every-other-pedestal?
• When we do not know
where the racks and
cabinets are going to go
• When there is a
stringerless access floor
system (bonds each tile
at one point)
Example supplemental bonding grid
GPQC family of access floor grounding
(Mesh-BN) products
• Up to two each of #6 AWG-2/0
conductors
• Rated for fault current (not all
commonly installed access floor
connectors are)
• Models for access floor
pedestals from ¾" to 2"
diameters
Hinged U-bolt design allows for
"no look" installation—saving
67% of installation time
44
Preventing loose busbar connections
Two-hole
compression
lugs required
on TGB &
TMGB
Telecommunications
Grounding Busbar (TGB),
BICSI/TIA-607 hole
pattern
(Type LCC-W)
(Type GB2B, or Part GB2B0306TPI-1)
BICSI-607 stainless steel
TGB hardware stack-up
(Parts HDW1/4-KT, HDW3/8-KT)
Panduit tooling options
CT-2930/L 14 ton
battery tool for HTAP
and lug connections
CT-930 14 ton
manual hydraulic tool
for HTAP and lug
connections
CT-1700 controlledcycle tool for lug
connections
- or Panduit lugs can be crimped with select competitors' tools and
dies and still retain UL/CSA approvals and performance
What else needs to be bonded?
• IEEE studies have indicated that the point of diminishing
financial returns with respect to lightning strikes is 2 meters
(6 feet)
• Bond anything that could become charged that a person
could bump while working on a rack/cabinet for safety
• Therefore, bond any conductive path within six feet of your
racks/cabinets
Bond cable tray and ladder rack sections
Split bolts – use tin plated if
outdoors (Panduit SBC & SBCT,
respectively)
#6 AWG conductor,
green w/yellow jacket
– OR –
Specify systems that
automatically bond to
reduce chances of error
PANDUIT® Wyr-Grid™ and
GRIDRUNNER™ hardware
automatically bonds sections,
eliminating the need for jumper
wires
Armored fiber cables per TIA-607-B
Armored fiber grounding cable clamp
Cover protects
clamp and
provides neat
appearance
Mechanical
clamp
assembly
• Mechanical clamp design is
entirely external to armor—no
risk of damage to fibers
• Clamp assembly has more
current-carrying capability than
the armor it attaches to
To grounding
system
Armored fiber optic
cable
Telecommunications Bonding Backbone (TBB)
TBB and its bonds, adapted from Figure 32,
TIA-607-B
• Purpose of TBB is to reduce
potential differences between
interconnected
telecommunications systems
on different floors
• Originates at TMGB and
extends throughout building
using telecom pathways
• Connects TGBs that exist in
each distributor
51
TIA-607-B TBB sizing
16mm2
400mm2
52
TIA-607-B-2 and the TBB…
• Use of structural metal is
permitted in lieu of a copper
conductor for the TBB and
GE (grounding equalizer,
which connects TBBs to one
another)
• Bond to structural metal
using a Listed connector
(compression, mechanical,
or weld)
• Size bonding conductor
according to rules in table in
previous slide
What metal qualifies?
• Electrically continuous
– 2-point measurements
– Architectural drawings/asbuilts, when measurement not
possible
• Metal must be earthed
(grounded) in at least one
place
Published August 21, 2013
53
Connectors for structural metal
• Today: "GM" family of parts available for conductors
from #4 AWG to 250 kcmil
• Available around November: "GM" parts for conductors
from #8 SOL to 1,000 kcmil
Drill hole in structural metal, put
stud through hole, fasten to
structural metal surface with
nut (provided)
Insert wire you
want to bond to
structural metal
here
GUBC shown in
product roadmaps
today
Grounding & Bonding Infrastructure
The Grounding Electrode System –
Connection to the Grounding Electrodes
Article 250.70 Methods of Grounding and Bonding Conductor
Connection to Electrodes.
"The grounding or bonding conductor shall be connected to
the grounding electrode by exothermic welding, listed lugs,
listed pressure connectors, listed clamps, or other listed
means. "
Types of Connectors allowed by Code and Standards
Mechanical Connections
Compression
Exothermic Welding
Grounding and Bonding Systems
Knowledge and Solutions
for Multiple Applications
Telecom Room
Grounding Electrode System
Telecommunications
G&B Infrastructure
Data Center
Entrance Facility
Control Panels
Grounding and Bonding Systems
Depth of Product Lines
Terminals
Power Connectors
Data Center Kits
Compression Taps
Direct Burial
CTAPF
HTAP
CTAP
Mechanical Grounding
Grounding and Bonding Systems
Installation Tooling
Grounding and Bonding Systems
We Can Help
Technical Support
Design Consultation
Product Selection
Specification Template
Tool Selection
Knowledgeable Staff
Product Literature
White Papers
Articles
Part Drawings
Questions?
John French
Technical System Engineer
jrf@Panduit.com
Thank You!