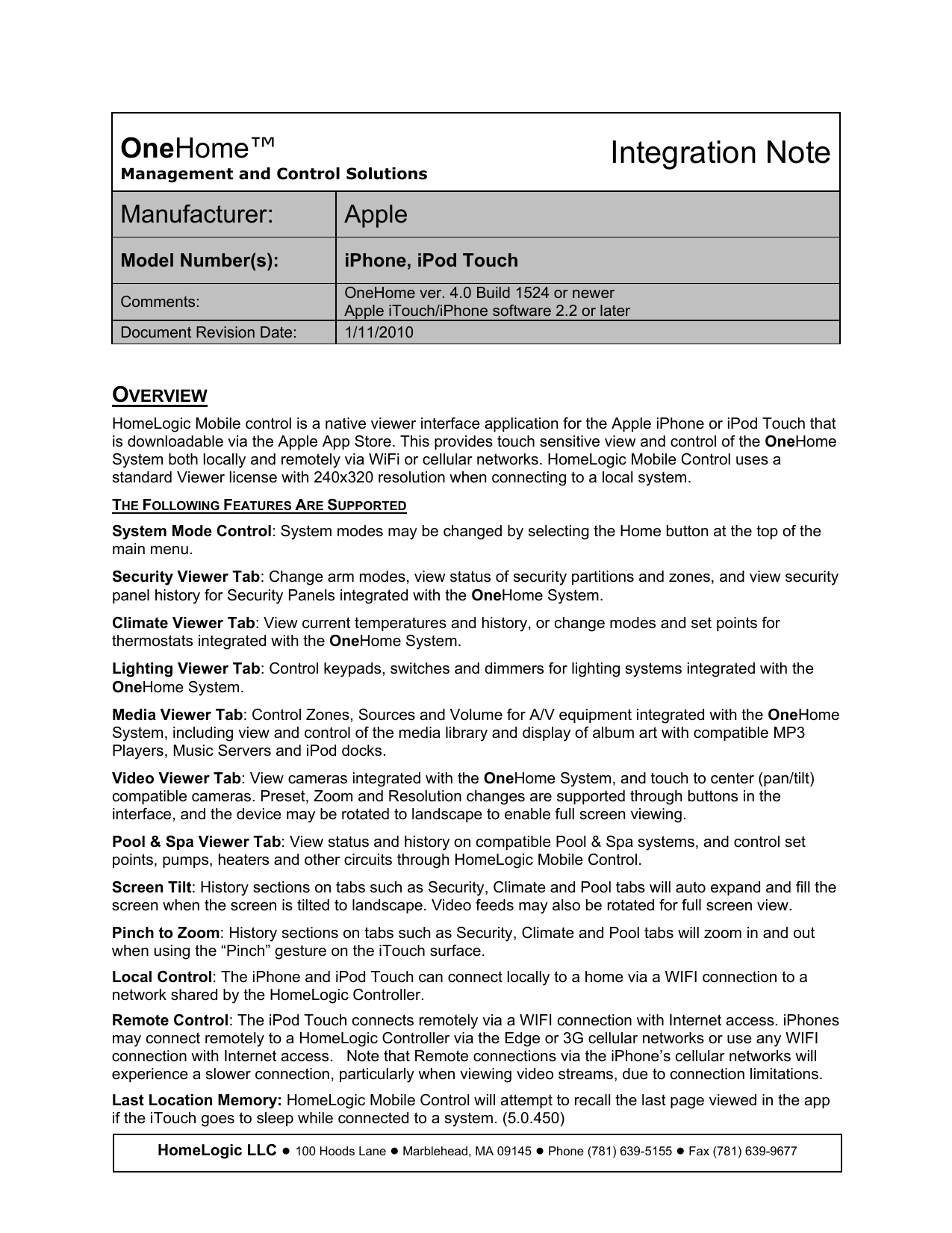 OneHome™
Management and Control Solutions
Manufacturer:
Apple
Model Number(s):
iPhone, iPod Touch
Comments:
Document Revision Date:
Integration Note
OneHome ver. 4.0 Build 1524 or newer
Apple iTouch/iPhone software 2.2 or later
1/11/2010
OVERVIEW
HomeLogic Mobile control is a native viewer interface application for the Apple iPhone or iPod Touch that
is downloadable via the Apple App Store. This provides touch sensitive view and control of the OneHome
System both locally and remotely via WiFi or cellular networks. HomeLogic Mobile Control uses a
standard Viewer license with 240x320 resolution when connecting to a local system.
THE FOLLOWING FEATURES ARE SUPPORTED
System Mode Control: System modes may be changed by selecting the Home button at the top of the
main menu.
Security Viewer Tab: Change arm modes, view status of security partitions and zones, and view security
panel history for Security Panels integrated with the OneHome System.
Climate Viewer Tab: View current temperatures and history, or change modes and set points for
thermostats integrated with the OneHome System.
Lighting Viewer Tab: Control keypads, switches and dimmers for lighting systems integrated with the
OneHome System.
Media Viewer Tab: Control Zones, Sources and Volume for A/V equipment integrated with the OneHome
System, including view and control of the media library and display of album art with compatible MP3
Players, Music Servers and iPod docks.
Video Viewer Tab: View cameras integrated with the OneHome System, and touch to center (pan/tilt)
compatible cameras. Preset, Zoom and Resolution changes are supported through buttons in the
interface, and the device may be rotated to landscape to enable full screen viewing.
Pool & Spa Viewer Tab: View status and history on compatible Pool & Spa systems, and control set
points, pumps, heaters and other circuits through HomeLogic Mobile Control.
Screen Tilt: History sections on tabs such as Security, Climate and Pool tabs will auto expand and fill the
screen when the screen is tilted to landscape. Video feeds may also be rotated for full screen view.
Pinch to Zoom: History sections on tabs such as Security, Climate and Pool tabs will zoom in and out
when using the "Pinch" gesture on the iTouch surface.
Local Control: The iPhone and iPod Touch can connect locally to a home via a WIFI connection to a
network shared by the HomeLogic Controller.
Remote Control: The iPod Touch connects remotely via a WIFI connection with Internet access. iPhones
may connect remotely to a HomeLogic Controller via the Edge or 3G cellular networks or use any WIFI
connection with Internet access. Note that Remote connections via the iPhone's cellular networks will
experience a slower connection, particularly when viewing video streams, due to connection limitations.
Last Location Memory: HomeLogic Mobile Control will attempt to recall the last page viewed in the app
if the iTouch goes to sleep while connected to a system. (5.0.450)
HomeLogic LLC ● 100 Hoods Lane ● Marblehead, MA 09145 ● Phone (781) 639-5155 ● Fax (781) 639-9677
THE FOLLOWING FEATURES ARE NOT SUPPORTED
DVR Viewer Tab: Support for viewing of HomeLogic's DVR is not currently available.
Messaging Viewer Tab: Support for viewing the messaging tab is not available.
Irrigation Viewer Tab: Support for view and control of irrigation systems is not available.
Custom Controls: Currently not all custom controls are compatible with HomeLogic Mobile Control.
Please see Custom Controls below for full details.
Custom Tabs: Not all tabs currently support the use of Custom Tabs.
Security Zone Bypass: While statuses of all zones including bypass states are available in the interface,
zones may not be bypassed from HomeLogic Mobile Control.
Schedule Creation/Modification: Creating or modifying schedules in tabs such as Climate or Lighting is
not supported in HomeLogic Mobile Control.
Docked Control: HomeLogic does not support using HomeLogic Mobile Control while the iPhone or iPod
Touch is docked in an iPod music dock or other cradle.
Certain Media Sources: Some media source devices may not immediately have an interface compatible
with HomeLogic Mobile Control.
Pool Lighting: The Lighting tab for Pool & Spa is not yet available. It is possible to configure lights as
Generic Circuits and have them appear on the main page with water features, however.
INSTALLATION AND BASIC USE
HomeLogic Mobile Control may be downloaded for free through the Apple App Store in the "Lifestyle"
section. You may either use the App Store icon on an internet connected iPod Touch or iPhone, or use
iTunes on your PC to locate the application. Once you have located HomeLogic Mobile Control, follow the
prompts in the App Store to install the program and if using iTunes, sync the application to your device.
Following install, the program may be launched by tapping the grey and blue HomeLogic icon
.
When launched, the program will display a Connection Type button that allows you to toggle between
Local and Remote connections. Local will attempt to find local controllers via the WiFi connection on the
local network. Tapping Remote will disable the local WiFi search and allow you to enter the System
Name and Password to connect to a remote system either via WiFi with an internet connection or thru the
3G/EDGE cellular networks. The last login used will automatically be retained by the app.
Updates for HomeLogic Mobile Control will be automatically provided through the App Store.
If you wish to connect to the iPhone Demo site for demonstrations, enter the name as follows:
System Name: iPhone Demo
Password:
iphone
CUSTOM CONTROLS
Many custom controls are available to dealers when building interfaces in the OneHome System,
however not all of them will currently display correctly within HomeLogic Mobile Control. To use any of
the compatible controls on a custom tab or interface, make sure you create the interface in the
240x320 resolution. You may also create an additional interface on the 320x240 resolution for Custom
Video Tabs, as the Video Tab supports tilting.
Please see the table below for compatible controls:
Compatible Custom Controls
Audio Button
Audio Button (Recessed)
Audio Keypad
Audio Keypad Text View
Button (Momentary)*
Button (Standard)*
Button (Toggle)*
Button (Toggle) Indicator Mode*
DVD Browser
DVD Carrousel Selector
Hatswitch (4 Button Recessed)
Hatswitch (4 Button)
Hatswitch (8 Button Recessed)
Hatswitch (8 Button)
Light Dimmer Control
Light Rocker Control
Light Scene Button (Customizable) (Toggle Only)
Light Scene Button (From Keypad)
Light Switch Control
Light Toggle Control
Lighting Keypad
Numeric Keypad
Static Text (3D)
Static Text (Standard)
TV Channel Favorites
Video Stream
*Added in iPhone Build 5.0.450
COMMON MISTAKES
1. System version too low. Please ensure the HomeBrick is running 4.0 Build 1524 or newer.
2. Attempting to use the SmartPhone installer with an iPhone. The SmartPhone installer is to be
used with Windows Mobile phones only. Install the iPhone/iPod Touch application through
Apple's App Store.
3. Trying to connect to a local system with insufficient licenses. The HomeBrick must have a Viewer
license available for an iPhone or iPod Touch to connect locally via WiFi.
4. Creating/using interfaces without settings on the correct resolution. The iPod Touch/iPhone uses
the 240x320 resolution.
5. Trying to connect to a HomeBrick without a WiFi connection. When attempting to connect to local
systems over WiFi or remote systems over WiFi with internet, ensure you are actually connected
by looking for the radio icon at the top of the screen. Also ensure you are connected to the
correct SSID if there are multiple WiFi networks available at your location.
6. Incorrect System Name or Password. If you are connecting to a remote system, you must enter
the full System Name, such as HomeBrick 100665, and both System Names and Passwords are
case sensitive.

* Your assessment is very important for improving the work of artificial intelligence, which forms the content of this project