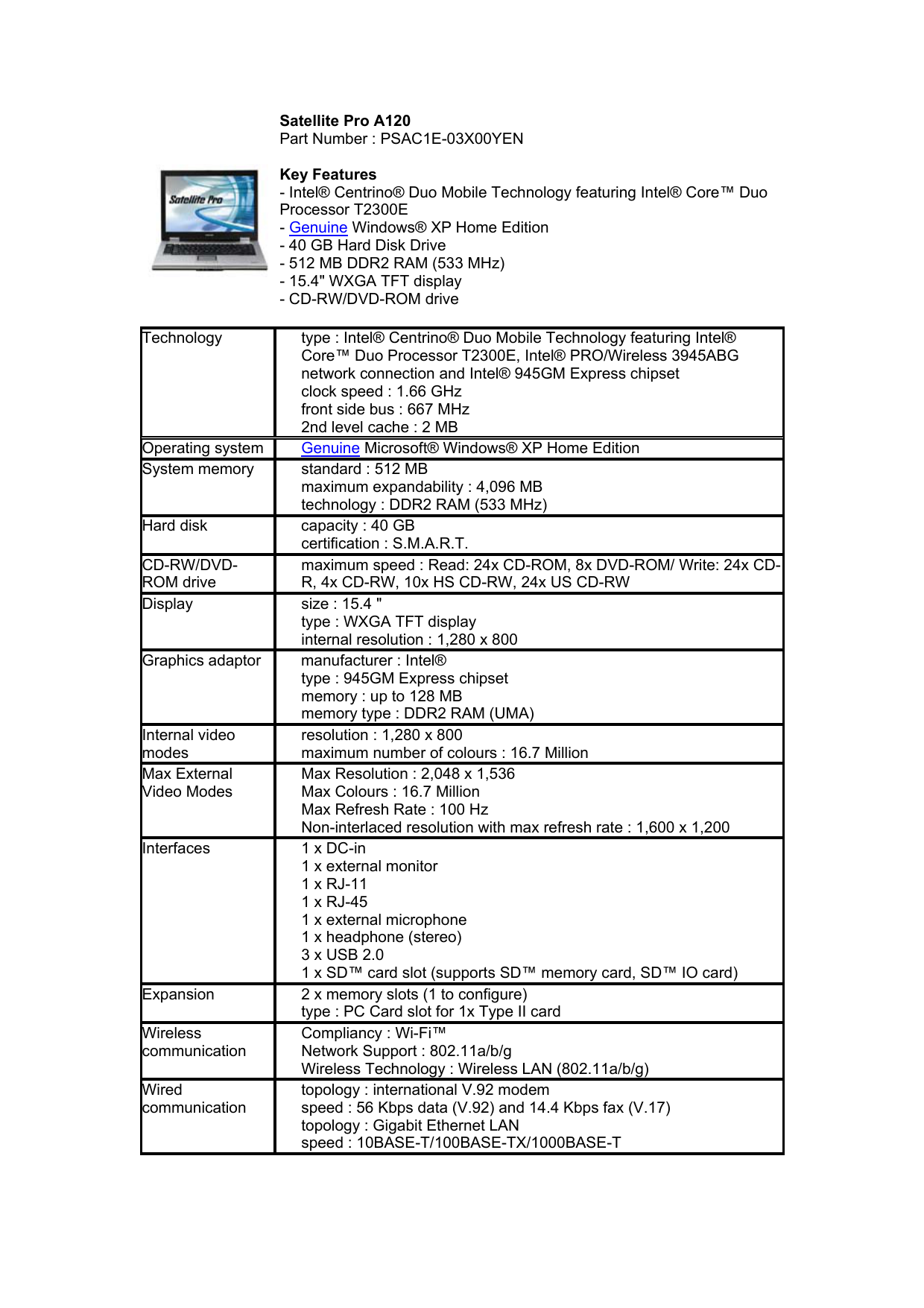 Satellite Pro A120
Part Number : PSAC1E-03X00YEN
Key Features
- Intel® Centrino® Duo Mobile Technology featuring Intel® Core™ Duo
Processor T2300E
- Genuine Windows® XP Home Edition
- 40 GB Hard Disk Drive
- 512 MB DDR2 RAM (533 MHz)
- 15.4" WXGA TFT display
- CD-RW/DVD-ROM drive
Technology
Operating system
System memory
Hard disk
CD-RW/DVDROM drive
Display
Graphics adaptor
Internal video
modes
Max External
Video Modes
Interfaces
Expansion
Wireless
communication
Wired
communication
type : Intel® Centrino® Duo Mobile Technology featuring Intel®
Core™ Duo Processor T2300E, Intel® PRO/Wireless 3945ABG
network connection and Intel® 945GM Express chipset
clock speed : 1.66 GHz
front side bus : 667 MHz
2nd level cache : 2 MB
Genuine Microsoft® Windows® XP Home Edition
standard : 512 MB
maximum expandability : 4,096 MB
technology : DDR2 RAM (533 MHz)
capacity : 40 GB
certification : S.M.A.R.T.
maximum speed : Read: 24x CD-ROM, 8x DVD-ROM/ Write: 24x CDR, 4x CD-RW, 10x HS CD-RW, 24x US CD-RW
size : 15.4 "
type : WXGA TFT display
internal resolution : 1,280 x 800
manufacturer : Intel®
type : 945GM Express chipset
memory : up to 128 MB
memory type : DDR2 RAM (UMA)
resolution : 1,280 x 800
maximum number of colours : 16.7 Million
Max Resolution : 2,048 x 1,536
Max Colours : 16.7 Million
Max Refresh Rate : 100 Hz
Non-interlaced resolution with max refresh rate : 1,600 x 1,200
1 x DC-in
1 x external monitor
1 x RJ-11
1 x RJ-45
1 x external microphone
1 x headphone (stereo)
3 x USB 2.0
1 x SD™ card slot (supports SD™ memory card, SD™ IO card)
2 x memory slots (1 to configure)
type : PC Card slot for 1x Type II card
Compliancy : Wi-Fi™
Network Support : 802.11a/b/g
Wireless Technology : Wireless LAN (802.11a/b/g)
topology : international V.92 modem
speed : 56 Kbps data (V.92) and 14.4 Kbps fax (V.17)
topology : Gigabit Ethernet LAN
speed : 10BASE-T/100BASE-TX/1000BASE-T
Sound system
Keyboard
Pointing device
Battery
AC adaptor
Physical
dimensions
Warranty
Bundled
hardware
Bundled
software
Toshiba
EasyGuard
Security
features
supported audio format : 24-bit stereo
supported sound standards : MIDI support
speakers : built-in stereo speakers
keys : 87
Windows keys : 2
Hot Keys : 1
special features : spill-resistant keyboard
type : Touch Pad
interface : PS/2
technology : lithium-ion
maximum life : up to 4:00 (Mobile Mark™) hours
input voltage : autosensing AC adapter (100/240 V) for worldwide usage
W x D x H : 368 x 268 x 29.8/36.9 mm
weight : 2.80 kg
1-year international warranty. Upgrade your standard warranty with
Toshiba warranty extension, uplift and all-risks insurance packs.
AC adaptor
Toshiba Management Console
ConfigFree™
Connectivity Doctor
Sonic¿ Record Now!
InterVideo® WinDVD Creator (2Platinum)
Toshiba Summit
Norton Internet Security™ 2006 (includes free Internet updates for 90
days)
InterVideo® WinDVD™
on-line user's and modem manual
Toshiba utilities and drivers
Microsoft® Office OneNote ™ 2003
Wireless LAN Switch
Toshiba Anti-theft Protection Timer
Norton Internet Security 2005 Antivirus Software (90 Day Trial)
Toshiba Summit
Diversity Antenna
Toshiba ConfigFree™
slot for Kensington Cable Lock
PC Diagnostics
Spill-resistant Keyboard
HDD Protection (3D Sensor to protect data)
Shock Protection Design
Durable Design
Data Backup
Easy Fix Components
Toshiba Device Access Control
Password Utility
system password security
keyboard lock
main memory (by screw)
BIOS password
HDD password on request
main battery pack (by sliding latch)
main hard disk (by screw)
user password
supervisor password
Special
features
SM BIOS compliant
Toshiba Enhanced SpeedStep
Toshiba Zooming utility
Toshiba Power Saver utility
Certification
The manufacturer declares that this product complies with the following
directives and regulations for the CE-marking. Responsible for CE marking
is Toshiba Europe GmbH, Hammfelddam 8, 41460 Neuss, Germany.
Copyright © 2006 Toshiba Corporation. All rights reserved.

* Your assessment is very important for improving the work of artificial intelligence, which forms the content of this project