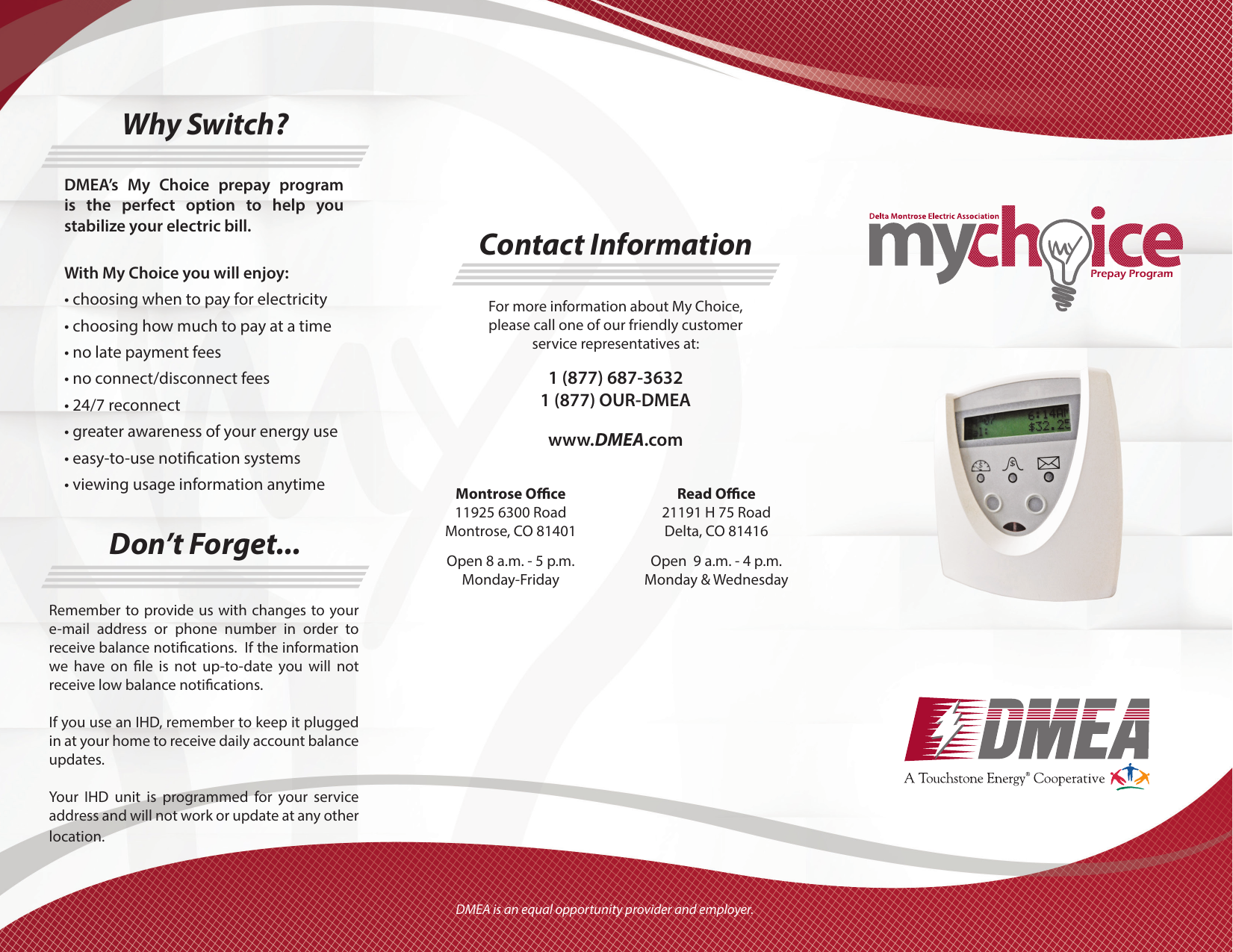 Why Switch?
DMEA's My Choice prepay program
is the perfect option to help you
stabilize your electric bill.
With My Choice you will enjoy:
• choosing when to pay for electricity
• choosing how much to pay at a time
• no late payment fees
• no connect/disconnect fees
• 24/7 reconnect
• greater awareness of your energy use
• easy-to-use notification systems
• viewing usage information anytime
Don't Forget...
Contact Information
Prepay Program
For more information about My Choice,
please call one of our friendly customer
service representatives at:
1 (877) 687-3632
1 (877) OUR-DMEA
www.DMEA.com
Montrose Office
11925 6300 Road
Montrose, CO 81401
Read Office
21191 H 75 Road
Delta, CO 81416
Open 8 a.m. - 5 p.m.
Monday-Friday
Open 9 a.m. - 4 p.m.
Monday & Wednesday
Remember to provide us with changes to your
e-mail address or phone number in order to
receive balance notifications. If the information
we have on file is not up-to-date you will not
receive low balance notifications.
If you use an IHD, remember to keep it plugged
in at your home to receive daily account balance
updates.
Your IHD unit is programmed for your service
address and will not work or update at any other
location.
DMEA is an equal opportunity provider and employer.
Your My Choice Alerts
Getting Started
When you choose My Choice, you can select the
method of notification that works best for you.
• Text Messaging with Smart Hub App
• E-mail Alerts with Smart Hub App
• In-Home Display Unit
Step 1 - Visit your local DMEA office to
sign-up for My Choice prepay program.
Step 2 - Choose your method of
notification: texts, e-mails, or in-home
display unit (IHD). You may purchase
your IHD for $140 or make fourteen
monthly payments of $10 each.
Step 3 - A DMEA customer service
representative will determine how much
you currently owe on your account.
They will also go over your options for
payment. Then you simply make the
payment required to bring your account
current (if needed) and purchase as
much electricity as you choose.
Step 4 - If you opted to receive
notifications via text or e-mail, visit
www.dmea.com to set up your free
Smart Hub App. If you opted for an IHD,
plug in your IHD unit at your residence.
Step 5 - Use your IHD or the Smart Hub
App. to track your electricity use and
account balance.
Step 6 - Purchase additional electricity
as needed to keep your account balance
positive. Purchases can be made in
person at the DMEA office, at payment
kiosks open 24/7, at www.dmea.com,
through Smart Hub App., or by calling
1-877-687-3632.
Each of these options provide energy usage
information and low balance notifications.
Our customer service representatives are available to
help you determine which method of notification will
work best for your life style.
Questions & Answers
How do I know when my balance is low?
You will be notified by text, e-mail, or on your IHD
when you have less than approximately five days
of electricity remaining. If you are using an IHD, it
will sound an audible alarm and the far left display
light will be lit. Now you know it is time to buy more
electricity from DMEA. Push and hold any button to
silence the alarm on your IHD.
What happens if my balance is negative?
Your electricity will automatically shut off between
3:00 and 3:30 p.m. Monday through Friday when
your balance is negative.
How can I have my power restored?
Your In-Home Display
With a My Choice in-home display you can monitor
your electricity usage using five displays shown
below. Your IHD will also notify you when your
balance is getting low.
Current Balance
12/02/15 Current Balance
6:30 PM
$85.60
Shows the amount of energy available
to be used before disconnect.
Average Daily Usage
Average Daily Usage
$5.60
Average daily cost for power in your
home over the past 30-days.
Used This Month
Used Yesterday
Used This Month
$125.60
Used Yesterday
$4.89
The amount of energy used in the
current month.
Used Last Month
Used Last Month
$167.79
The amount of energy used during the
prior month.
The amount of energy used in the
previous 24-hour period.
Current Date/Time
12/02/15
6:30 PM
Displays current day and time.
If your power goes off due to a negative account
balance, you can restore your power 24/7 using
one of our many convenient payment options:
•
•
•
•
•
Use the Smart Hub App
Use a DMEA payment kiosk (3 locations)
Visit us online at www.DMEA.com
Call 1-877-687-3632
Visit our offices during open hours
Once your account balance is above zero, your
power will automatically be restored.
Why is my display blank?
Either your balance became negative and your
electricity shut off, or there is a power outage in your
area. Check to see if your neighbors have power.
How much power can I purchase?
Electricity purchases can be made in any amount
and as often as you choose. Remember to restore
power, you must purchase enough electricity to
bring your balance above zero.

* Your assessment is very important for improving the work of artificial intelligence, which forms the content of this project