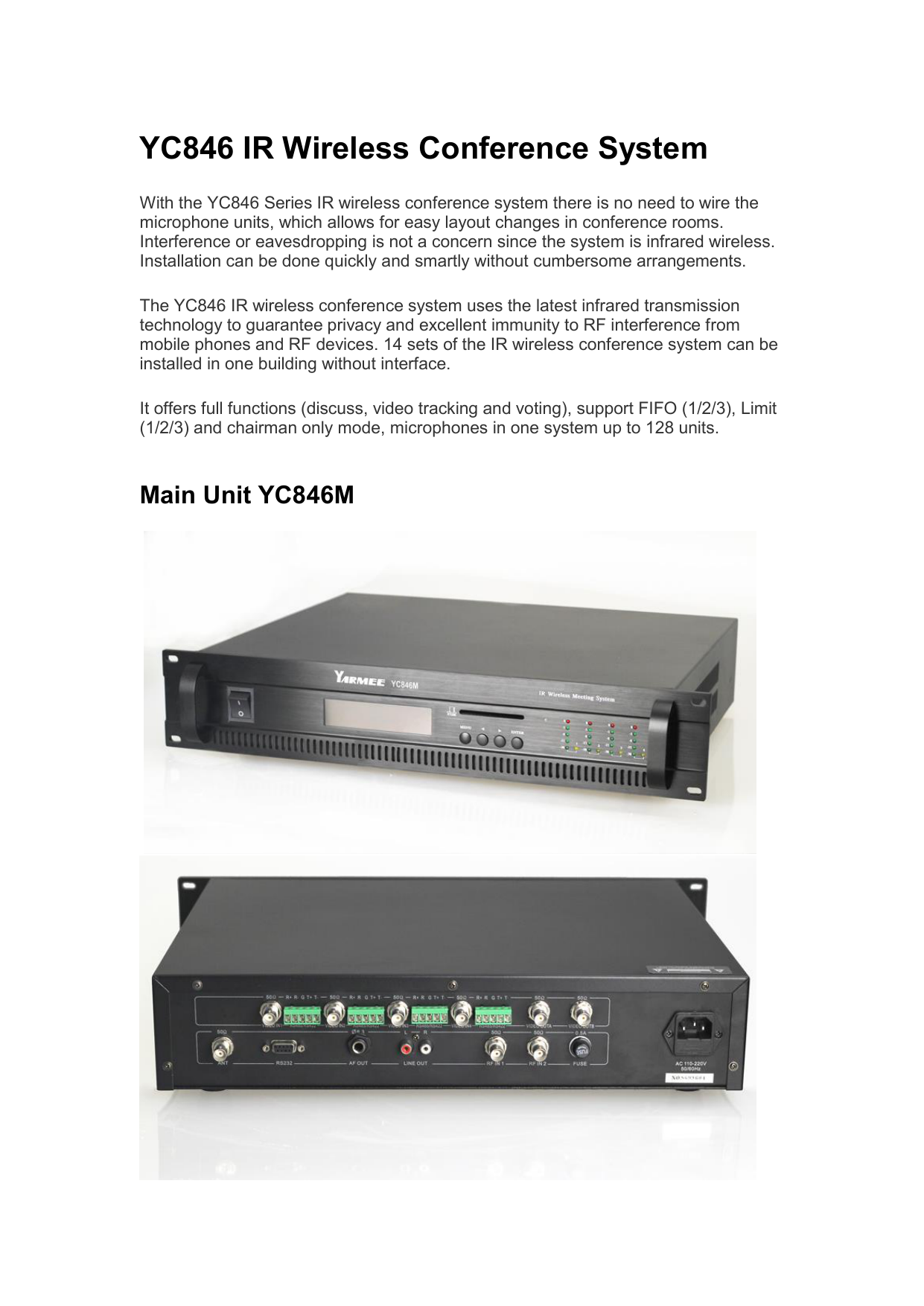 YC846 IR Wireless Conference System
With the YC846 Series IR wireless conference system there is no need to wire the
microphone units, which allows for easy layout changes in conference rooms.
Interference or eavesdropping is not a concern since the system is infrared wireless.
Installation can be done quickly and smartly without cumbersome arrangements.
The YC846 IR wireless conference system uses the latest infrared transmission
technology to guarantee privacy and excellent immunity to RF interference from
mobile phones and RF devices. 14 sets of the IR wireless conference system can be
installed in one building without interface.
It offers full functions (discuss, video tracking and voting), support FIFO (1/2/3), Limit
(1/2/3) and chairman only mode, microphones in one system up to 128 units.
Main Unit YC846M
Features
1. The main unit of the IR wireless conference system has a built-in video and voting
processor to support video camera auto-track and voting.
2. It offers 160x32 dot matrix LCD display system information.
3. It has two group audio output interface to support external audio system.
4. If the main unit power is turned off, the microphone will shut off the power within 60
seconds.
Microphone Unit YC846C/YC846D
Features
1. It offers LCD color red/blue (option).
2. It supports discussion, voting and video camera auto-track function.
3. It has LCD display microphone ID, signal level, battery level, microphone state,
control channel, etc.
4. It is equipped with microphone on/off key and indicator.
5. The microphone unit of the IR wireless conference system is equipped with 5
function keys to set microphone id, control channel, LCD contrast and light time.
6. It offers Auto-Close: Microphone will turn off automatically if there is no action of
this microphone in 99 seconds. (Option)
7. The microphone will shut off the power in 60 seconds to save battery power if
system communication is in error.
8. It offers priority function: Chairman can turn off a delegate microphone at any time.
9. It offers Chairman only mode: Delegate microphone cannot be turned on again
after the chairman microphone presses the priority button.
Receiver Unit YC846R
Features
1. The receiver unit of the IR wireless conference system uses mounting hook
installation and is easy to install.
2. It offers a wide-angle, receiving range is approximately 150 degrees.
3. It offers signal gain more than 35dBM.
4. It uses low consumption electro circuit.
5. It can be installed on the wall or ceiling (option).
Distributor Unit YC846T
Features
1. The distributor unit of the IR wireless conference system uses impedance
balancing branch connector (2 inputs, 1 output).
2. It offers low insertion loss computation.
3. It offers perfect plating surface treatment with excellent shielded function.
Battery Charger YC846G
Features
1. It has an input voltage of AC110V/240V, 50Hz~60Hz.
2. It offers charges 16 PCS (HT-8500CG)/8 PCS (HT-8600CG) of LIP battery per
charging.
3. It offers intelligent charging management electro circuit to protect the LIP battery.
4. It is equipped with an extendible handle and pulley, and is easy to move.
LIP Battery YC846B
Features
1. The LIP battery of the IR wireless conference system offers excellent safety
performance, light weight and high capacity ratio.
2. It has improved safety and is more resistant to overcharge; less change for
electrolyte leakage.
3. It offers high capability; nearly double the capacity with half the weight of NiCad or
NiMH battery packs.
4. It is easy to install.
AC Power Adapter YC846A
This AC power adapter can charge LIP battery directly with microphone unit.
As a specialized IR wireless conference system manufacturer based in China,
HaiTian Electronic also provides digital conference system, wireless voting system,
video tracking system, and much more.

* Your assessment is very important for improving the work of artificial intelligence, which forms the content of this project