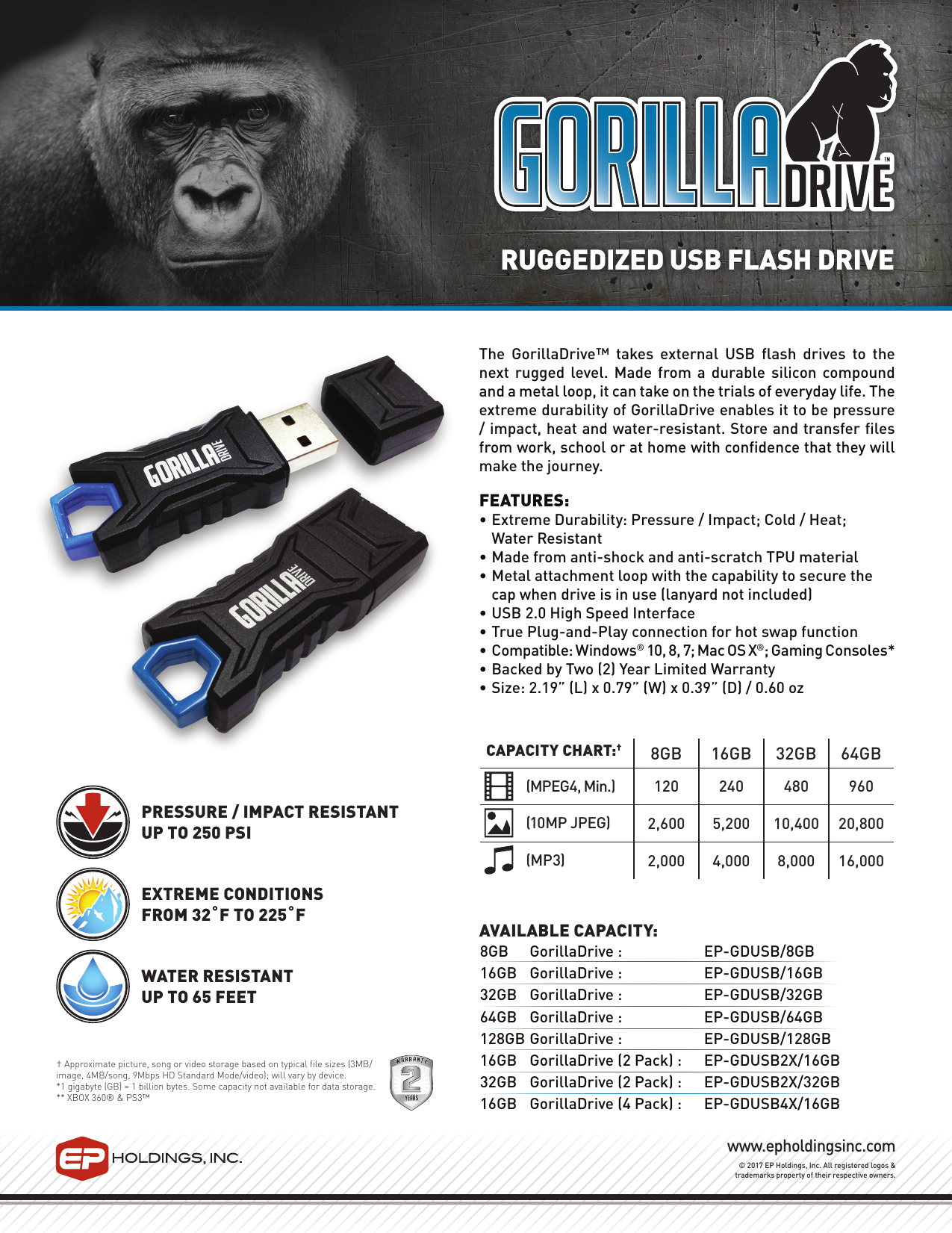 RUGGEDIZED USB FLASH DRIVE
The GorillaDrive™ takes external USB flash drives to the
next rugged level. Made from a durable silicon compound
and a metal loop, it can take on the trials of everyday life. The
extreme durability of GorillaDrive enables it to be pressure
/ impact, heat and water-resistant. Store and transfer files
from work, school or at home with confidence that they will
make the journey.
FEATURES:
•Extreme Durability: Pressure / Impact; Cold / Heat;
Water Resistant
•Made from anti-shock and anti-scratch TPU material
•Metal attachment loop with the capability to secure the cap when drive is in use (lanyard not included)
•USB 2.0 High Speed Interface
•True Plug-and-Play connection for hot swap function
• Compatible: Windows® 10, 8, 7; Mac OS X®; Gaming Consoles*
•Backed by Two (2) Year Limited Warranty
•Size: 2.19" (L) x 0.79" (W) x 0.39" (D) / 0.60 oz
CAPACITY CHART:†
PRESSURE / IMPACT RESISTANT
UP TO 250 PSI
EXTREME CONDITIONS
FROM 32˚F TO 225˚F
WATER RESISTANT
UP TO 65 FEET
† Approximate picture, song or video storage based on typical file sizes (3MB/
image, 4MB/song, 9Mbps HD Standard Mode/video); will vary by device.
*1 gigabyte (GB) = 1 billion bytes. Some capacity not available for data storage.
** XBOX 360® & PS3™
8GB
16GB
32GB
64GB
(MPEG4, Min.)
120
240
480
960
(10MP JPEG)
2,600
5,200
10,400
20,800
(MP3)
2,000
4,000
8,000
16,000
AVAILABLE CAPACITY:
8GB GorillaDrive :
16GB GorillaDrive :
32GB GorillaDrive :
64GB GorillaDrive :
128GBGorillaDrive :
16GB GorillaDrive (2 Pack) :
32GB GorillaDrive (2 Pack) :
16GB GorillaDrive (4 Pack) :
EP-GDUSB/8GB
EP-GDUSB/16GB
EP-GDUSB/32GB
EP-GDUSB/64GB
EP-GDUSB/128GB
EP-GDUSB2X/16GB
EP-GDUSB2X/32GB
EP-GDUSB4X/16GB
www.epholdingsinc.com
© 2017 EP Holdings, Inc. All registered logos &
trademarks property of their respective owners.

* Your assessment is very important for improving the work of artificial intelligence, which forms the content of this project