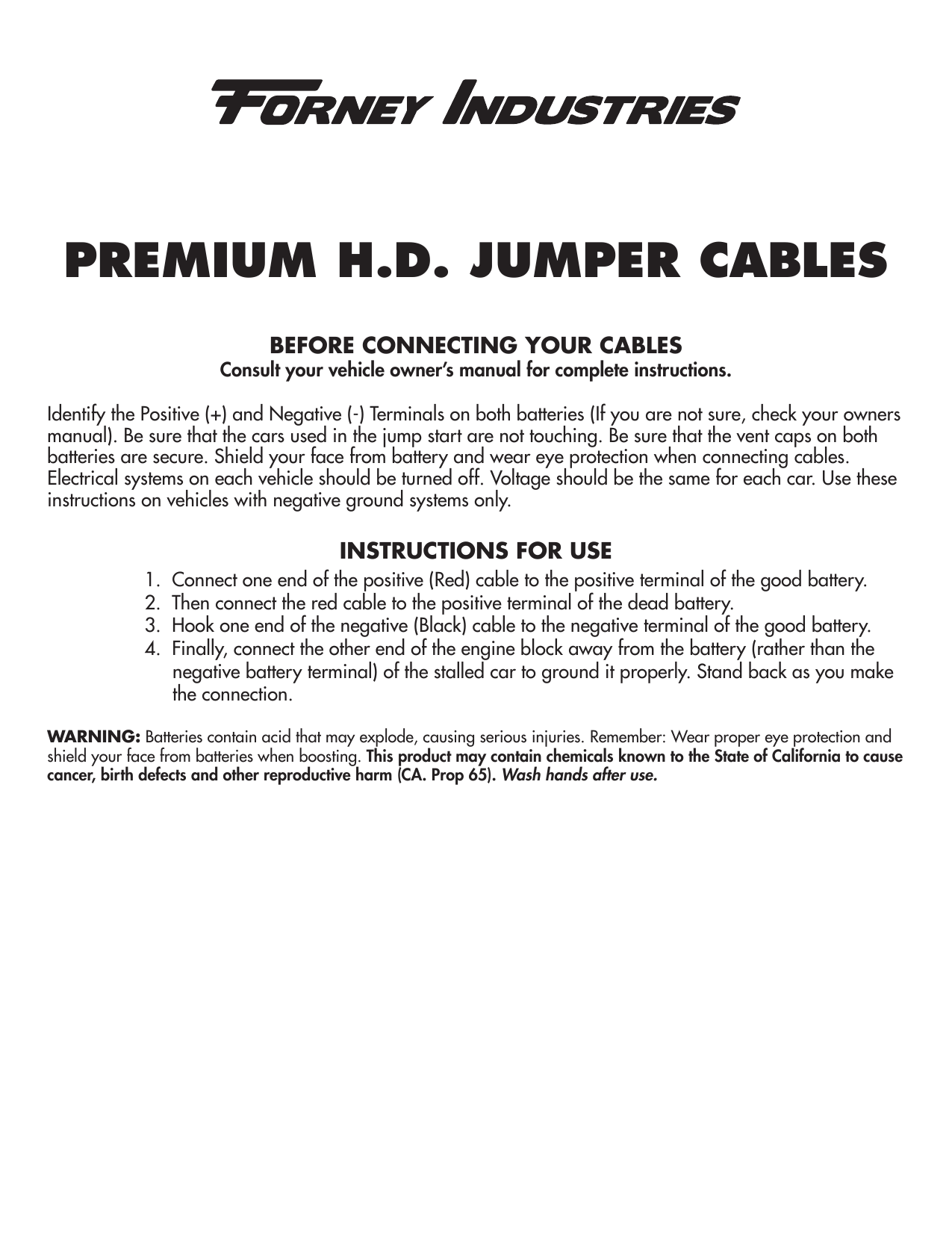 PREMIUM H.D. JUMPER CABLES
BEFORE CONNECTING YOUR CABLES
Consult your vehicle owner's manual for complete instructions.
Identify the Positive (+) and Negative (-) Terminals on both batteries (If you are not sure, check your owners
manual). Be sure that the cars used in the jump start are not touching. Be sure that the vent caps on both
batteries are secure. Shield your face from battery and wear eye protection when connecting cables.
Electrical systems on each vehicle should be turned off. Voltage should be the same for each car. Use these
instructions on vehicles with negative ground systems only.
INSTRUCTIONS FOR USE
1.
2.
3.
4.
Connect one end of the positive (Red) cable to the positive terminal of the good battery.
Then connect the red cable to the positive terminal of the dead battery.
Hook one end of the negative (Black) cable to the negative terminal of the good battery.
Finally, connect the other end of the engine block away from the battery (rather than the
negative battery terminal) of the stalled car to ground it properly. Stand back as you make
the connection.
WARNING: Batteries contain acid that may explode, causing serious injuries. Remember: Wear proper eye protection and
shield your face from batteries when boosting. This product may contain chemicals known to the State of California to cause
cancer, birth defects and other reproductive harm (CA. Prop 65). Wash hands after use.

* Your assessment is very important for improving the work of artificial intelligence, which forms the content of this project