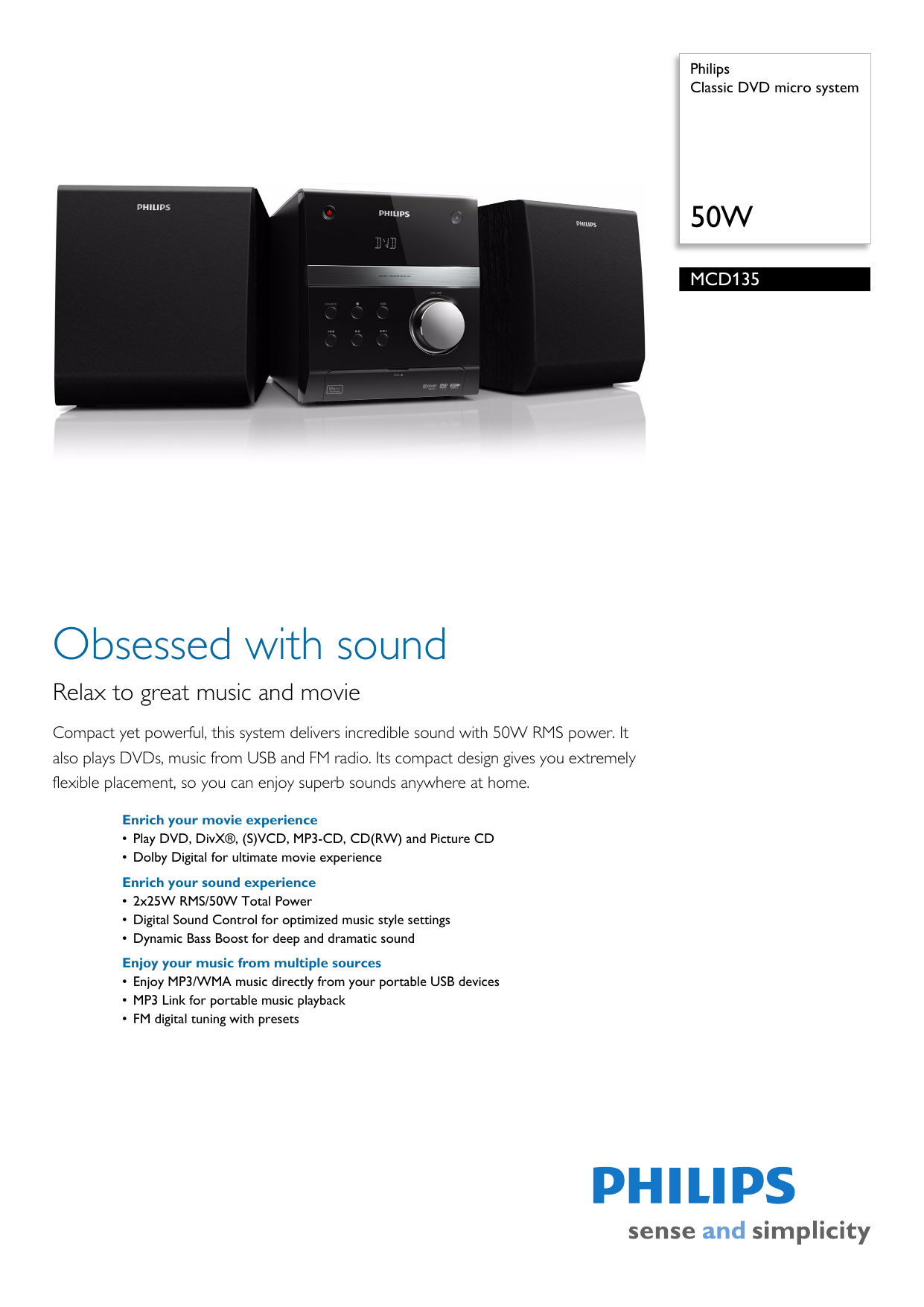 Philips
Classic DVD micro system
50W
MCD135
Obsessed with sound
Relax to great music and movie
Compact yet powerful, this system delivers incredible sound with 50W RMS power. It
also plays DVDs, music from USB and FM radio. Its compact design gives you extremely
flexible placement, so you can enjoy superb sounds anywhere at home.
Enrich your movie experience
• Play DVD, DivX®, (S)VCD, MP3-CD, CD(RW) and Picture CD
• Dolby Digital for ultimate movie experience
Enrich your sound experience
• 2x25W RMS/50W Total Power
• Digital Sound Control for optimized music style settings
• Dynamic Bass Boost for deep and dramatic sound
Enjoy your music from multiple sources
• Enjoy MP3/WMA music directly from your portable USB devices
• MP3 Link for portable music playback
• FM digital tuning with presets
MCD135/58
Classic DVD micro system
50W
Highlights
Dolby Digital
Because Dolby Digital, the world's leading
digital multi-channel audio standards, make use
of the way the human ear naturally processes
sound, you experience superb quality
surround sound audio with realistic spatial
cues.
switched on to boost bass levels, so you can
enjoy consistent sound even when you turn
down the volume.
also extremely convenient as all you have to do
is to plug your portable MP3 player to the
audio system.
MP3 Link
USB Direct for MP3/WMA music
The MP3 link connectivity allows direct
playback of MP3 content from portable media
players. Besides the benefit of enjoying your
favorite music in the superior sound quality
delivered by the audio system, the MP3 link is
Simply plug in your device to the USB port on
your Philips Hi-Fi system. Your digital music
will be played directly from the device. Now
you can share your favorite moments with
family and friends.
2x25W RMS/50W Total Power
2x25W RMS/50W Total Power
Dynamic Bass Boost
Dynamic Bass Boost maximizes your music
enjoyment by emphasizing the bass content of
the music throughout the range of volume
settings - from low to high – at the touch of a
button! Bottom-end bass frequencies usually
get lost when the volume is set at a low level.
To counteract this, Dynamic Bass Boost can be
MCD135/58
Classic DVD micro system
50W
Specifications
Video Playback
Connectivity
Audio Playback
Convenience
• Playback Media: DVD+RW, DVD-Video, Picture
CD, Video CD/SVCD, DivX Ultra
• Disc Playback Modes: Angle, Slow Motion, Zoom,
A-B Repeat, PBC, Parental control
• DVD Region.: 2
• USB Direct Playback: JPEG
• Playback Media: MP3-CD, CD-RW, CD-R, CD,
WMA-CD
• Disc Playback Modes: 20-Track Programmable,
Repeat/one/all/program, Shuffle Play
• Loader Type: Top
• USB Direct Modes: Fast Backward/Fast Forward,
Play/Pause, Previous/Next, Repeat, Shuffle
Sound
• Output Power: 50W RMS
• Sound Enhancement: Dynamic Bass Boost, Digital
Sound Control 4 modes
• Sound System: Dolby Digital
Loudspeakers
• Main Speaker: Bass Reflex Speaker System, 4"
woofer
Tuner/Reception/Transmission
•
•
•
•
Tuner Bands: FM Stereo
Auto digital tuning
Station presets: 20
Tuner Enhancements: Auto Store
• Video Output - Analog: Composite CVBS (yellow
cinch), S-Video (on Hosiden), Component Y Pb Pr
(cinch)
• Other connections: Line out, FM Antenna
• Headphone: 3.5 mm
• Audio Connections: 3.5mm Line in
•
•
•
•
Alarms: Sleep timer, CD Alarm, Radio Alarm
Clock: On main display
Display Type: White FTD
OSD Languages: English, Traditional Chinese,
Portuguese, Spanish
Accessories
• Included accessories: Composite video cable (Y),
FM/MW Antenna, Guarantee booklet, Quick Use
Guide, 3.5mm stereo line in cable
• Remote control: 40-key with Lithium batteries
Power
• Power supply: 100-240VAC, 50/60Hz
Dimensions
• Set dimensions (W x H x D): 152 x 170 x 210 mm
• Main speaker dimensions (W x H x D):
152 x 170 x 210 mm
• Packaging dimensions (W x H x D):
535 x 265 x 252 mm
• Weight incl. Packaging: 3.52 kg
•
Issue date 2011-11-29
© 2011 Koninklijke Philips Electronics N.V.
All Rights reserved.
Version: 1.1.5
Specifications are subject to change without notice.
Trademarks are the property of Koninklijke Philips
Electronics N.V. or their respective owners.
12 NC: 8670 000 66715
EAN: 87 12581 55883 3
www.philips.com
* Music with Digital Right Management not supported.