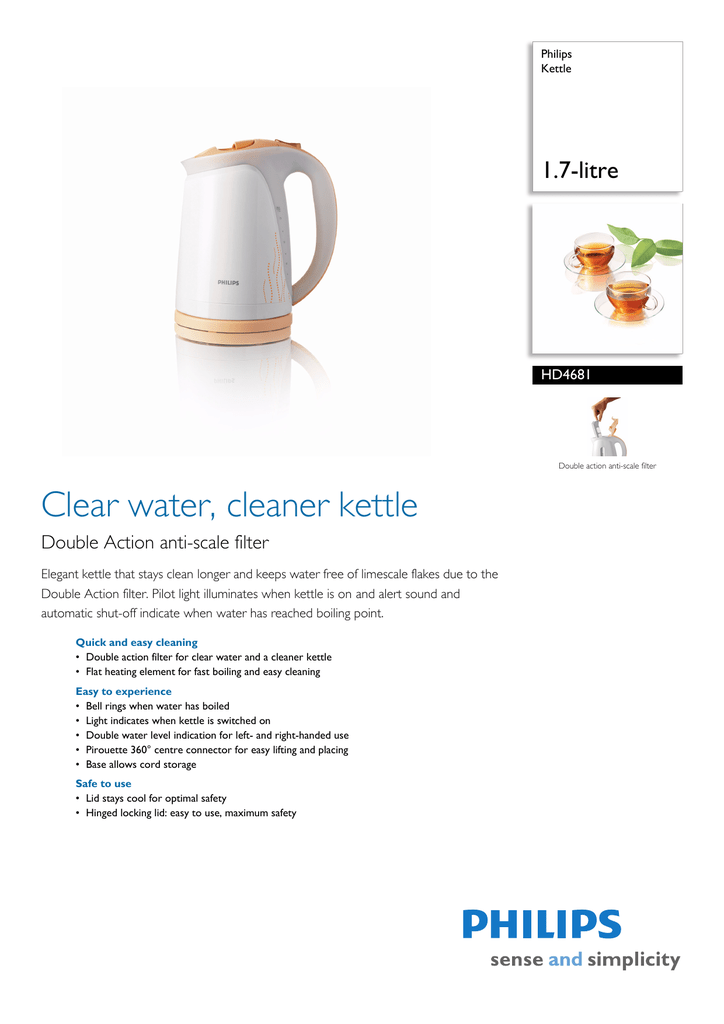 Philips
Kettle
1.7-litre
HD4681
Double action anti-scale filter
Clear water, cleaner kettle
Double Action anti-scale filter
Elegant kettle that stays clean longer and keeps water free of limescale flakes due to the
Double Action filter. Pilot light illuminates when kettle is on and alert sound and
automatic shut-off indicate when water has reached boiling point.
Quick and easy cleaning
• Double action filter for clear water and a cleaner kettle
• Flat heating element for fast boiling and easy cleaning
Easy to experience
• Bell rings when water has boiled
• Light indicates when kettle is switched on
• Double water level indication for left- and right-handed use
• Pirouette 360° centre connector for easy lifting and placing
• Base allows cord storage
Safe to use
• Lid stays cool for optimal safety
• Hinged locking lid: easy to use, maximum safety
HD4681
Kettle
1.7-litre
Specifications
Product highlights
General specifications
•
•
•
•
•
•
•
•
•
Cordless
Automatic shut-off
Double boil-dry protection
Cord storage
360-degree base
Non-slip feet
Ergonomic grip
Wide opening lid
Good spout filling
Technical specifications
•
•
•
•
•
Electricity: 2000-2400 W
Voltage: 220-240 V
Frequency: 50–60 Hz
Cord length: 0.75 m
Capacity: 1.7 l
Accessories
• Filter: HD 4984
Design and finishing
• Materials
• Colour(s): Bright white/Sunset orange (/55)
•
Issue date 2009-02-09
© 2009 Koninklijke Philips Electronics N.V.
All Rights reserved.
Version: 4.1.1
Specifications are subject to change without notice.
Trademarks are the property of Koninklijke Philips
Electronics N.V. or their respective owners.
12 NC: 0000 000 00000
www.philips.com
Double action anti-scale filter
The Double Action filter works two ways: a scale collector
attracts scale from the water, and the regular filter
prevents the remaining particles from being poured into
your drink.

* Your assessment is very important for improving the work of artificial intelligence, which forms the content of this project