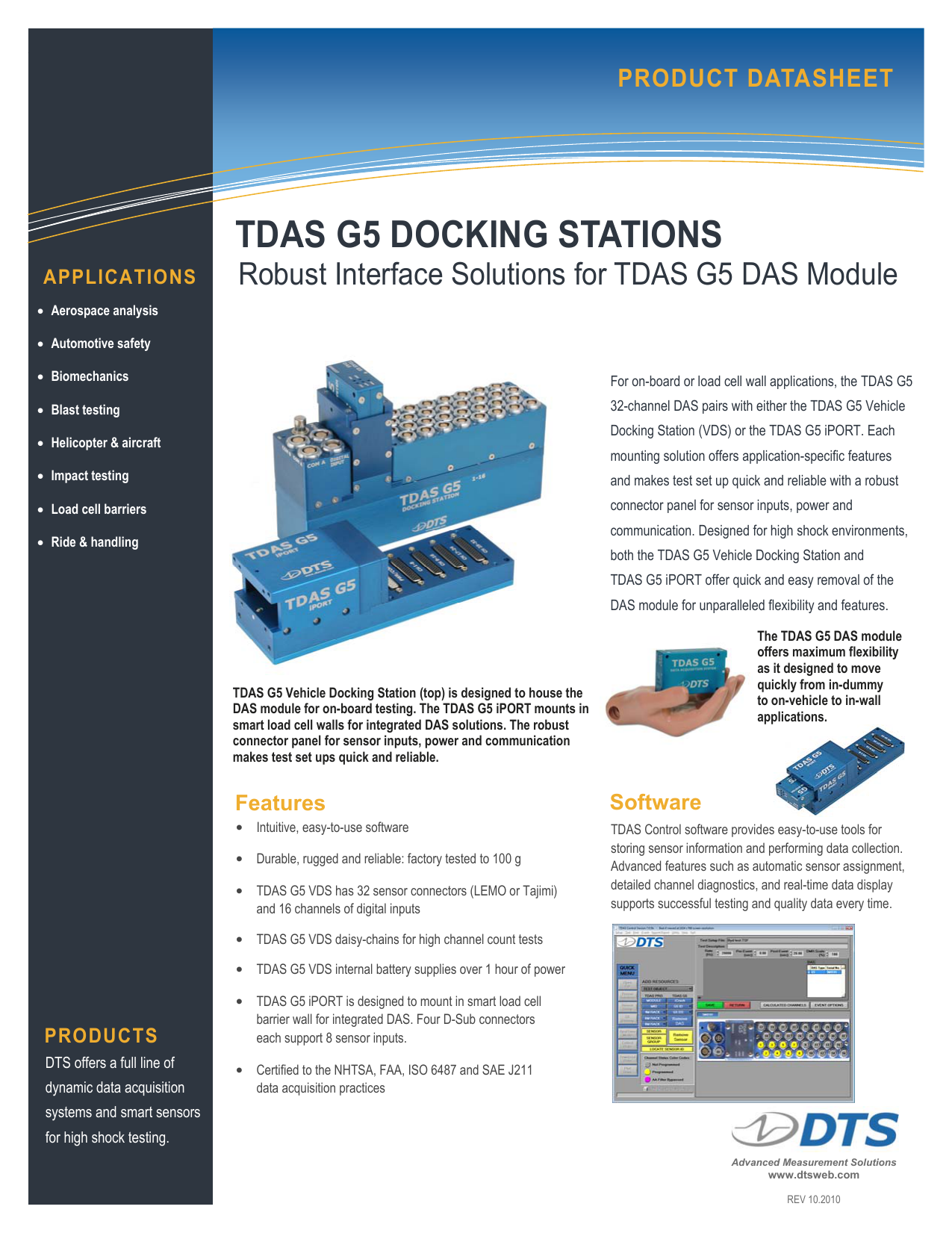 v
PRODUCT DATASHEET
TDAS G5 DOCKING STATIONS
APPLICATIONS
Robust Interface Solutions for TDAS G5 DAS Module
 Aerospace analysis
 Automotive safety
 Biomechanics
For on-board or load cell wall applications, the TDAS G5
 Blast testing
32-channel DAS pairs with either the TDAS G5 Vehicle
Docking Station (VDS) or the TDAS G5 iPORT. Each
 Helicopter & aircraft
mounting solution offers application-specific features
 Impact testing
and makes test set up quick and reliable with a robust
 Load cell barriers
connector panel for sensor inputs, power and
communication. Designed for high shock environments,
 Ride & handling
both the TDAS G5 Vehicle Docking Station and
TDAS G5 iPORT offer quick and easy removal of the
DAS module for unparalleled flexibility and features.
The TDAS G5 DAS module
offers maximum flexibility
as it designed to move
quickly from in-dummy
to on-vehicle to in-wall
applications.
TDAS G5 Vehicle Docking Station (top) is designed to house the
DAS module for on-board testing. The TDAS G5 iPORT mounts in
smart load cell walls for integrated DAS solutions. The robust
connector panel for sensor inputs, power and communication
makes test set ups quick and reliable.
Features
Software
• Intuitive, easy-to-use software
TDAS Control software provides easy-to-use tools for
storing sensor information and performing data collection.
Advanced features such as automatic sensor assignment,
detailed channel diagnostics, and real-time data display
supports successful testing and quality data every time.
• Durable, rugged and reliable: factory tested to 100 g
• TDAS G5 VDS has 32 sensor connectors (LEMO or Tajimi)
and 16 channels of digital inputs
• TDAS G5 VDS daisy-chains for high channel count tests
• TDAS G5 VDS internal battery supplies over 1 hour of power
PRODUCTS
DTS offers a full line of
dynamic data acquisition
• TDAS G5 iPORT is designed to mount in smart load cell
barrier wall for integrated DAS. Four D-Sub connectors
each support 8 sensor inputs.
• Certified to the NHTSA, FAA, ISO 6487 and SAE J211
data acquisition practices
systems and smart sensors
for high shock testing.
Advanced Measurement Solutions
www.dtsweb.com
REV 10.2010
Specifications
MODEL:
TDAS G5 VDS
TDAS G5 iPORT
Connectors
Removable sensor connector panel with
32 sensor input connectors (1 per channel)
Select LEMO or Tajimi connector
Digital input connectors: 26-pin LEMO 2B
Dual COM connectors: 19-pin LEMO 2B
Power connector: 4-pin LEMO 2B
4 sensor input connectors
(8 analog/digital channels per connector)
Sensor input connector: 44-pin D-Sub
Power, Ethernet, Control, Status
and Event connector: 25-pin D-Sub
Communication
10/100BaseT
10/100BaseT
Ethernet switch for daisy chaining additional
docking stations or TDAS PRO racks
Sensor Excitation
2V/5V
5V
Power/Event/
Comm Inputs
Isolated
Daisy-chain ready
Protected
Internal Battery
1 hour standalone operation standard
2 hour optional
N/A
Digital Inputs
16 fully-isolated, protected, contact closure channels
32 channels
PHYSICAL
SERVICES
24/7 Worldwide Tech Support
Calibration & Repair Services
Application Consulting
Software Integration
OEM/Embedded Applications
POWER
TDAS G5 VDS
Size:
Weight:
235 x 60 x 136.5 mm (9.25 x 2.36 x 5.37")
2.5 kg (5.52 lb)
TDAS G5 iPORT
Size:
Weight:
227 x 66 x 64 mm (8.94 x 2.60 x 2.52")
912 g (2.01 lb)
TDAS G5 DAS
Size:
Weight:
25 x 54 x 85 mm (0.98 x 2.13 x 3.35")
200 g (7.05 oz)
ENVIRONMENTAL
Operating Temp.:
Shock:
Supply Voltage:
Maximum Power:
Protection:
Power Control:
13.8 V nominal (11-15 V)
Approximately 1.5 A per 32-channel system
with 350 ohm bridges at 5.0 V excitation
(depends significantly upon connected
sensors)
EMI, RFI, ESD, reverse current
Remote power control line for switching
unit on/off
CONTROL SOFTWARE
0-50°C (32-122°F)
100 g peak, 12 msec (docking stations)
Compatibility:
Operating Systems:
Standard TDAS Control Software
Windows® XP, Vista, 7
TECH CENTERS
Novi, Michigan USA
Tokyo, Japan
Sydney, Australia
Lincoln, United Kingdom
Authorized DTS Representative:
HEADQUARTERS
Seal Beach, California USA
CONTACT US
Phone: +1 562 493 0158
Email: sales@dtsweb.com
www.dtsweb.com
Specifications subject to change without notice.
© Diversified Technical Systems, Inc.

* Your assessment is very important for improving the work of artificial intelligence, which forms the content of this project