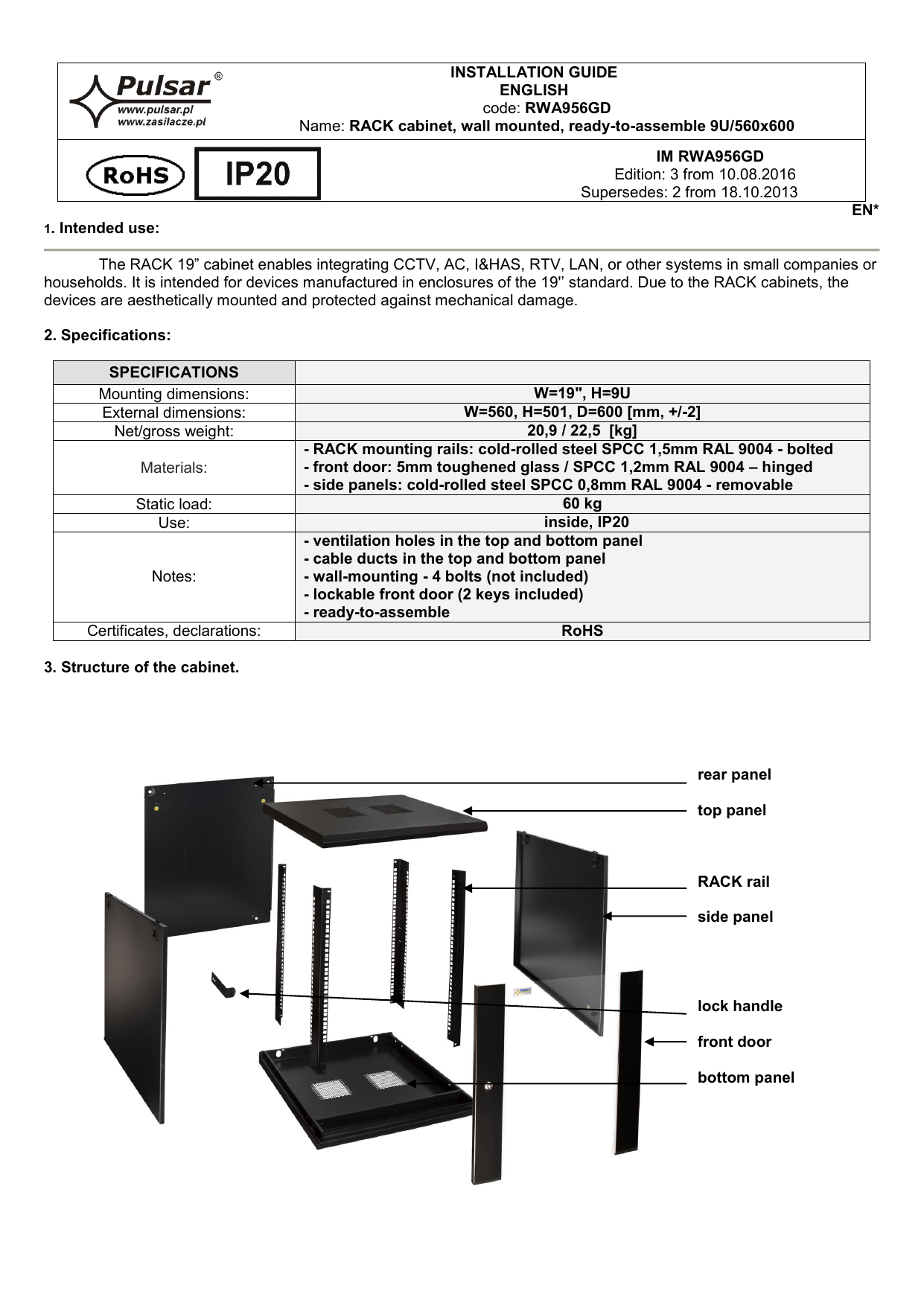 INSTALLATION GUIDE
ENGLISH
code: RWA956GD
Name: RACK cabinet, wall mounted, ready-to-assemble 9U/560x600
IM RWA956GD
Edition: 3 from 10.08.2016
Supersedes: 2 from 18.10.2013
EN*
1.
Intended use:
The RACK 19" cabinet enables integrating CCTV, AC, I&HAS, RTV, LAN, or other systems in small companies or
households. It is intended for devices manufactured in enclosures of the 19'' standard. Due to the RACK cabinets, the
devices are aesthetically mounted and protected against mechanical damage.
2. Specifications:
SPECIFICATIONS
Mounting dimensions:
External dimensions:
Net/gross weight:
Materials:
Static load:
Use:
Notes:
Certificates, declarations:
W=19", H=9U
W=560, H=501, D=600 [mm, +/-2]
20,9 / 22,5 [kg]
- RACK mounting rails: cold-rolled steel SPCC 1,5mm RAL 9004 - bolted
- front door: 5mm toughened glass / SPCC 1,2mm RAL 9004 – hinged
- side panels: cold-rolled steel SPCC 0,8mm RAL 9004 - removable
60 kg
inside, IP20
- ventilation holes in the top and bottom panel
- cable ducts in the top and bottom panel
- wall-mounting - 4 bolts (not included)
- lockable front door (2 keys included)
- ready-to-assemble
RoHS
3. Structure of the cabinet.
rear panel
top panel
RACK rail
side panel
lock handle
front door
bottom panel
4. Assembling instructions:
The wall mounted, ready-to-assemble RACK cabinet is delivered in 2 separate packages.
4.1) Lay the bottom panel of the RACK cabinet (package 1/2).
Fig.1
4.2) Bolt 4 RACK rails (package 2/2) to the bottom panel, as shown in the Fig.2.
Fig.2
4.3) Place the top panel onto the RACK rails and bolt accordingly to the figure below.
Fig.3
4.4) Bolt the lock handle to the front-left RACK rail.
Fig.4
4.5) Mount the front door, rear and side panels - Fig.5.
Fig.5
MANUFACTURER
Pulsar
Siedlec 150,
32-744 Łapczyca
Tel. 14-610-19-40, Fax. 14-610-19-50
e-mail: biuro@pulsar.pl, sales@pulsar.pl
http:// www.pulsar.pl, www.zasilacze.pl
WARRANTY
12 months from the date of purchase.
THE WARRANTY IS VALID only upon presentation of the item's proof of purchase.

* Your assessment is very important for improving the work of artificial intelligence, which forms the content of this project