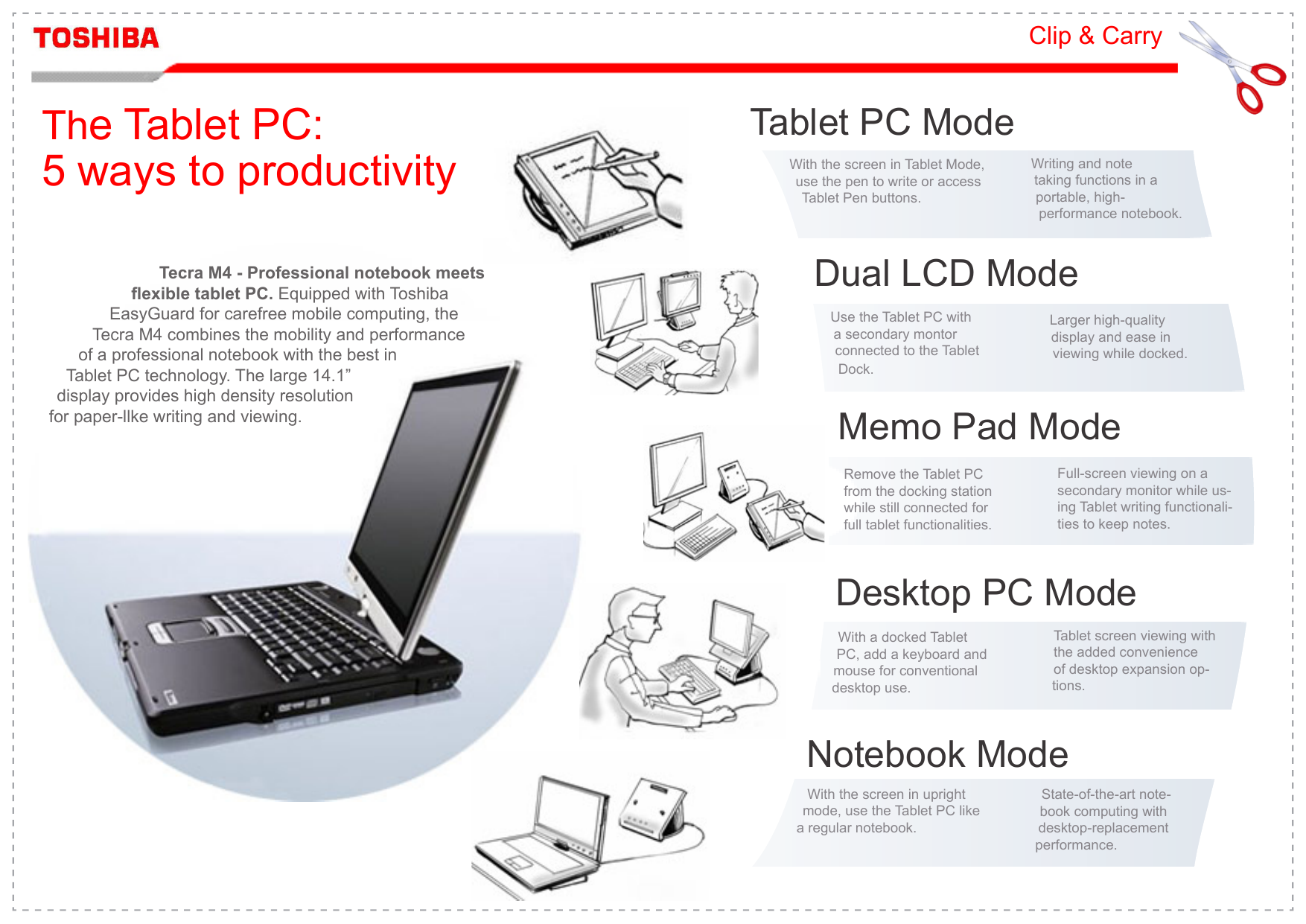 Clip & Carry
The Tablet PC:
5 ways to productivity
Tecra M4 - Professional notebook meets
flexible tablet PC. Equipped with Toshiba
EasyGuard for carefree mobile computing, the
Tecra M4 combines the mobility and performance
of a professional notebook with the best in
Tablet PC technology. The large 14.1"
display provides high density resolution
for paper-llke writing and viewing.
Tablet PC Mode
With the screen in Tablet Mode,
use the pen to write or access
Tablet Pen buttons. Writing and note
taking functions in a
portable, highperformance notebook.
Dual LCD Mode
Use the Tablet PC with
a secondary montor
connected to the Tablet
Dock.
Larger high-quality
display and ease in
viewing while docked.
Memo Pad Mode
Remove the Tablet PC
from the docking station
while still connected for
full tablet functionalities.
Full-screen viewing on a
secondary monitor while using Tablet writing functionalities to keep notes.
Desktop PC Mode
With a docked Tablet
PC, add a keyboard and
mouse for conventional
desktop use.
Tablet screen viewing with
the added convenience
of desktop expansion options.
Notebook Mode
With the screen in upright
mode, use the Tablet PC like
a regular notebook.
State-of-the-art notebook computing with
desktop-replacement
performance.

* Your assessment is very important for improving the work of artificial intelligence, which forms the content of this project